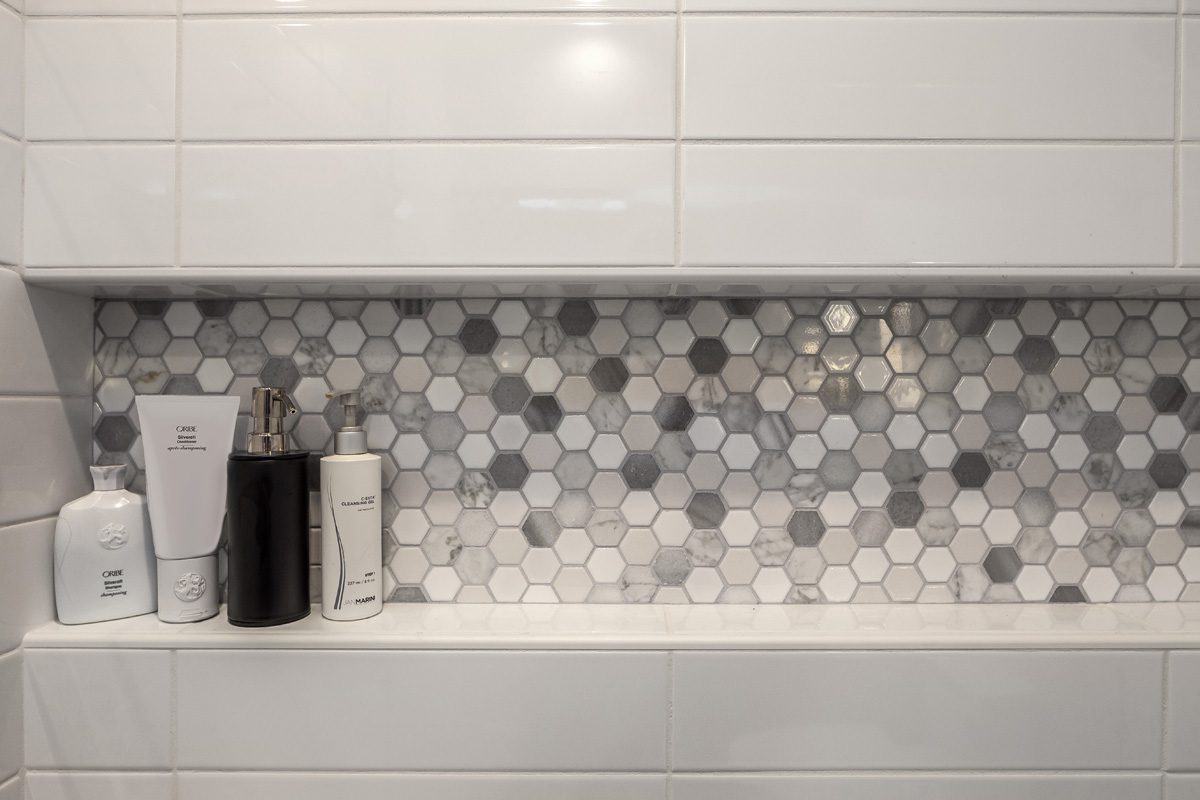 Baths
Maximizing Space in a Townhouse Bathroom
Transitional Encinal Park, Sunnyvale
The Concept
This client, nearing retirement, was ready for the next stage of her life — she wanted to completely overhaul the townhouse that she had lived in for the past 30 years. The client had an eye for design and could no longer tolerate the original 1980's fixtures of the home. The client knew that the master bathroom was ready for an aging in place remodel that better addressed her needs. The current master bath was dimly lit, and divided into two cramped spaces by a partition wall, closing the toilet and tub off from the vanity area.
Removing the Partition
We removed the bathroom's partition wall to create one large, cohesive space. The new vanity provides a customized storage solution, with stylish touches such as furniture-style detailing. New recessed and decorative lighting illuminate the space with plenty of light that reflects off the soft gray walls, which not only warms up the space but makes it easier to get ready in the morning.
Creating a New Shower
The guest tub was rarely used and was not a viable setup for aging in place. The space also lacked proper storage for bath accessories. We removed the tub, expanding the shower footprint and creating a spa-like environment for the new bathroom.
A New Spa
The low curb and bench seat were designed with accessibility in mind, as part of an aging in place remodel, providing ease of use for when mobility may be an issue. The extra-large niche spans 5' and is covered with a mixed stone mosaic that creates a fun focal point on the back wall. The two fixed shower heads are complemented by a hand-held shower for easy bathing at the bench seat, wrapped in a honed quartzite that resembles soapstone.
The Materials
The dark quartzite Lava slab from All Natural Stone decorates the vanity countertop and also carries into the shower bench for the bold look the client desired. The playful Mini Hex Mosaic from All Natural Stone manufactured by United tile is a fun accessory to make the shower pop. Multiple showerheads from Hansgrohe, including a rain shower-head and a handshower, were provided for the ultimate spa experience.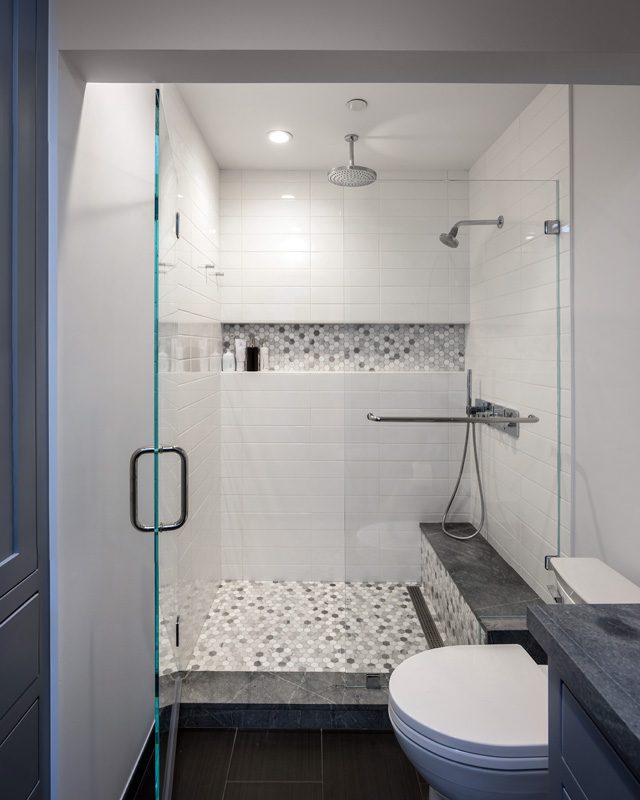 Meet the Team
Attend An Event
Preparation is key to a successful kitchen remodel. There are many budget, design, and planning decisions to make during the process. Join us at one of our free remodeling events to learn more about what you need to know before embarking on your remodeling project.