Additions
Creating Space With A Backyard ADU in Willow Glen
NEED MORE SPACE?
How do you combine a man cave, kids' play space, homework station, guest quarters, and ample storage into a small home? In this Accessory Dwelling Unit (ADU) in Willow Glen, we added 600-square feet to an existing garage to give the client everything they wanted and more! The smart, space-conscious design included a full bath, kitchenette, and custom built-ins for plenty of storage.
ACCESSORY DWELLING UNIT
In the City of San Jose, the minimum lot size to build an ADU is 5,445 square feet. The size of the dwelling is determined by the size of your lot and can range from 600 to 800 square feet. The structure must include a kitchen and bath to qualify as a dwelling unit.
THE CONCEPT
This family wanted to increase their living space to accommodate their existing needs, as well as future needs as they change and grow. We added 600-square-feet to the garage to include a man cave for dad, a homework station and play loft for the kids, as well as a full bathroom and extra storage space for when the in-laws visit.
FLEXIBLE PLAYROOM
To accommodate the family's varying needs, every inch of the 600-square-foot addition was maximized. Creating a loft space for the kids' play room took advantage of the high ceilings and provided a designated area for play, away from the main living space in the dwelling unit. As the children grow, the flexible loft space can easily be converted into sleeping or storage space.
MATERIAL SELECTIONS
The transitional-style space includes detailed casing and trim at the doors and windows, a combination of carpet and hardwood, and a neutral-toned color palette that creates a sense of quiet in this backyard getaway. Windows were strategically located to take advantage of the garden views, while clerestory windows and solar-operated skylights fill the fun space with abundance of natural light.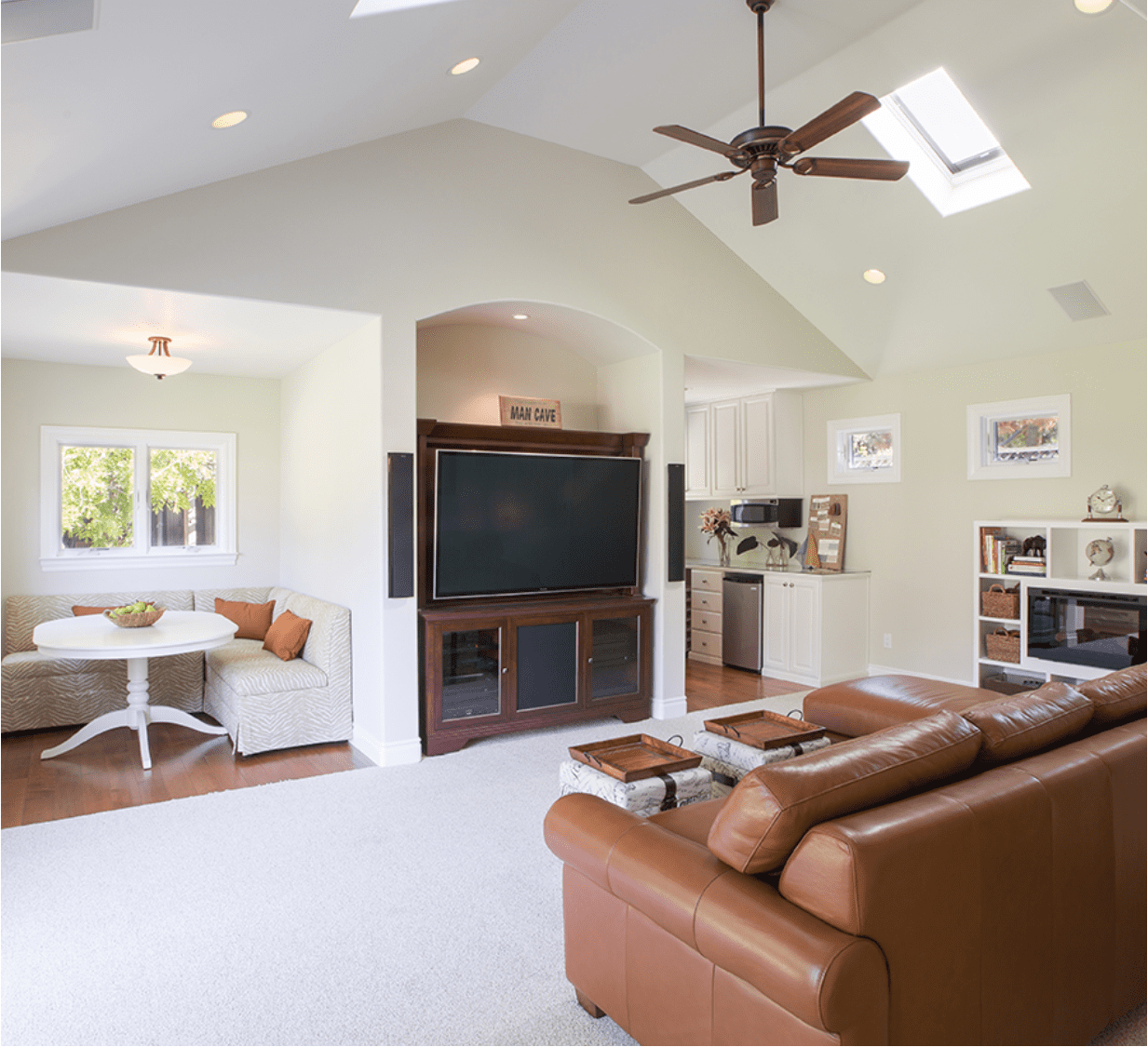 Words from our Client
"Our project was much larger than a standard addition and had a lot of complexity. The Next Stage Design team did a great job working with us to meet our needs. I would highly recommend Next Stage Design."
S.T.
Meet the Team
Attend An Event
Preparation is key to a successful kitchen remodel. There are many budget, design, and planning decisions to make during the process. Join us at one of our free remodeling events to learn more about what you need to know before embarking on your remodeling project.