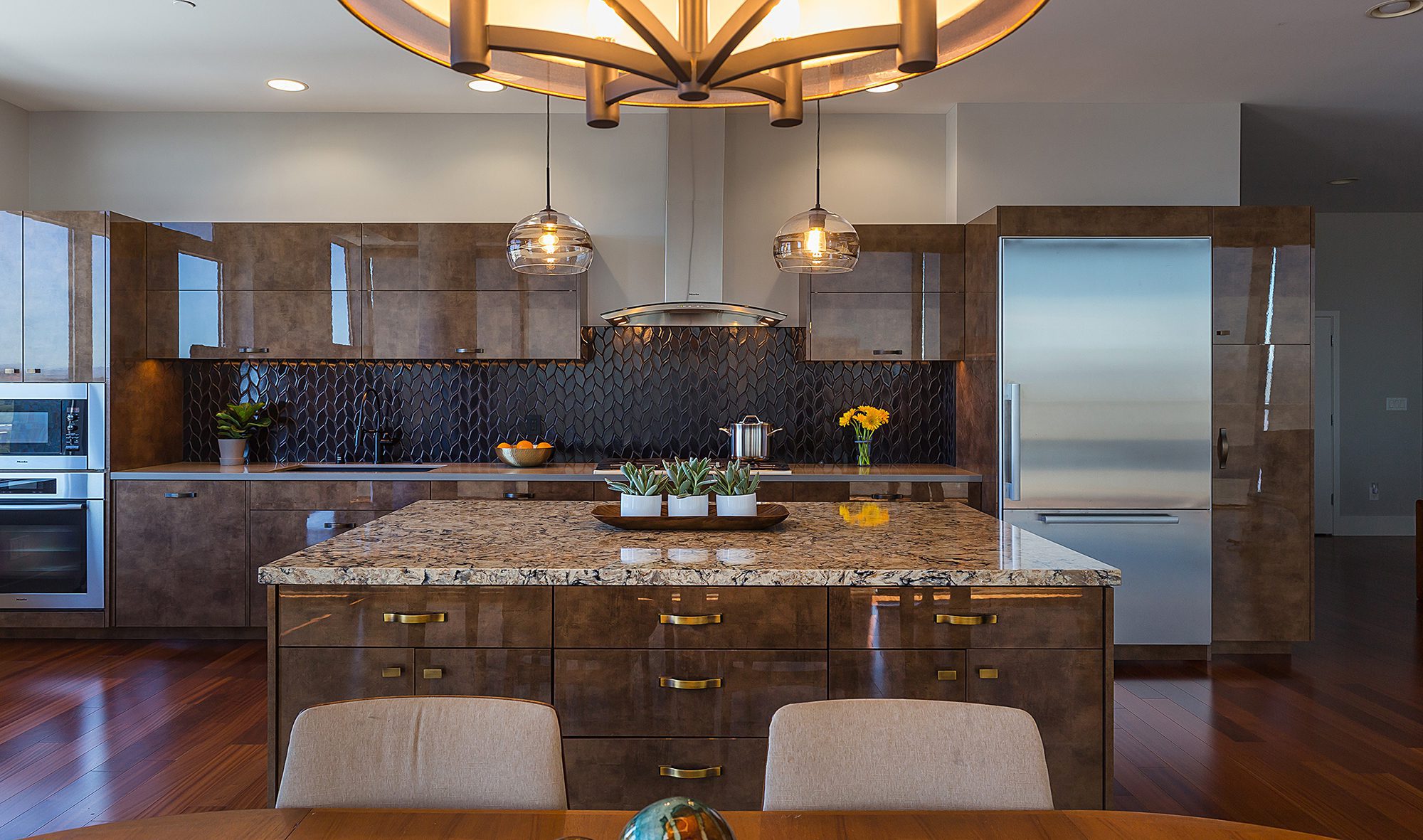 Kitchens
Penthouse Kitchen Renovation in Downtown San Jose
Modern Downtown, San Jose
Concept: The retired homeowners were looking to age-in-place in their downtown penthouse home. The existing kitchen was part of an open concept floorplan that included dining and living spaces that overlooked 360-degree views of downtown San Jose. The kitchen's white, Ikea-like cabinets did not complement the warm tones throughout the rest of the home, which was filled with vintage teak furniture the couple had collected from their many travels. The kitchen island was positioned adjacent to a structural column that blocked the travel path around the island. One spouse had limited mobility; creating obstacle-free paths that accommodated a wheelchair was a priority for the remodel. 
The Remodel: We moved the island 6 inches toward the kitchen, creating space between the island and the column while maintaining a 43-inch aisle between the island and kitchen countertop. All cabinet doors were refaced with the same high-gloss laminate used on the kitchen island. We eliminated an existing peninsula to create easier access into the newly renovated kitchen from the home's entry hallway. 
The Challenges: Working in a high-rise penthouse makes transporting materials in and out very interesting! Our team used their impeccable creativity and communication skills to manage loading materials in and out and up and down the building's elevators.
Materials: The upper cabinets were designed to bend and lift-up for easy access while maintaining a sleek look while they are closed. High-gloss laminate from Alvic Luxe was used to reface the cabinets and match the island. The warm coppery color complements the handmade backsplash tile (Wide Hex Twist in Night Sky from Heath Ceramics). The smart-touch faucet from Brizo was finished in matte-black — perfect for the newly renovated penthouse's kitchen design.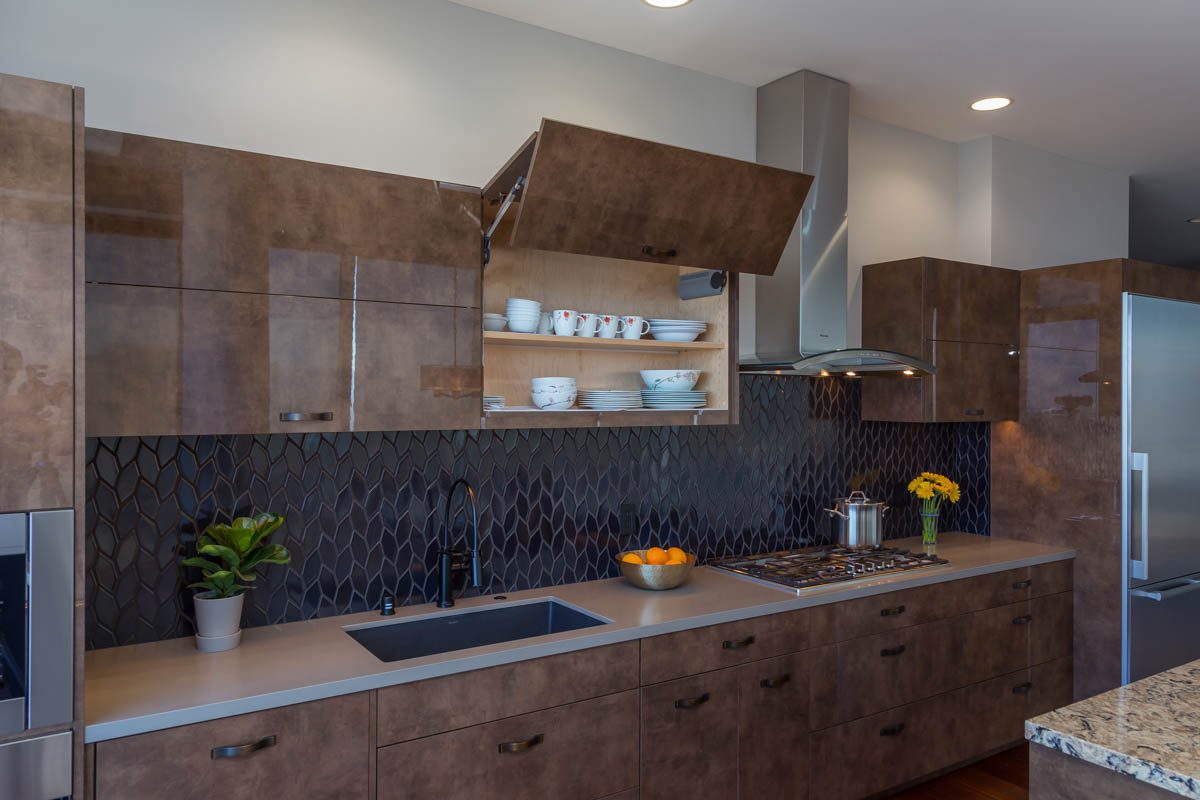 Meet the Team
Get Inspired
Whether you want to learn more about the remodeling process or are looking for some design inspiration, we've got just what you need to get the creative juices flowing!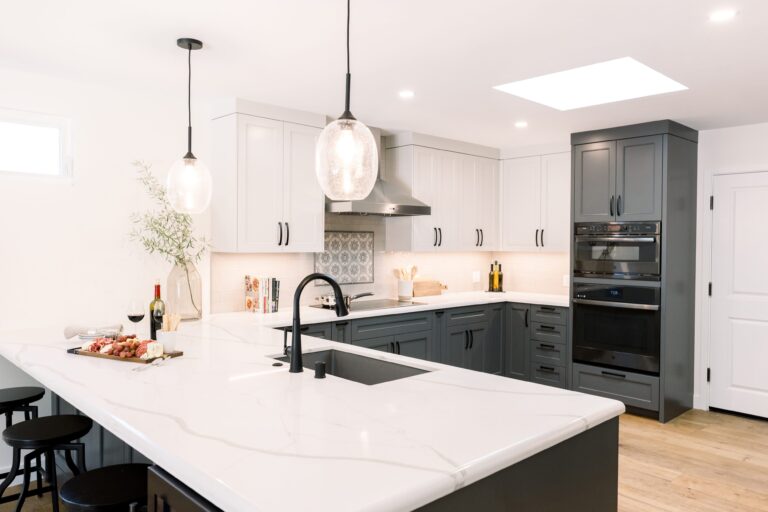 The expert designers at Next Stage provide answers to common questions about kitchen remodels.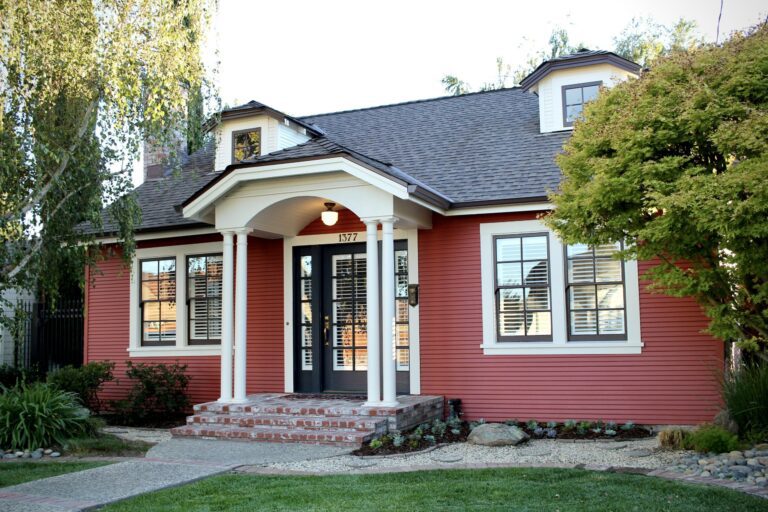 Improve the curb appeal of your home with these exterior design ideas.
Attend a Seminar
Preparation is key to a successful kitchen remodel. There are many budget, design, and planning decisions to make during the process. Join us at one of our free remodeling seminars to learn more about what you need to know before embarking on your remodeling project.