Kitchens
Funky & Feminine Kitchen
California Modern East Foothills, San Jose
The Concept
After more than 20 years of living in this small bungalow, the homeowner was ready for a change. With existing openings at 3 of the 4 walls, this space was lacking in storage, elbow room, and natural light. By re-configuring the walls and implementing creative storage solutions, we were able to give this space the transformative, functional kitchen design that this client was looking for.
Opening the Doors
The boxed-in kitchen lacked adequate natural light and was closed off from the home's living spaces. The client's challenges to the designer were to create a functional kitchen design that featured an open floor plan, increased natural light, and an eat-in counter for two–all without adding windows or increasing the footprint of the space. The designer visually enlarged the kitchen by creating a wider, arched opening at the dining room wall.
The Materials
In addition to drastic layout changes, the kitchen was also refreshed with a new aesthetic. To replace the withering plywood cabinetry, custom cabinets were inserted and painted with a bright-white palette. Caesarstone quartz countertops replaced the outdated tile countertops and instantly took years off of the kitchen. The owner's original hardwood floors were refinished with a custom stain which contrasted with the bright countertops and cabinetry.
Storage Solutions
The kitchen's original work surfaces were limited to 15 linear feet of tiled countertops at the kitchen sink wall. The original plywood cabinetry lacked simple necessities like a dishwasher and storage solutions. The new cabinetry storage included a lazy-Susan, half-moon inserts and roll-out shelves at the base cabinet next to the new dishwasher.
Making Room for Organization
The range was located in a far corner of the kitchen, making the home's original 1946 venting inadequate. By shifting the laundry room door, we were able to relocate the range with an updated hood and flank it with landing zones. Cabinet organization at the range includes a pull-out with built-in knife block and storage for dry goods and utensils, and a microwave drawer frees up some much-needed countertop space.
Aesthetic Updates
This funky and feminine kitchen remodel made room for a much-needed aesthetic update, all within the original square footage of the space. The two-tone cabinetry creates visual interest, with floating walnut shelves adding a sense of warmth and easy access to everyday kitchen items. The patterned Italian porcelain tile laid against the wall was the finishing touch to add a pop of vintage flare to the kitchen.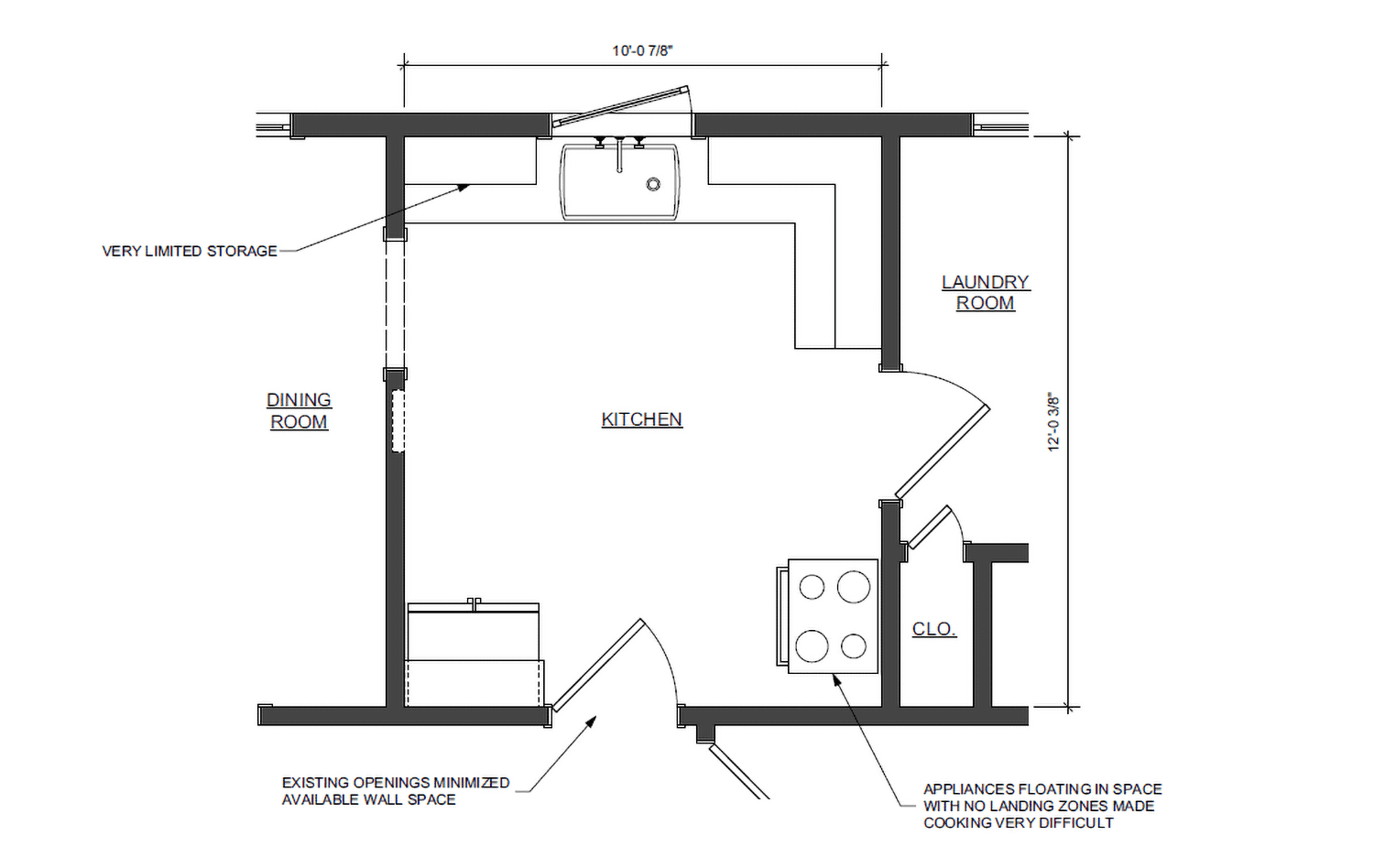 Meet the Team
Attend An Event
Preparation is key to a successful kitchen remodel. There are many budget, design, and planning decisions to make during the process. Join us at one of our free remodeling events to learn more about what you need to know before embarking on your remodeling project.