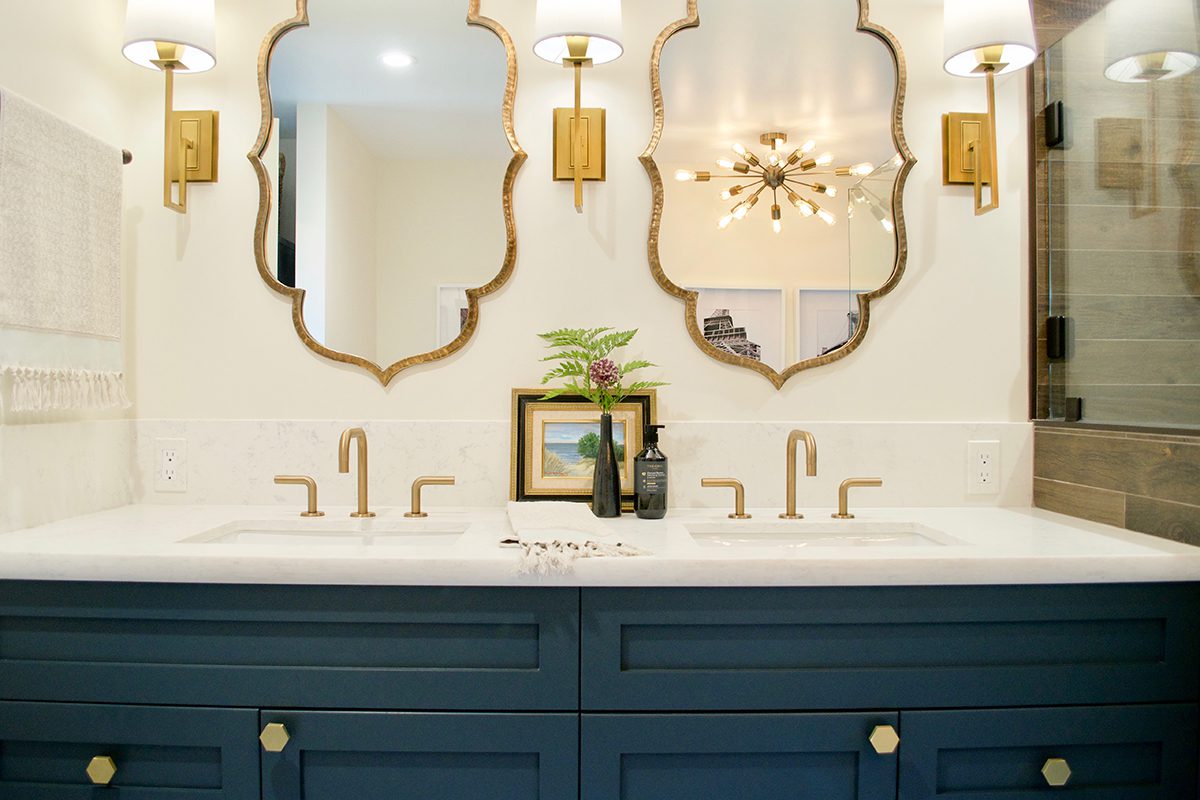 Transitional College Park, San Jose
The Concept
Built in 1925, this Bungalow-style home had been remodeled several times, but the workmanship did not survive the test of time. The existing master bath layout worked well, but the built-in tub deck and half walls devoured much of the space and the lackluster aesthetic did not complement the historic charm of the home.
Updating the Aesthetic
The existing space was an eye sore with its chopped up floor plan and bland, outdated materials. The shower interior had mold and years of soap build-up. The homeowner, an executive that traveled internationally for work, wanted to completely overhaul the space by incorporating master bath design ideas that greater aligned with her feminine, global style.
Creating the Retreat
By wrapping the shower with clear glass and installing a freestanding claw-foot tub, we were able to make the space feel bigger and brighter. By creating an ideal spa-like retreat, this refreshed master bath design allows this busy executive to unwind at the end of the day.
Let There Be Light
A single 5-light sconce above the vanity was the only light source in this dark space. Inexpensive and outdated materials contributed to the dungeon-like feel of the bathroom. The bathroom's lighting plan had a major update: general lighting from recessed LEDs provided plenty of illumination and was layered with three decorative sconces at the vanity to provide task lighting for makeup. A dimmable, 15-light flush-mount fixture was installed at the tub for added glam.
The Materials
The existing window was painted shut, impeding egress and natural ventilation. The built-in alcove tub had a wide, tiled ledge that consumed space and made access to the window cumbersome. The shower's new rectangle footprint provides plenty of space for the adjacent cast-iron, claw foot tub. The clear glass shower panels lend to the open feeling and keep the focus on the porcelain, wood-like tile wall, which provides the perfect contrast to the lush green setting outside the window.
Setting the Style
The graphic floral tile from Tile Shop adds feminine contrast to the masculine wall tile and complements the bronze tub feet and fixtures. The custom-designed vanity was tailored specifically to the homeowner's height and organizational needs.
Pulling The New Space Together
The unique door and drawer layout offer visual interest and addresses the client's different types of storage needs. The mix of brushed gold and oil rubbed bronze metals create interest and unify the space throughout. The Moroccan-inspired mirrors are a nod to the homeowner's love of exotic travel, and provide the finishing touch that pulls this new master bath design together.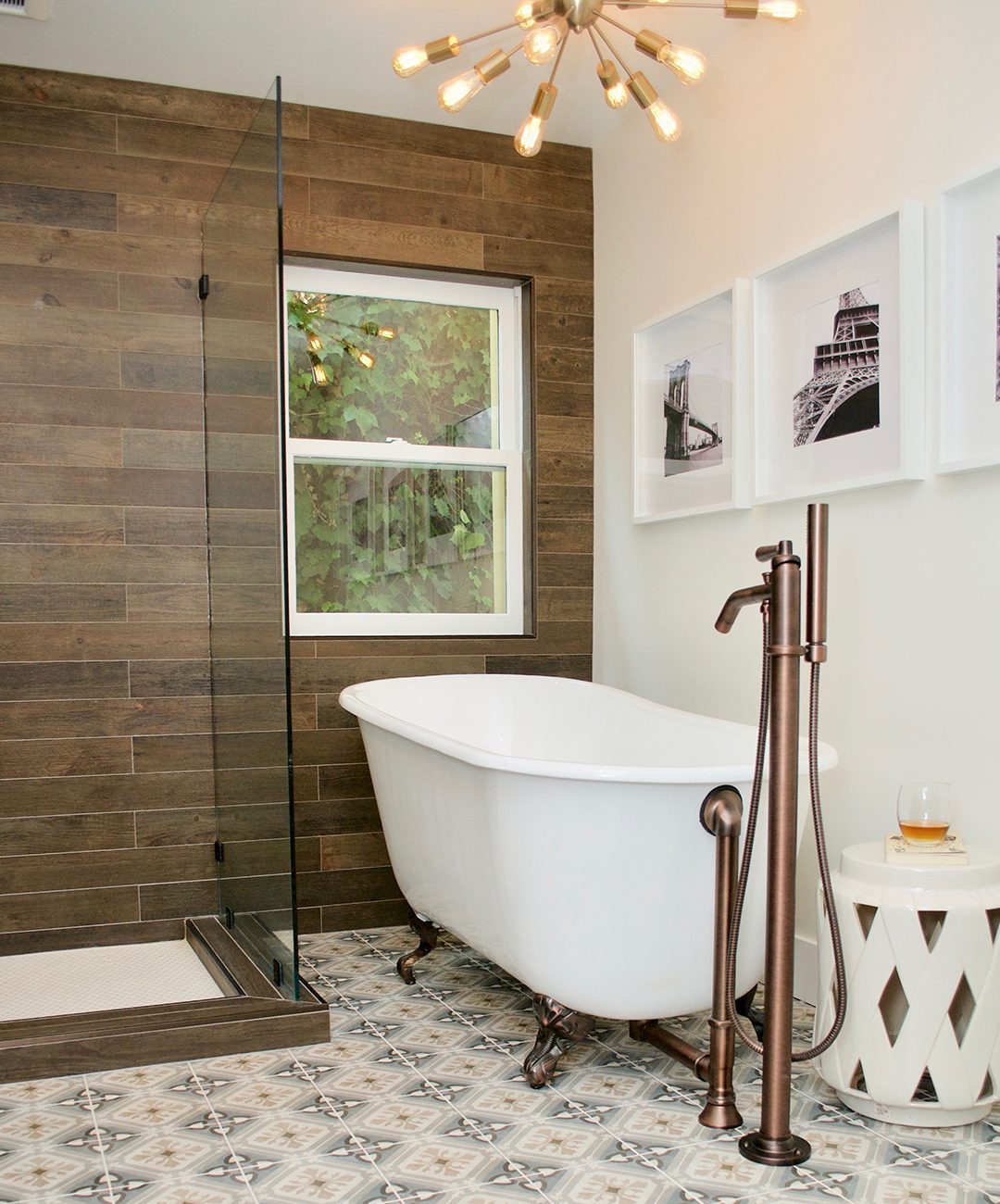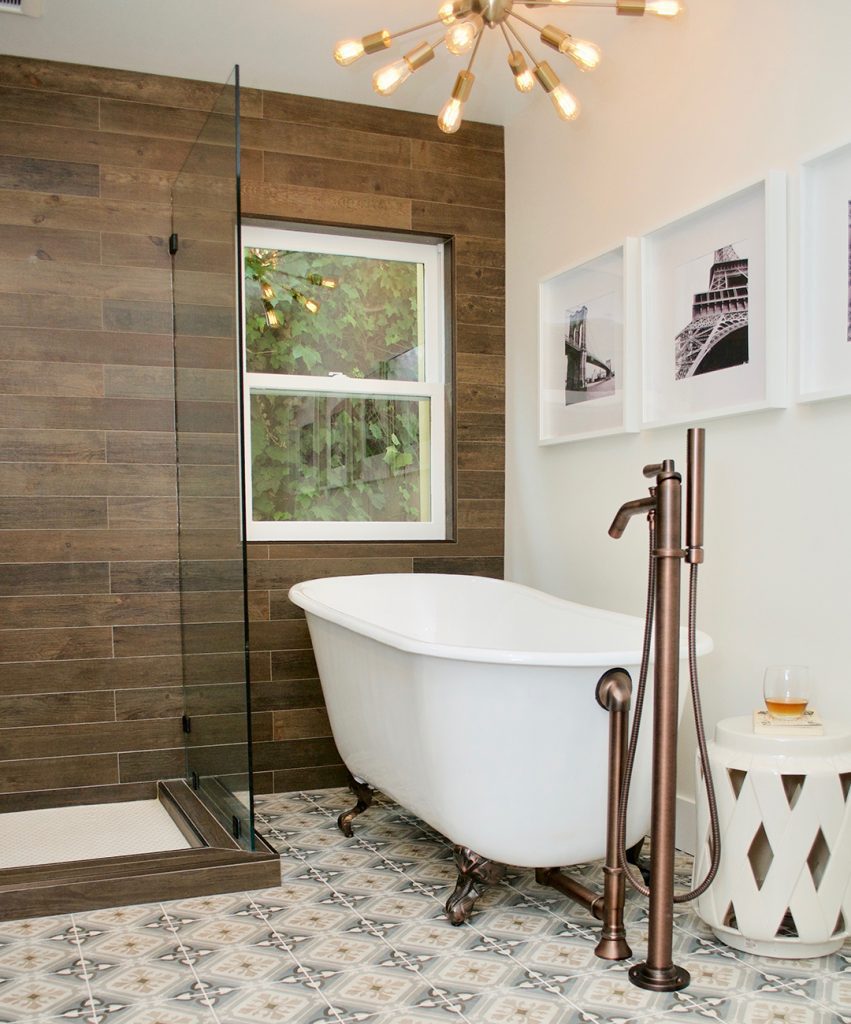 Meet the Team
Attend An Event
Preparation is key to a successful kitchen remodel. There are many budget, design, and planning decisions to make during the process. Join us at one of our free remodeling events to learn more about what you need to know before embarking on your remodeling project.