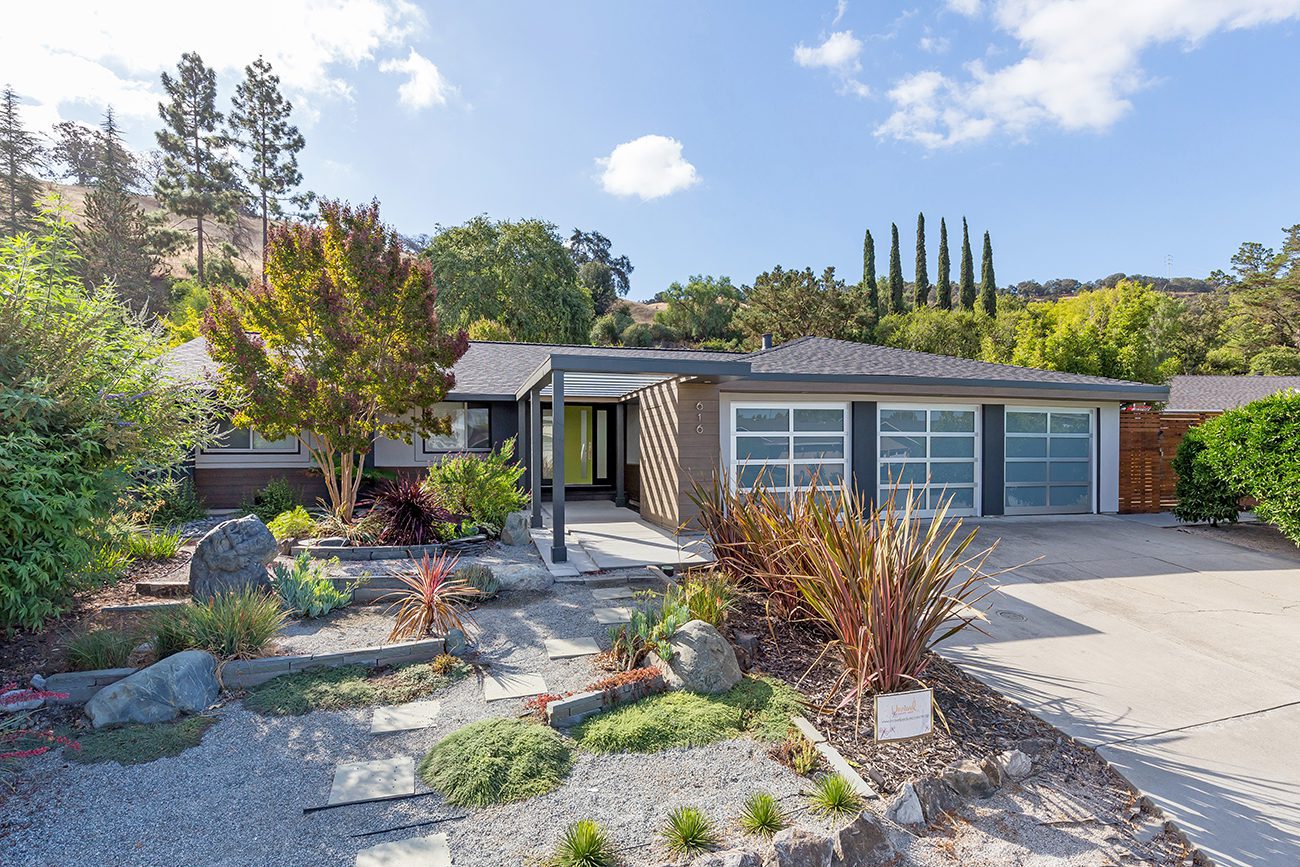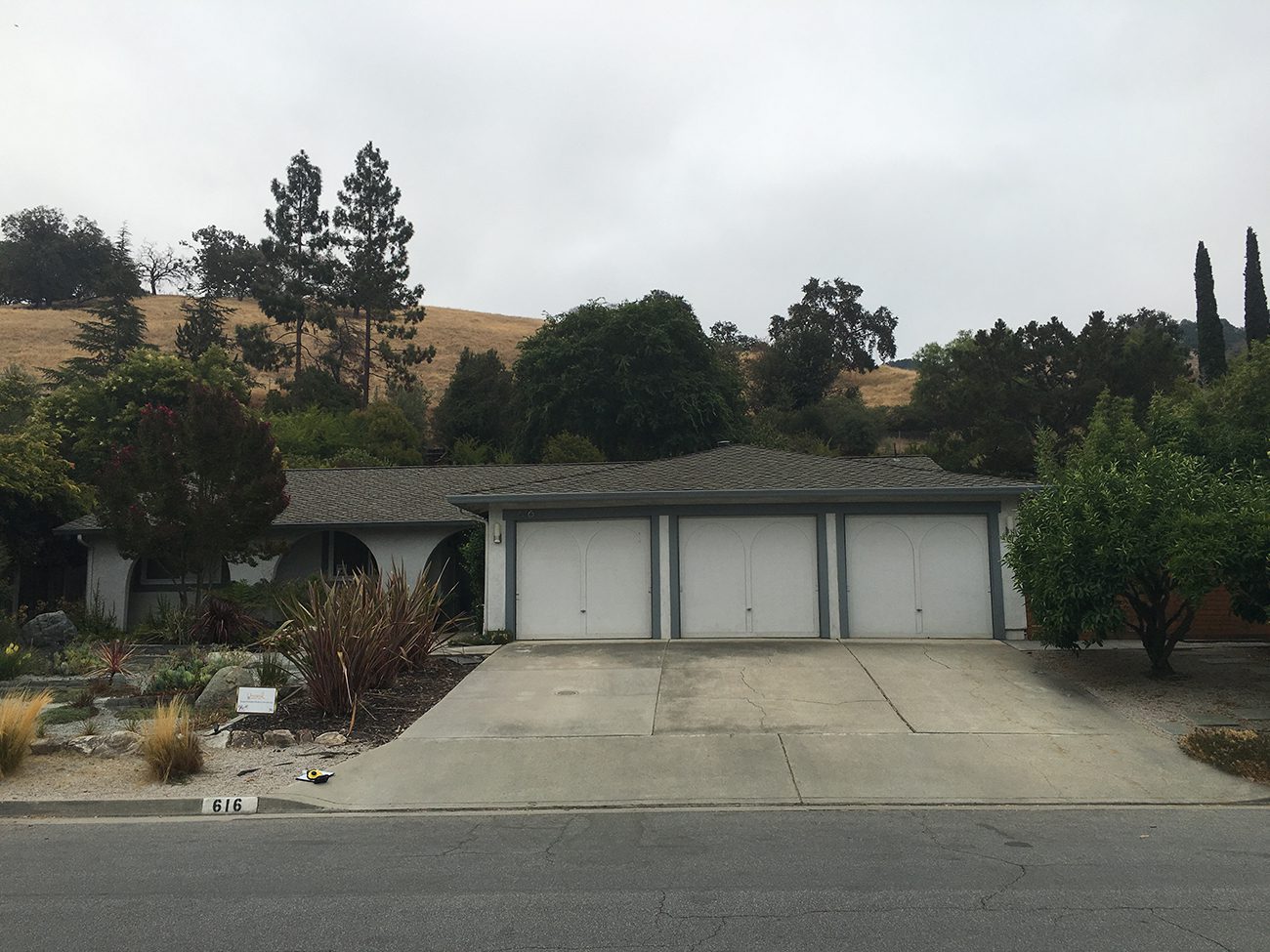 before
after
Exterior
Modern Curb Appeal in Silicon Valley
THE CONCEPT
Located on a large lot set against a backdrop of preserved open space, this suburban ranch home's lackluster façade had zero appeal for its modern-loving homeowners. The main objectives were to abandon the arches at the front porch, create a clearly defined entryway with a strong sense of architecture, and give the home more curb appeal with new garage doors and a mix of modern materials such as aluminum, glass and flush-profile siding.
MATERIAL SELECTIONS
The clients chose a design concept that included cladding the façade with a combination of flush-profile, Trespa horizontal siding and smooth stucco. The entry was modernized with a contemporary Simpson front door, glass and aluminum garage doors, and a modern custom steel canopy that provided a transition point from the garage to the front door.
MODERN ARCHITECTURE
The entry was redesigned with a wider sidewalk and a contemporary steel canopy that projected from a new enclosure which hid the hose bib, sprinkler valves, and gardening tools. The enclosure also provided more architectural interest to the garage wall elevation, an added dimension that clearly delineated the garage from the entryway. The arches that obstructed the front windows were replaced with more modern, vertical lines.
LET THERE BE LIGHT!
The Trespa siding material was also applied to the ceiling of the entire garage soffit, as well as other trim locations. The soffit's generous width enabled the homeowners to illuminate the garage entry with Halo low voltage down-lighting trimmed in an aluminum finish to match the garage doors.
A Captivating Modern Landscape
A strong sense of modern architecture carried throughout the back of the home. For the rear elevation, the old brick wrapping the fireplace was replaced with a more contemporary stacked stone veneer by El Dorado. A key goal of the re-design was to provide more interest to the blank stucco walls at the rear of the home. The client's desire for clean lines and a clear sight line from the kitchen to back garden called for switching out the existing window to a large, uncluttered Milgard picture window in the kitchen.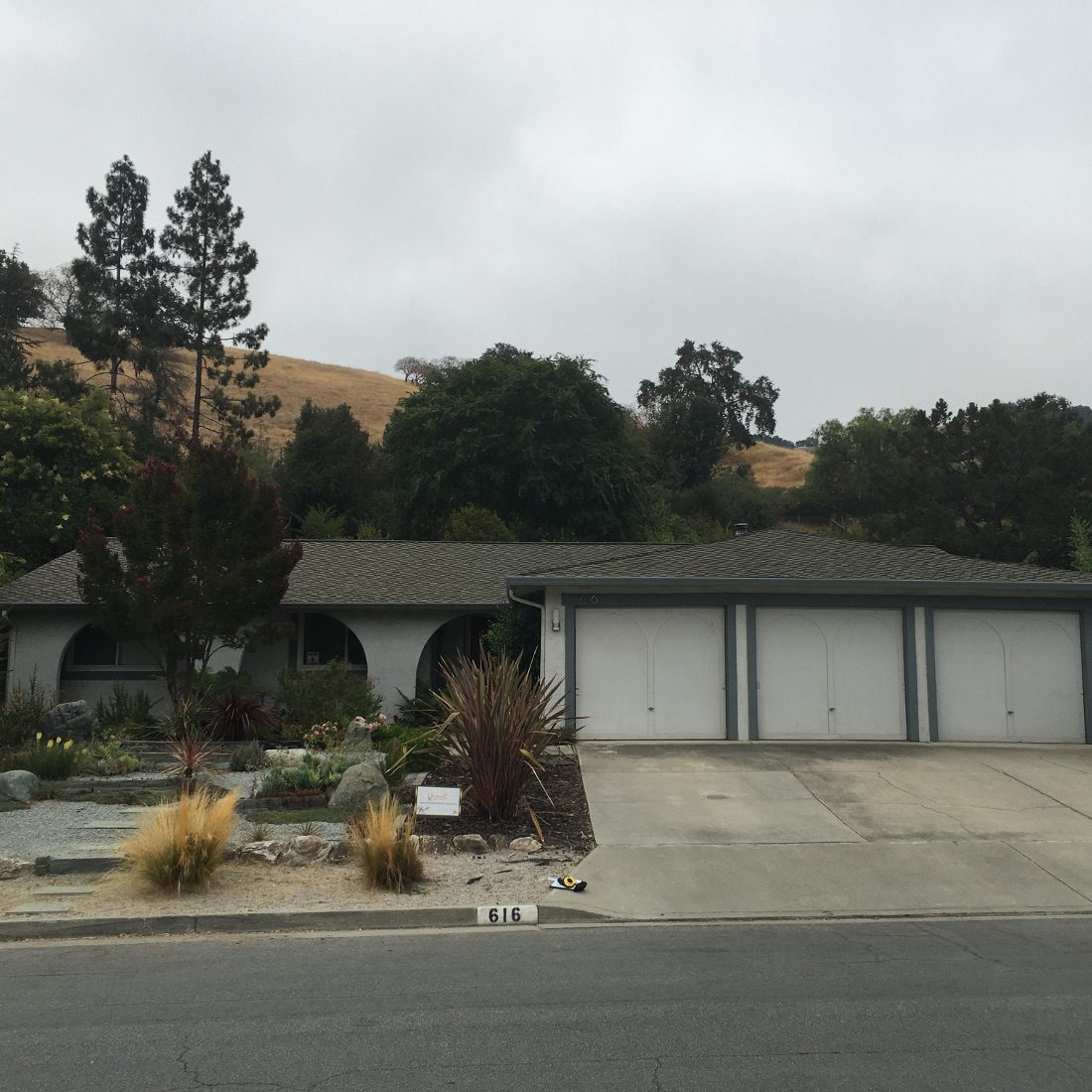 Meet the Team
Attend An Event
Preparation is key to a successful kitchen remodel. There are many budget, design, and planning decisions to make during the process. Join us at one of our free remodeling events to learn more about what you need to know before embarking on your remodeling project.