Is "Update my kitchen" at the top of your bucket list but the imagined price tag holding you at bay? These five kitchen remodel ideas are exactly the impetus you need!
The top reasons homeowners want a kitchen remodel is if it is out of date or does not function well due to lack of storage, light, or space. Increasing your home's saleability is a strong argument for a kitchen update as well.
We'll start with the most affordable makeover ideas first.
A New Lighting Plan Benefits Your Health
Would you believe a new lighting plan makes a huge impact on a kitchen's functionality and its design appeal? It's true! A well-designed lighting plan removes dark corners and can even boost your health. But there's more. There are health benefits too!
A 2014 study from Northwestern Medicine and the University of Illinois at Urbana-Champaign revealed evidence that exposure to natural light, during the day has positive health benefits including effects on mood, alertness and metabolism. Though the study was intended to promote natural light in the office, for many homeowners, the kitchen is where you spend a good portion of your day!
Photo Credit: Next Stage Design
Plentiful natural light is supplemented by layered lighting from the ceiling, over the stove, and under the cabinets.
A new lighting plan should maximize natural light and include task lighting. Canned or recessed lighting on a dimmer switch provides more control over the room's overall brightness. LED bulbs are the new standard in lighting because of their energy savings and longevity.
Lighting fixtures play a key role in aesthetic appeal and should be chosen to support the overall style. Decide where you want the kitchen's focal point and choose lighting fixtures to support the design. For example, if you want the eye drawn to the kitchen island, consider whether an ornate chandelier over the breakfast table would compete for attention.
Photo Credit: Next Stage Design
Chrome lighting fixtures make a bold design statement over the kitchen island.
Place Your Kitchen on the Cutting Edge
The Internet of Things, or IoT is encroaching the kitchen, which means you can control your oven, refrigerator, dishwasher, and sound system remotely from your phone or tablet.
Just imagine how handy it would be to check on the cooking status of your roast while out for a run or working in the garden! A number of companies now make wi-fi controlled kitchen appliances that you control via your device remotely. Make sure the appliances you buy include security features to prevent unwelcome hackers.
Photo Credit: Next Stage Design
Undercabinet sound system saves counter space.
Custom kitchen sound systems are becoming more mainstream. Controlled from your tablet or phone, you can tuck a bluetooth speaker out of sight on top of your refrigerator, underneath a cabinet, or even install speakers right into the kitchen ceiling.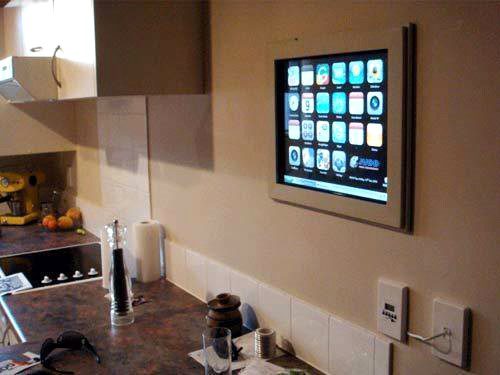 Since more and more home cooks are using tablets instead of physical cookbooks, a kitchen equipped with a mount for tablets is a user-friendly update for very little cost. The iPort surface mount attaches to any surface and magnetically holds an iPad in place while you cook. There are many companies that offer similar products including ones that attach to the underside of a cabinet and swivel.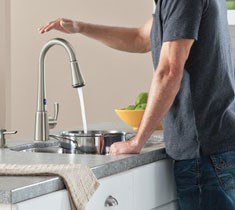 Photo Credit: https://www.moen.com/whats-new/innovation/motionsense
Another technology upgrade that gives a kitchen an instant boost in value and usability is a hands-free faucet. Any home cook knows how difficult it is to keep a kitchen sterile, especially when working with raw meat. New motion sensor technology means you can wash your hands without ever touching the faucet.
Something as simple as multi-function electrical outlets to plug in and charge your devices go a long way in making your kitchen more user-friendly.
Get Rid of the Clutter – Get Rid of Stress
A compelling argument to organize your kitchen is that clutter causes stress. Researchers at the Princeton University Neuroscience Institute discovered that you will be less irritable, more productive, distracted less often, and able to process information better with an uncluttered and organized home and office.
Photo Credit: Next Stage Design
A pull-out spice rack means no more reaching up into an eye-level cabinet on tip toes to go on a fishing expedition for oregano or nutmeg.
If the phrase "Bless this mess" seems coined for your kitchen, it's time to reclaim your space. There are countless organization solutions for today's modern kitchen that free up counter space, put dead corners to use, make cooking a meal much easier.
Photo Credit: Next Stage Design
This tucked away appliance garage means countertop appliances do not detract from the kitchen decor.
If replacing cabinets is not in your budget, you can retrofit cabinets and drawers with storage solutions like sliding drawers for pots and pans, drawer dividers for utensils, swing-outs or lazy susans for dead corners, and spice rack pullouts. You could turn a closet into a pantry, add an appliance garage, or hang a pot rack.
Photo Credit: Next Stage Design
A custom pantry makes a great place to store bulky food items or cooking items used infrequently.
Cosmetic Remodel is like a Facelift for the Kitchen
If your kitchen is showing its age, give it a facelift and add years to its life. Much cheaper than a complete remodel, think of this kitchen makeover as a visual upgrade. Every cosmetic remodel differs slightly depending upon the budget and age of the space, but most include an upgrade to the countertops, a new sink and faucet, new appliances, new cabinet hardware, a different backsplash, repainting, and changing out the switch plates and vent covers.
Photo Credit: Next Stage Design
The kitchen BEFORE its cosmetic remodel.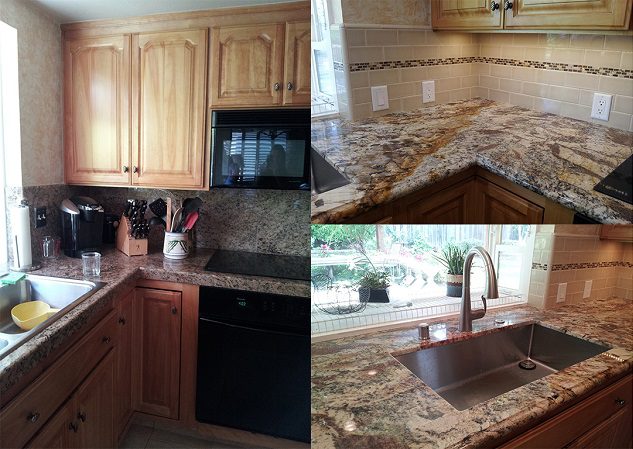 Photo Credit: Next Stage Design
Kitchen update AFTER the cosmetic remodel.
We've included some before and after photos from cosmetic remodels we've built in the San Jose area. Both of these kitchens look and feel brand new.
New Kitchen That Keeps Old Footprint
If you already like the size and layout of your kitchen, there is no reason to reconfigure it. A pull and replace remodel essentially guts your kitchen, but leaves the plumbing and electrical plans in place. Moving around plumbing and electrical or tearing down walls are projects that bump up the cost of a remodeling project. When you can leave the "bones" in place, you save money.
Photo Credit: Next Stage Design
LEFT: The kitchen BEFORE the pull & replace remodel.
Right: The kitchen AFTER the pull & replace remodel.
Photo Credit: Next Stage Design
The kitchen BEFORE the pull & replace remodel.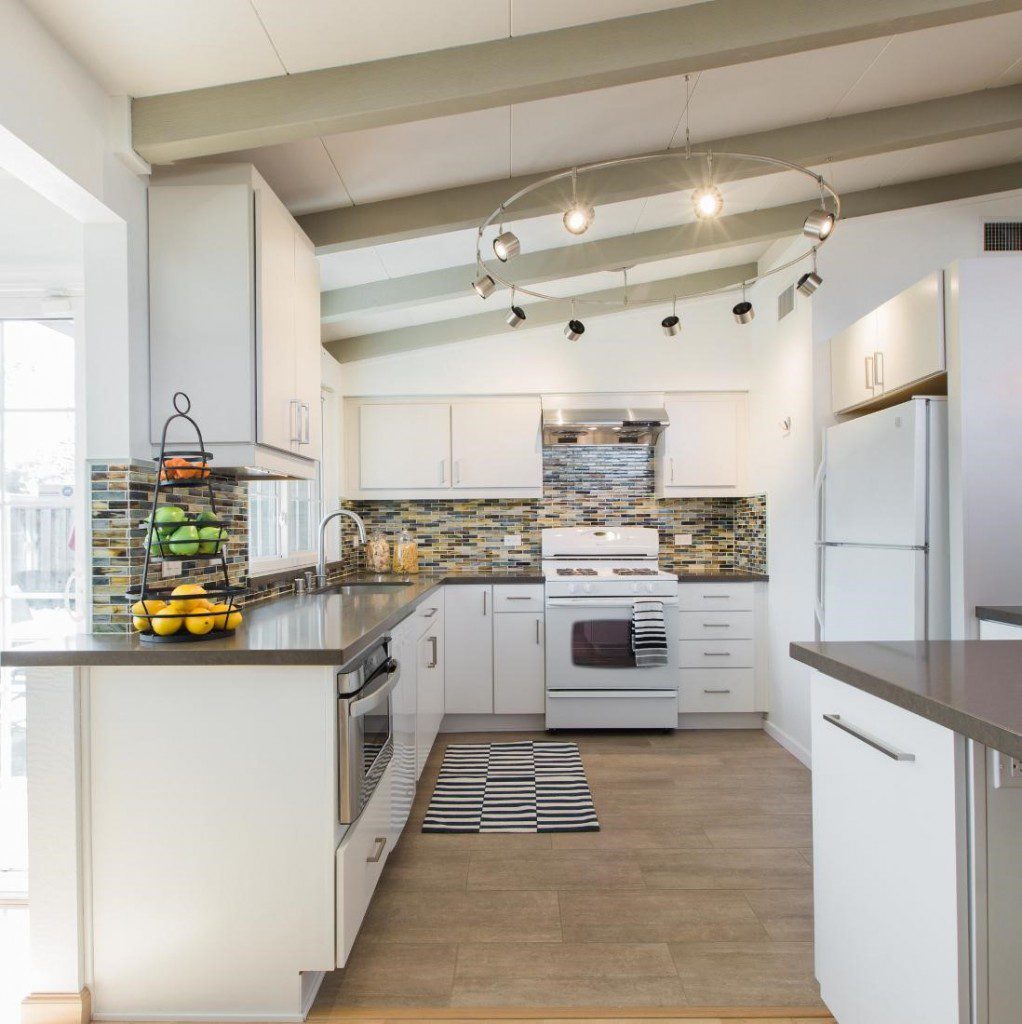 Photo Credit: Next Stage Design
Kitchen update AFTER the pull & replace remodel.
Even a pull and replace needs the trained eye if a remodeling designer. Selecting cabinets, countertops, backsplashes, fixtures, appliances, and flooring that blend in with the style of your home as a whole is a delicate process.
Photo Credit: Next Stage Design
LEFT: The kitchen BEFORE its pull & replace remodel.
RIGHT: Kitchen update AFTER the pull & replace remodel.
Meet our remodeling designers who serve as project consultants throughout the process whether you are redesigning your lighting plan or gutting your kitchen. They listen to how you want to use your space, uncover your preferred style and aesthetics, and use your budget as constraints to design your ideal kitchen. As your consultant, they stand by your side throughout the entire process. They are even your personal shopper if you'd like them to accompany you as you make those sometimes difficult choices between tile, flooring, fixtures, countertops, and paint colors.
If you are still in the consideration stage of whether or not to bite the bullet and remodel your kitchen, we suggest you attend one of our monthly remodeling seminars. Homeowners who participate in the seminar find the time well spent as a remodeling consultant guides you through the remodeling process and answers participant questions. There is no cost to attend and no obligation to continue with a remodel. We believe an informed homeowner makes the best client!