As the international community commits to reducing greenhouse gasses by 2 percent, we got to thinking about how as homeowners we could reduce our energy consumption but still feel warm and cozy this winter. They may even raise your overall home value. Here are five projects you might consider to improve your home's ability to keep the heat in and the cold out.
Start with an energy audit.
You can perform one yourself or hire someone to come in and assess your home. The energy audit is a room-by-room examination for heat loss and an examination of past utility bills. A blower door test will see if air is entering your house around doors. A thermographic scan detects heat loss around windows.
---
Insulate to Required Levels
The required insulation values for your home may have changed since it was built. If you have not updated your insulation levels in the past couple of years, the home energy audit can help you determine which areas are lacking. Pictured are the R-values set in 2013. They are under review for a 2015 update.
---
Weatherize by Replacing Older Windows
If you are still peering through the original windows of an older home, consider replacing them with lower U-value windows. Energy Star®-qualified windows can help save up to 15% on your heating and cooling costs. Look for energy saving windows with low-e coating, double panes, and vinyl or fiberglass frames. The requirements for Santa Clara County are listed in the yellow section, Zone 3.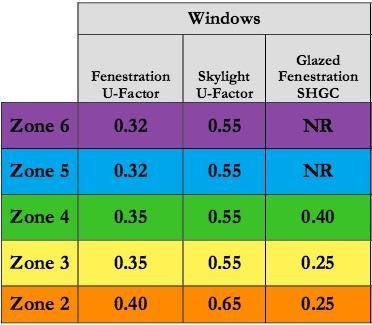 ---
Update the Fireplace
Is your fireplace a true source of heat, or is it no better than a fireplace app on your smartphone? If most of the heat escapes through the chimney, you could upgrade your fireplace to actually contribute to home heating efforts. A high-efficiency natural gas fireplace insert is one option. Another is an insert with blower for wood burning fireplaces. Glass doors can improve efficiency as well. And keep in mind that California law is changing in 2016 regarding remodels and wood-burning fireplaces. Ask Next Stage Design for more information about this or to remodel your fireplace.
---
Install a Programmable Thermostat 
Set-back thermostats can save up to 15 percent on energy costs. You can adjust many of today's new thermostats remotely using an app on your phone. That means you can turn the heat down while you're away and remotely warm it up just in time for your arrival. Remember, if you have a heat pump, select a model designed for heat pumps.
According to the Weatherization Assistance Program's Technical Assistance Center, "Combined savings for energy and non-energy benefits in 2008 show Weatherization returns at $2.72 for every $1 invested." If you need assistance with any of these energy saving projects, or others on your list, call Next Stage Design and ask them for a complimentary consultation.