When you pull into your driveway, do you stifle a yawn or worse yet, cringe? We want you to look lovingly at your home's front entrance every time you see it! Apply our seven exterior renovation ideas all at once or over time to make a huge impact on your home's appearance. Each idea is a time-tested solution we've used throughout many San Jose neighborhoods. Trust us, you'll never pull into the garage and sigh, "ho hum" again! In fact, you might find yourself driving around the block to pass by for one more look!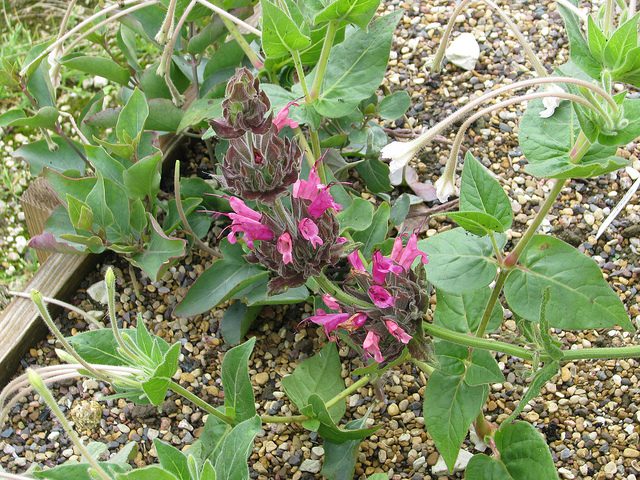 Salvia spathacea, Hummingbird Sage – Photo Credit
1. Remove the front lawn and create a drought-tolerant landscape.
Yes, we realize Gov. Brown announced the end of the drought, but that doesn't mean a landscape design using native plants is ever a bad idea in Santa Clara County. You may even smile knowing you are lowering the water bill and preserving a precious resource. Plus, native landscaping looks great and requires very little maintenance!
The city of San Jose's website links to garden designs for your yard. Use the concept designs to help plan out your own gardens.
2. Revisit the stone age!
Add interest to the exterior façade with a stone band. Stone provides both texture and an element of nature. Because of its weight, installing a stone band takes some reinforcement. It's one of the exterior projects you probably want a pro to install to ensure it is done properly. That's even more important for California homes which experience the occasional earthquake.
3. Paint the exterior, including trim.
A fresh home exterior is more than curb appeal, it protects structural integrity too. Inspect your home's trim and exterior woodwork for peeling and rotting. Before scraping and painting, replace rotting wood to prevent leaks or further water damage. Read more about preventing water damage on our blog.
4. Adding decorative lighting.
Not only is layered lighting an important design element, it increases safety too. Without proper illumination, pathways and steps are hazardous at night. Decorative lighting adds visual interest and is an instant way to give your home a facelift. Examples of exterior lighting include pathway and step lights, solar landscape lights, pole lights, ceiling and wall lights, and spotlights.
5. Use pavers for walkways and driveways.
Durable beauty is one of the primary reasons homeowners choose pavers for their driveways and walkways. Cracked cement immediately detracts from curb appeal and poses a tripping hazard. Large slabs of cement or asphalt are more vulnerable to cracking than paver stones and much harder to maintain and keep looking new. Pavers look more natural and offer a larger variety in patterns, colors, and designs.
6. Install a new front door.
Replacing your home's front door is money in the bank. According to the 2016 Cost Vs. Value Remodeling Report for San Jose compiled by Remodeling Magazine, replacing the front door adds more value to your home than the cost to install it. On average, the cost to install a fiberglass entry door in San Jose during 2016 was $3,226 but the resale value was $3,607. The average cost to replace a steel door was $1,420 in 2016 with a recoup value of $1,470. Even if you don't replace your front door, a fresh coat of paint adds a pop of color and a bit of fun!
7. Add architectural elements: columns, trim at windows and doors.
Add visual appeal to the exterior of your home using architectural elements like columns or trim around doors and windows. Trim will give your home a finished look. Much like wainscotting or crown molding in an interior room, architectural elements outside of your home add a layer of interest.
Share your exterior renovation ideas. Have you recently completed a project to improve your home's curb appeal? We'd love to see hear about it – drop us a line below.
Save