If you're in need of more square footage in California, you've likely seen some pretty unique ways to maximize space from home additions and attic conversions to granny suites. Garage conversions are becoming more common in the Silicon Valley too. For homeowners who need the square footage; converting a pre-existing structure is sometimes the most cost-conscious option. Some localities also have restrictions against alternative solutions like ADUs or home additions. We spoke with Next Stage's Design and Development Director, Sarah Gaffney, about the recent popularity of garage conversions, and she agreed that garages are often an untapped resource."People aren't using their garage for what it's intended for. [So that leaves] this additional room that's not being used to its full potential," Gaffney said. 
Some of Next Stage's past ADU garage conversion projects have been in older neighborhoods or on a property that had an expansive back lot. While this serves as a great starting point, it's possible to explore this kind of improvement in many types of homes. 
How did the trend start?
"[Homeowners would do it] illegally, because people needed to use it for additional living space," Gaffney said. 
Parts of San Jose, Sunnyvale, and Mountain View are now zoned to allow this type of project, which has increased the demand for garage conversions for remodelers. Even if your address is permitted to start remodeling, the unit must still be designed to meet the city's zoning and building codes. Local design/build firms can help you figure out if your property is eligible and work with your city's permitting office to begin the permit process. 


What exactly do you need to add to turn it into a livable space?
It depends on what you want out of the space – some people want a bedroom, others a living room or an office. "One consistent aspect will be drywall, adding electricity, and bringing air in – after that, every option will have different requirements," Gaffney said. 
"If you're turning it into a bedroom, you'll need a window for egress, which needs to be up to code". If you have an existing window, that doesn't necessarily mean it will meet the requirements. It will depend on the size of the unit and whether it's attached or detached. 
What else could you add to make the new room homier?
Before the remodel, it could be hard to believe that your garage could actually turn into something cozy, but there are a couple of ways to do this. 
A false wall to hide storage or utility areas from view. 
A new door to make access easier and security safer.* 
An indoor/outdoor design that backs up to the yard. 
*Building codes in some areas may not allow this.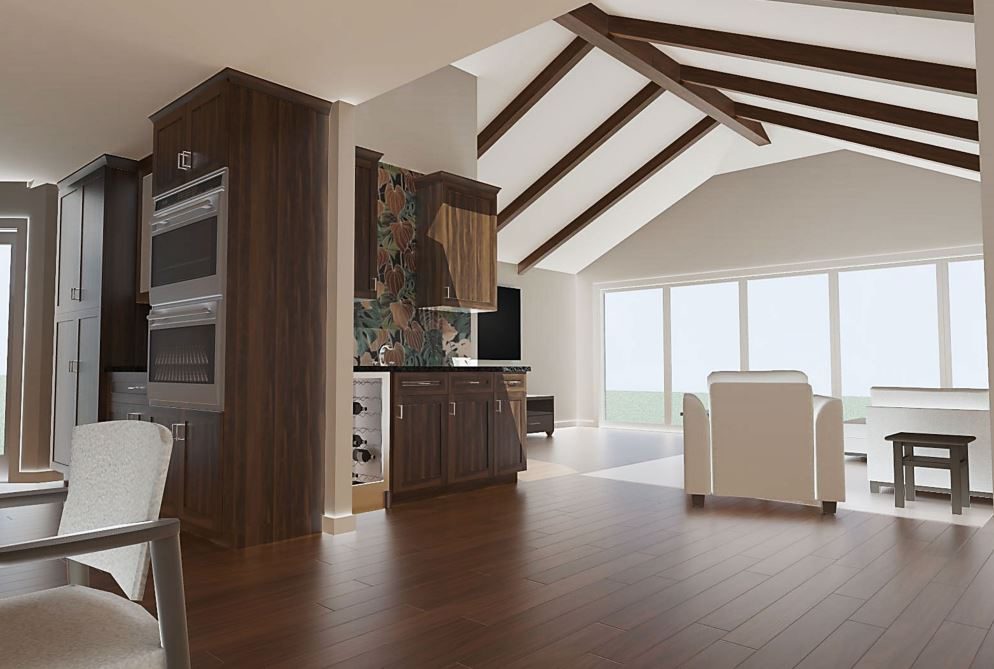 What are some reasons someone might do a garage conversion over an addition?
Sometimes, there simply isn't room for a home addition or it's against local regulations to expand on your property, whereas a garage conversion can meet your needs. You could go into the project wanting a guest bedroom and bathroom, and end up expanding into your living or family room as a result…think wet bar, cocktail area, entertaining. What features do you not have enough room for in the kitchen? Two of Next Stage's garage conversion projects have included: 
A garage converted into new living space, with a new garage built in front of it for auto and storage
Another garage that increased available living space, including an opening into the backyard.  
What should homeowners know before they decide to do a garage conversion?
"Before you begin entertaining the idea, assess the integrity of the structure. For older homes from the 30s and 40s, reframing may be needed. Most of the time it can be more economical than an addition but it depends [on how custom you want to go]," Gaffney said. "Since you have an existing foundation, the structure is there, so that reduces expense compared to an addition". Even with concrete, a team can float luxury tile on top. It's not as big of an issue as people imagine it'll be. 
There are also other costs to consider like bringing out utilities and infrastructure, and re-considering the efficiency of your HVAC systems and how they function together. In some cases, you'll have to conduct larger renovations like bringing up a step-down garage – this can be expensive and requires additional planning. It is important to discuss all of these options with a remodeler before you make any final decisions.  


Final questions to ask yourself before you decide to do a garage conversion?
For utilities and items like the water heater and washer/dryer – will they need to be relocated? 
For parking in the garage – what will be your alternative? Do you have other parking options or do you need to find a new solution? 
For expected property value – are you adding square footage or not? Are you adding features that you don't have in the main part of the home? (Note: This is another reason to remodel properly, because it can then count toward your total square footage and be valued as part of any future home value. If it's not legal, it will  create issues  down the road.)