Tell me about your forever home.
There are as many answers to that question as there are homes! In fact, your own response will even change over time as your needs change and evolve.
You may be living in your forever home right now. It's nestled in a community you know and love. You can knock on a neighbor's door for a cup of sugar or to watch your house while on vacation. It's the place where you've grown roots and made memories. These are all intangibles you can't take with you if you move into a new house.
Remodel your current house into your dream home.
Why move if you can transform the house you live in now? Use these custom remodeling ideas to get the most out of your home. Think about flexible design spaces that will adapt through various phases in your life. Those different phases might include single and married life, starting a family, living with teens, maybe caring for aging parents, or even your own limited mobility down the road.
TIP: Avoid trendy designs that are expensive to change. What do I mean by trendy? Hot pink is a popular color this year. Will it be a color you want permanently installed in your home or would you rather the option to change it out over time? Pink paint or a pink sink, toilet, and bathtub? It's much easier to repaint the walls in a year or two when hot pink is "so last year."
Think about how you use your space now and how you see yourself using it through the next phases of your life. Here are the most popular custom remodeling ideas to transform your house into a forever home.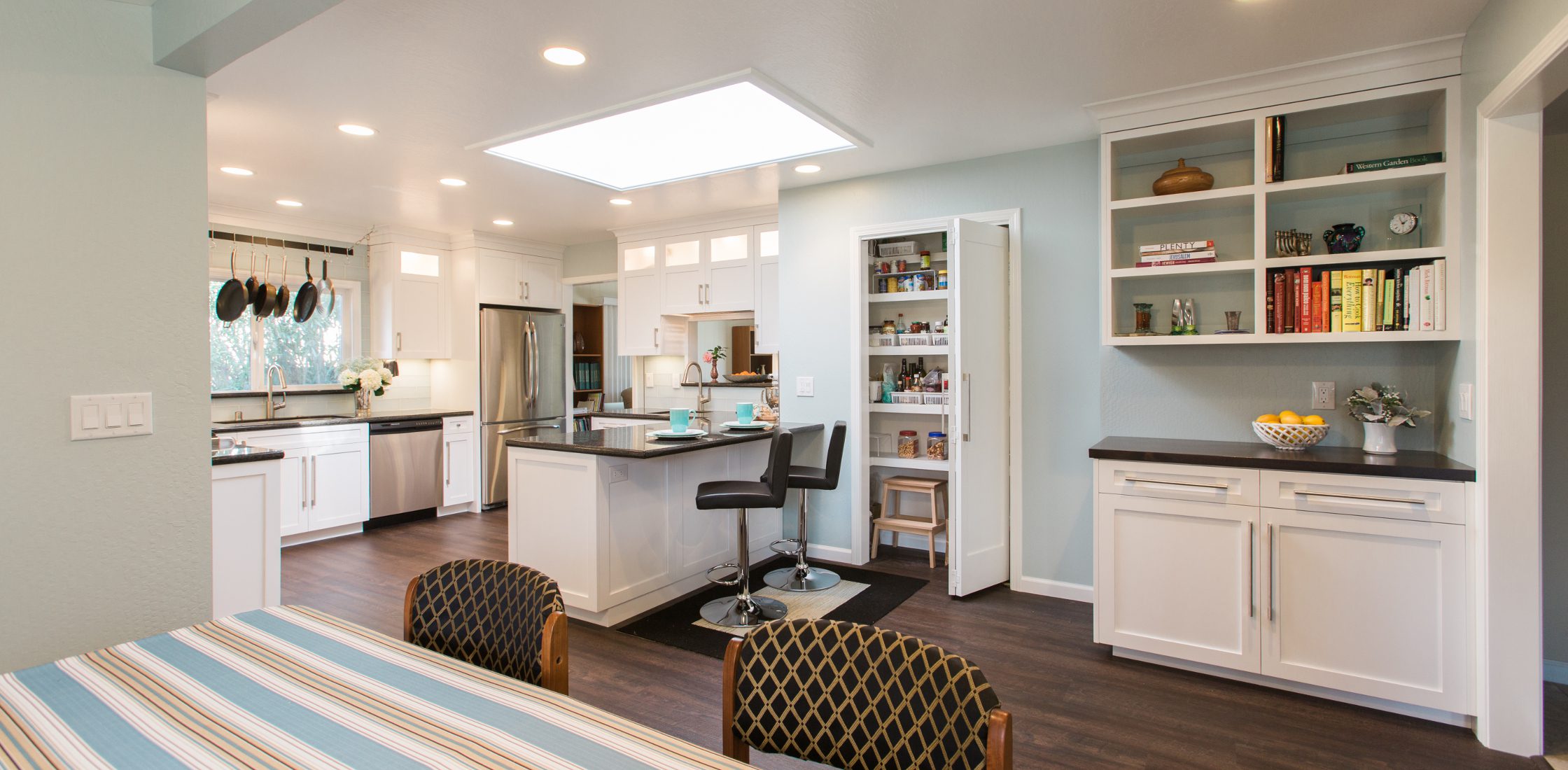 Number One: Create connected spaces
An open floor plan which typically includes an adjoined kitchen and family room is a great example of connected space. An architect or building engineer can help you assess how to remove walls that divide the kitchen from the family room and visually connect them.
Does your house currently include two smaller side by side bedrooms? Those bedrooms might be perfect for a family with a couple of growing children, but one day you could take down the center wall to make one large bedroom. If space allows, incorporate a full bath and you now have a home with two master bedroom suites.
A small room just off the master bedroom could serve a number of different purposes over time, changing to meet your evolving needs: nursery, home office, small lounge, walk-in closet.
Use a glass wall to connect two spaces and make them feel more like one. Consider installing a glass barrier between the family room and outdoor patio using a combination of sliding glass doors and floor to ceiling windows. When the doors are open the space becomes one large indoor/outdoor room.
Number Two: Add square footage
One of the best ways to gain actual living space is to build an addition. The most common additions are a single story room off the back of the house, kitchen bump-outs, and two story additions.
We recently built a traditional home addition in San Jose by adding onto the unattached garage. In just 600-square-feet, the homeowners gained a kids' play area, family entertainment space, and overnight guest suite. We custom designed every inch of space for multiple uses and maximum storage. Their small house was instantly transformed into their forever home.
One important design rule to remember when planning a home addition is the finished space should look from the outside like it belongs with the original structure. An addition that looks as if it was added as an afterthought or that does not follow the design aesthetics of the original home is a poor design.
Number Three: Design outdoor living space
If you live in a pleasant climate as we do here in San Jose, outdoor living space is an ideal investment in your home. With an average high of 84 degrees in summer and average low of 42 in Dec-Jan, you can enjoy an open patio nearly year round.
In colder climates outdoor living space may take the form of a three-season room with a fireplace and windows, while in more temperate spots an open air patio is all you need.
When planning your outdoor space consider how you want to use it. To entertain and feed larger groups build an outdoor kitchen for greater convenience. Comfortable seating, a source of heat such as a fire pit, and a way to escape the sun, think pergola, are all key features to include.
Number Four: Apply universal design principles
Too often people associate universal design with the look and feel of an institution, but that couldn't be further from the truth. Universal design makes a space user-friendly for all people. A wide hallway is is just as vital to a mom pushing her double stroller in and out of the house as it is to someone using a walker.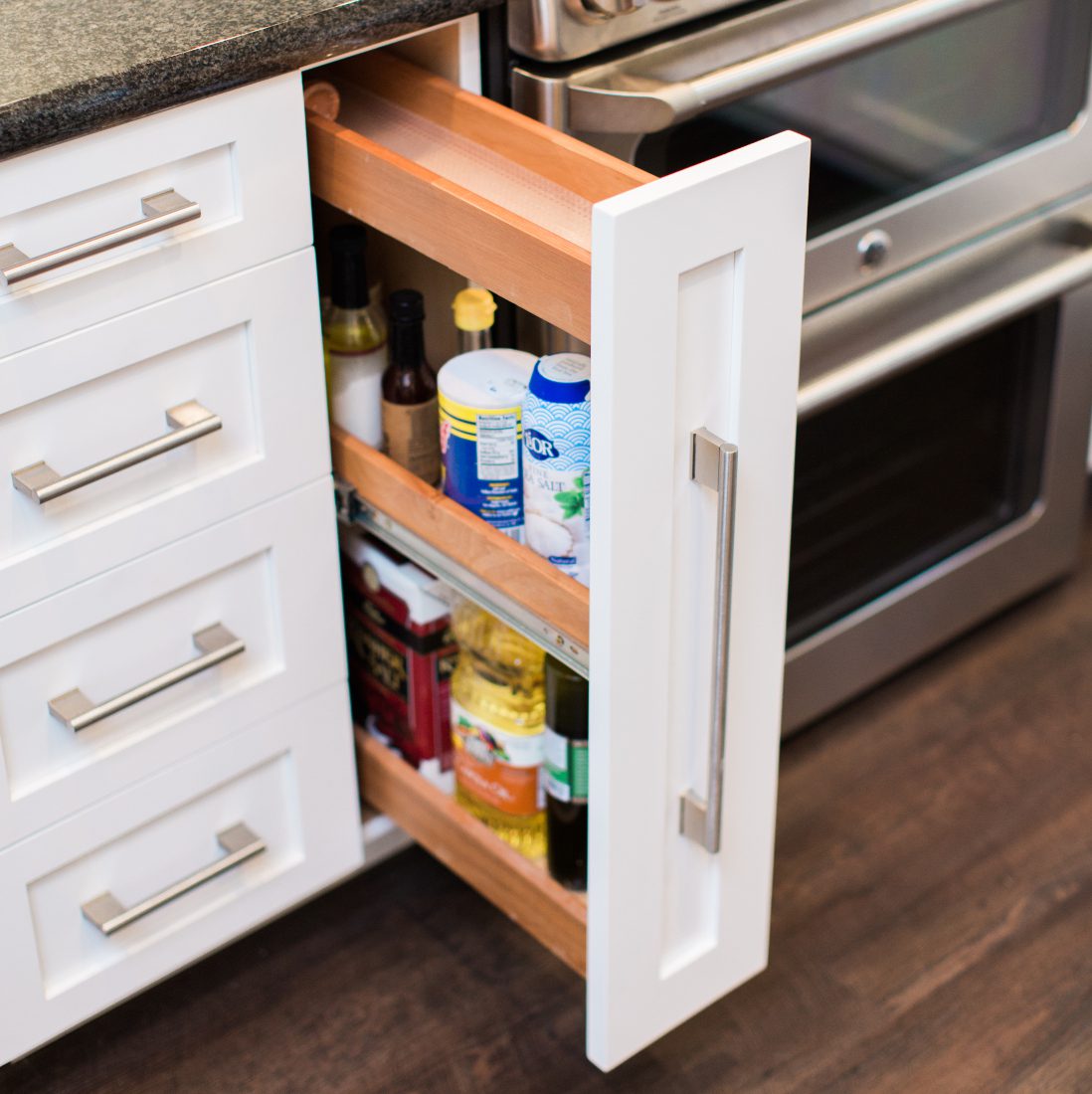 Custom home remodeling for universal design means adaptations are beautifully integrated and unnoticeable to the untrained eye.
Home cooks of every age appreciate features that make cooking and cleanup easier. When you build your dream chef's kitchen, incorporate universal design into the plan:
Rounded corners
D-shaped drawer pulls
Pocket pantry doors
Slide-out shelves
Lazy susans
Pull-out cutting boards
Widespread cabinet pulls
When remodeling your master bathroom give some thought to universal design in that space too by incorporating:
Curbless shower
Paddle knobs
Blocking behind wallboard for future grab bars
Built-in shower seat
Number Five: Boost curb appeal
If the front of your house is dull, uninspiring, and looks just like everybody else on the street, maybe it's time for a forever home facelift! Here's a dramatic makeover we completed in Willow Glen in late 2016. Which version would you choose as a forever home?
Everything on the front of this home remodel was custom designed to look like a cottage. The shingles and barn door style garage door combined with the stonework add texture and visual interest. The white trim pops against the dark gray facade. The front porch/patio was expanded to shade both front entrances and provide enough space for the family to sit and relax.
For more ideas, read our list of seven exterior renovations guaranteed to boost your curb appeal.
You might be restricted on which exterior renovations you can make if you belong to a homeowner's association and even more so if your home is in a historic district. Consult your covenant or bylaws before you invest in a custom remodel!
What custom remodeling ideas will you pursue in your forever home?
If you live in Santa Clara County we hope you'll schedule a free consultation with one of our experienced remodeling consultants. We'll help you create a timeless, flexible design that will meet your needs for as long as you live in your home.