Remodeling can be a wasteful process.  It usually begins with demolition, which means stripping  the existing part of the house that will be remodeled. This may mean removing walls, cabinets, and lighting fixtures. Or it could entail demolishing entire rooms and sections of roof. Often these piles of broken concrete, shingles, drywall, wood, and metal end up in landfills. The construction phase can mean a lot of waste as well, as contractors throw away unneeded drywall, wood, pipes, etc.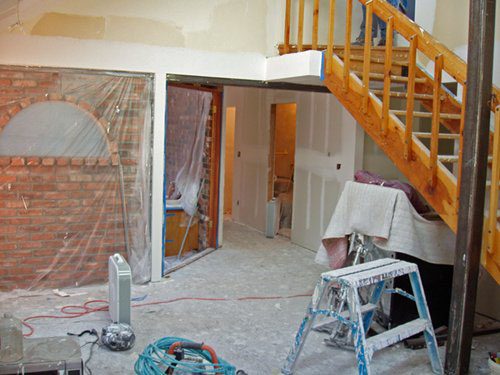 The good news is, there's a better way. Often, these materials can be donated and/or recycled, giving a double green benefit.  Not only are you keeping them out of the landfill, but you also decrease the greenhouse gases that would be used to manufacture new materials.  Generally speaking, 85-90% of most building materials can be reused or recycled.
As an added bonus, you may be able to deduct the value of the donated materials from your taxes—in the same way you would deduct donations of used clothing, toys, or household goods. If you're doing a large demolition project and will be donating a lot of materials, you may need to get the house appraised before demolition begins.
If you're planning to donate and recycle most of the construction materials, the demolition process will be different. It involves deconstructing the existing structure piece by piece, so it needs to be carefully planned ahead of time.  Before you start the process, you should also investigate which organizations near you will accept which materials. Many will come and pick up the materials from your property.
Where can you donate?
Below is a list of organizations that will give you tips on how to donate and recycle—and tell you about places in your area that will accept used materials.  
ReStore: Run by the nonprofit Habitat for Humanity, ReStore accepts new and gently used appliances, furniture, building materials, lighting fixtures, household goods and more.  Materials are sold in their store (you can get good deals shopping there) or re-used by Habitat for Humanity in building homes.
California's CalRecycle site includes a useful directory with links to resources for reusing and recycling building materials.
The Construction and Demolition Recycling Association and the Building Materials Reuse Association:  Both nonprofits educate and advocate for the recycling of building materials.  Both have lists on their sites of local construction and demolition recycling companies.
Environmental Protection Agency: The EPA site includes a guide to sustainable management of construction/demolition materials and information about how much of each material's content can actually be recycled.
Craigslist and Freecycle: Craigslist is world's biggest online classified service. If you have materials, fixtures, or appliances that might have some value to another homeowner, you can post them for sale on Craigslist (the site also has a section to offer items for free). If you can't get money for it and just want it to be gone, you can list it on Freecycle, where people offer items for free. Ads on Freecycle offer everything: gravel, windows, salvaged lumber, dirt, scrap metal, cabinets, bathroom fixtures, and more.
How much of your demo'd house can be donated or reused?
A lot more than you might think. Some items in the house in good working order  can be donated as is and re-used in another place:
        Appliances
        Bathroom fixtures
        Bricks and siding
        Cabinets and shelves
        Shutters
        Carpeting
        Ceiling tiles
        Doors, windows, and screens
        Ducts
        Flooring and tiles
        Insulation
        Landscaping materials
        Lighting fixtures
        Marble and flagstone
        Paneling
        Pipes (copper pipes are especially valuable)
        Trim and antique molding
        Wooden beams and decking
        Blinds and window treatments
        HVAC equipment and water heaters
        Bathroom vanities and mirrors
Other material can be recycled—and used to make new materials:
        Asphalt
        Shingles
        Carpet and carpet pad
        Concrete
        Drywall
        Fluorescent lights
        Land clearing debris
        Metals
        Window glass
        Wood
There's no reason not to investigate donating some of your home's materials. It's good for you, your wallet, and the earth.
Questions about how you can keep your remodeling process as "green" as possible? Schedule a consultation with us and find out!