Kitchen Layout Ideas: The Perfect Way to Design Your Space
Your kitchen is an extension of you–it's where you feed your body, mind and soul, where your family gathers together everyday, and where you can find warmth in the cold weather and cool air in the warm weather. In the morning, when you make your cup of coffee or tea, it becomes the place where you make all your best plans for the day. Your kitchen layout has to match your mood and your rhythm.
There is no perfect layout or design for a kitchen that fits all sizes. Kitchen layouts come in all shapes and sizes. The best kitchen layout ideas will center around these elements:
The available space
Appliance and plumbing locations
Your needs
Your wants
Your budget
From a tiny condo with a small footprint to a large empty home that needs some TLC, a designer's skill is to take any space and breathe creativity and inspiration into its layout. Homeowners shouldn't feel constricted by an existing layout that may not meet their needs. Our kitchen designers at Next Stage Design have the knowledge and expertise to make any kitchen layout functional and beautiful.
If you're planning a kitchen renovation, these are the typical layouts that our designers are working with when designing a new kitchen space:
Galley layout
L-shaped layout
U-shaped layout
Island layout
Peninsula layout
The one-wall kitchen
Some things to keep in mind when thinking about kitchen layout include traffic flow throughout the space, how you cook and how many cooks use the space, storage needs, and types of appliances and their sizes.
Next Stage Design designers have designed all shapes and styles of kitchens. We can help you find your perfect fit for your dream kitchen!
Say Ahoy to Modern Galley Layout Kitchens
The galley kitchen is typically found in smaller-sized homes. Don't be fooled by old photos of outdated galley layouts–the modern galley kitchen is a fantastic space saver and a great way to display a unique cabinet color or a backsplash.
The key to updating a galley-style kitchen is to maximize cabinetry storage and functionality, something that is often lacking in an older kitchen. Next Stage Design updated this historic home with a modern galley kitchen to include balanced proportions between cabinets and counter space, and pulled the kitchen sink forward just a touch to create variety among cabinet lines.
White cabinets took the light from the kitchen window and expanded it forward, helping to reflect more light in this space and making it look bigger. A marble backsplash contrasted with the periwinkle blue walls and the honey hardwood floors, adding layers of interest.
Adding cabinet fronts to the dishwasher and refrigerator visually expands the space and keeps the focus on the intricate cabinet design and not the size or stainless steel of the appliances.
Other available options for making a galley kitchen layout seem larger include increasing the natural light by installing a window, skylight or sun tunnel if possible. Choosing contrasting colors, like black and white, also create elements of interest and style within a tight space.
L-Shaped Kitchen Layouts
While many designers and homeowners love the concept of an island in their kitchen (or even multiple islands), sometimes that's just not possible with the amount of space in a home. If you have an open concept space, a loft, or if you need an open concept to better maximize the space in your home, an L-shaped kitchen can include stylish and creative functions for entertaining, cooking, and everyday living.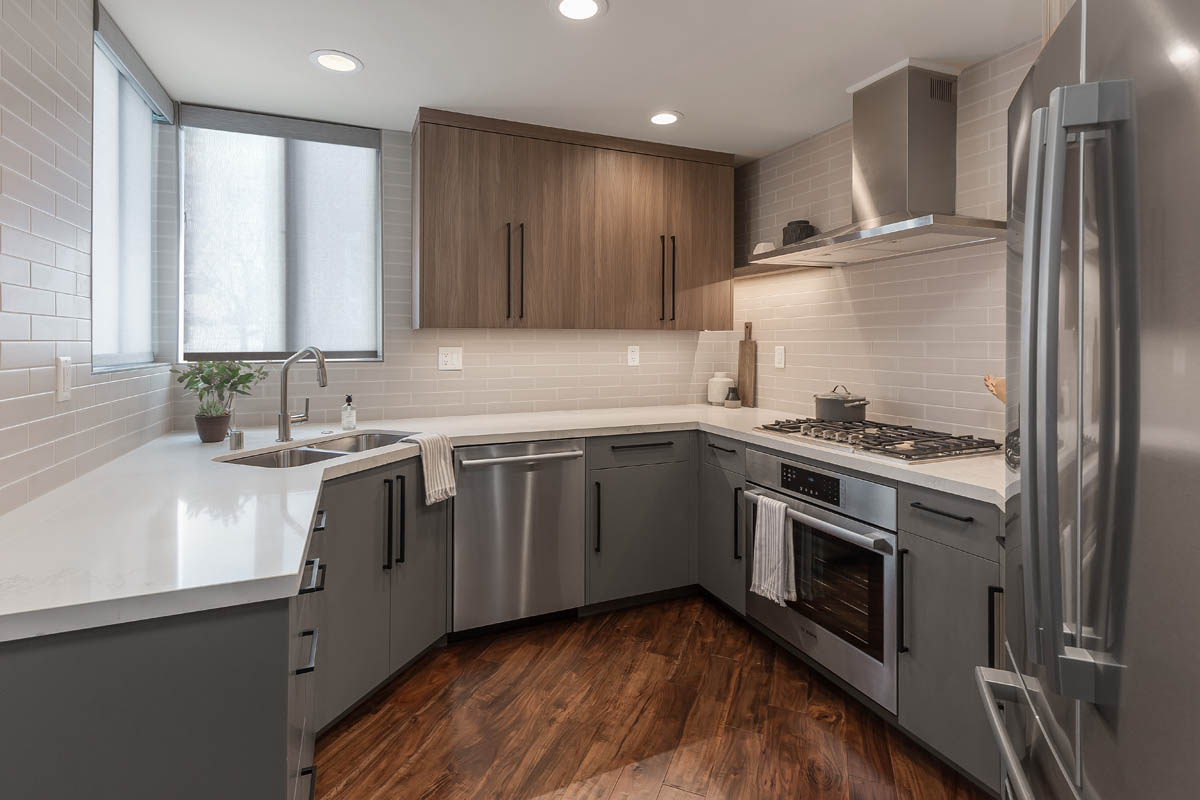 The best way to appreciate an L-shaped kitchen is by decreasing clutter to emphasize wide open counter space. In this modern L-shaped kitchen designed by Next Stage Design, two continuous lines of unbroken counter space make the room appear bright and airy and ready for dinner or a quick cup of coffee. The wide open arms of the L invite the homeowners into the space and make it easy to move and flow.
Make a 180 Turn to Total Style in a U-Shaped Kitchen
U-shaped kitchens are formed by three adjacent walls that make it appear to form the letter U. This type of kitchen layout can often offer the most versatility and cabinet space and oftentimes offers the opportunity for an island or kitchen table at its center.
In this transitional design, Next Stage Design took an outdated kitchen that struggled with lighting and flow and made it a family-friendly, bright space that capitalized on its natural lighting. Recessed lights illuminate the kitchen, with traditional-style sconces and pendants serving as the jewels in the crown. The glass-paneled bank of cabinets were designed to look like a piece of furniture and add a beautiful classic element to the space. The layered lighting plan included under-cabinet lighting, an extra touch that increases the ease of basic work tasks.
The ombre mosaic tile design above the range created a focal point at the cooktop and added a touch of whimsy to the tailored space.
An Island-Layout Kitchen in the Sun
One of the most common requests in a dream kitchen is an island. Not all layouts or spaces are sized for an island, which is another reason to work with a professional kitchen designer to properly assess the feasibility and limitations of your space.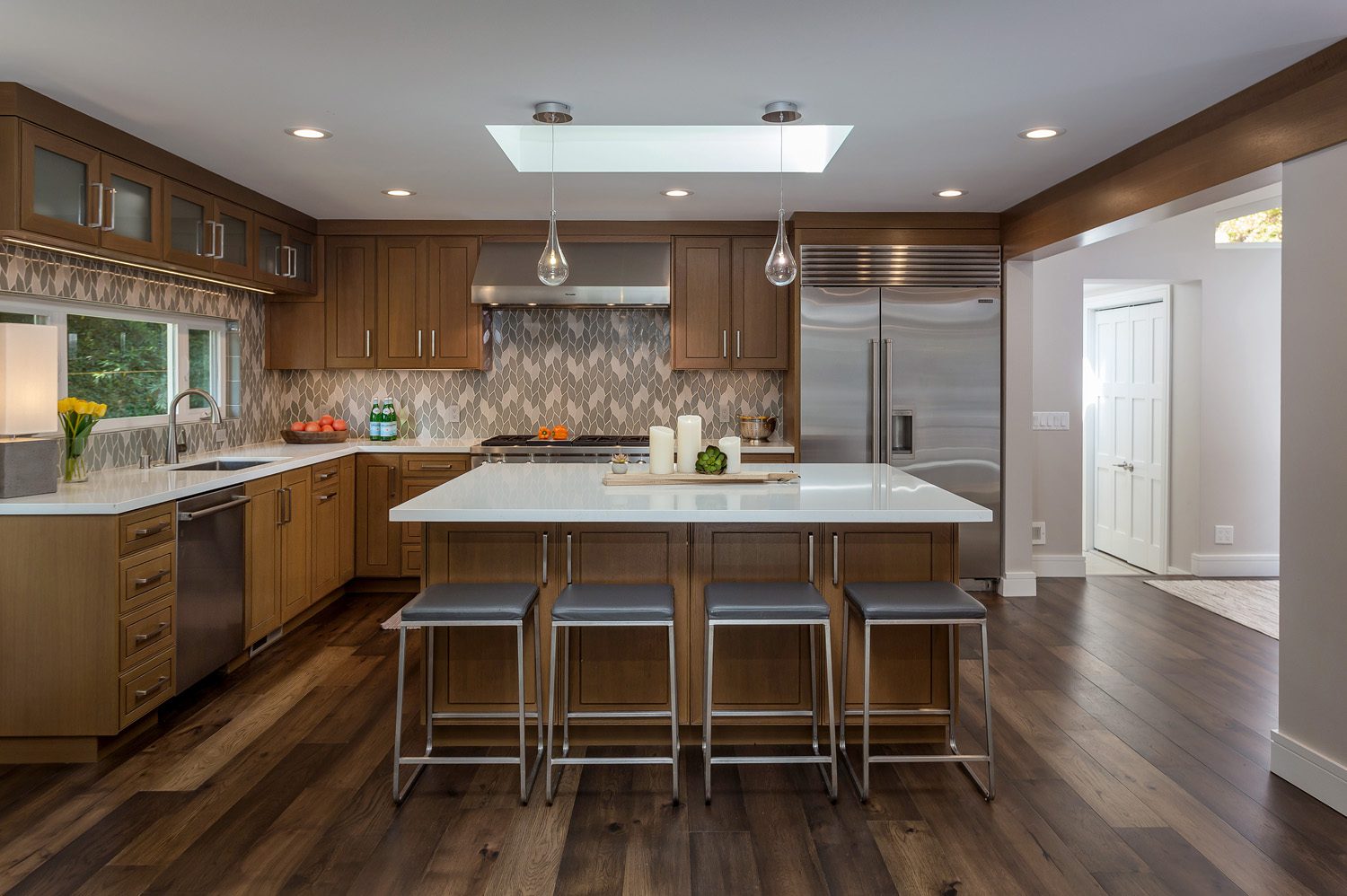 An island makes a statement in a kitchen: it's a space to cook, to eat, to gather. In this island-layout kitchen designed by Next Stage Design, the simple teardrop pendants cast glimmering light over the island that served as a central gathering spot in the home. The 6-foot by 5-foot island is packed with storage capacity including pull-out shelves, tray dividers, spice storage, a microwave drawer, and seating for four!
Windows wash the space in natural light, as does the large skylight centered over the island.
Variety is the Spice of Life: Peninsula Kitchen Layouts
A peninsula in a kitchen offers a smaller version of an island when space is tight.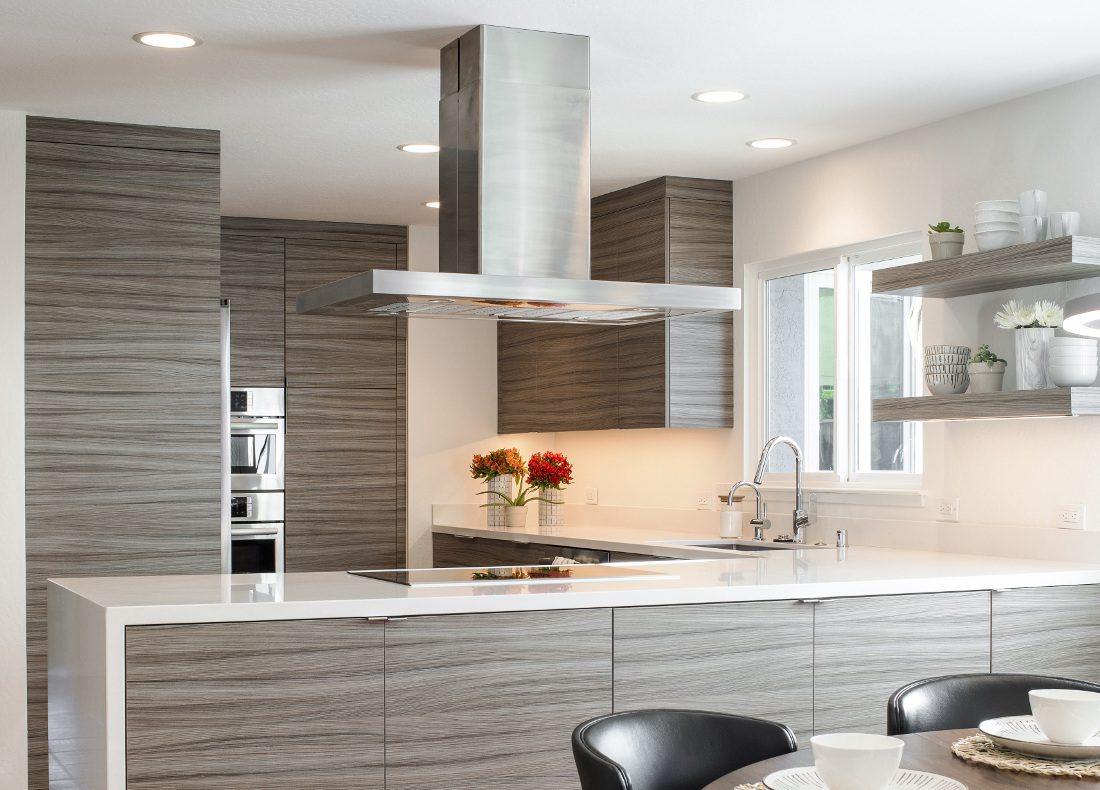 If your kitchen space is too small for an island work space, a peninsula may make sense. This European Modern Kitchen designed by Next Stage Design incorporated a long peninsula to provide more surface space in a small footprint. The simple materials palette–white surfaces with wood grain laminate cabinetry–works to make the space feel lighter and more spacious.
Functionality with a Dash of Style: The One-Walled Kitchen
In some open-floor concepts, a one-walled kitchen is the only layout available. However, this concept does not mean you can't have a kitchen with all the necessary elements. Simple, clean lines and design elements such as paneled appliances create an uncluttered look.
The lack of walls means bigger pieces of furniture can help delineate your cooking space. A large table in a neutral color can give you more workspace to use while you prep and entertain.
Create Your Perfect Kitchen Layout With Next Stage Design!
At Next Stage Design, we understand that the kitchen is the heart of today's home. If you're ready to start planning your dream kitchen, our team of design professionals is here to help! Contact us today to schedule a complimentary consultation with one of our remodeling professionals to start imagining the possibilities for your home.