When is the right time to remodel your kitchen? It can be a hard question to answer, but to make the best decision for your home, you'll have to figure out what your immediate priorities are and how it may be useful to work with a remodeling company to get the job done. You probably have a lot of questions – let's break down the most common concerns our clients have with respect to timing and how they ultimately decide what's right for them. 
When is the right time of year? 
The easy answer is – the "right time" of the year is different for everyone! It would be beneficial for you to sit down with your goals in mind and your calendar in hand to determine when the best time would be to embark on a remodeling journey. Some may have the goal to finish projects before the fall holidays, in that case, embarking on the journey early in the year may be best for you. Some may plan the remodel around celebrations or occasions where they know they need their kitchen fully usable. Others may prefer summer when their kids are home so they don't have to manage their children's school schedules, and others may prefer during the school year to ensure the kids are out of the house!  Have an open discussion with your remodeling team about your priorities, goals, and schedule desires and they can guide you to the right path.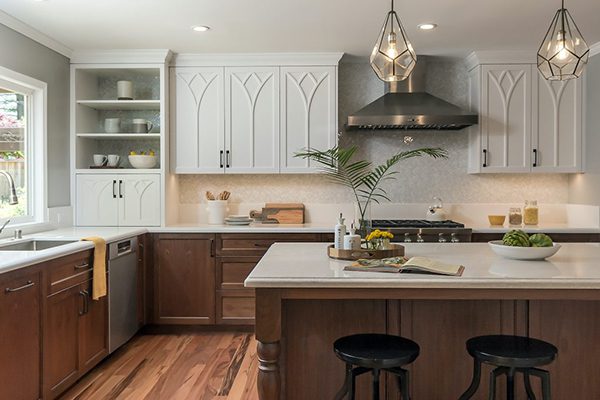 When is the right time since owning the home? 
From the trends we've been seeing recently, families who are pursuing whole house remodels tend to purchase their new home, have it remodeled while living in their current home, and delay moving in until after the project is complete. The benefit to this is, you're moving into your completed dream home and don't have to live through the construction. For a project that's limited to remodeling the kitchen, you may find it useful to wait. By living in the home for at least a year, you will begin to see how it really functions in the day to day. Something you perceived as a  huge problem at first may not end up bothering you, whereas, a compromise that you made in the kitchen such as outdated countertops/cabinets, might end up bothering you more than you thought. 
When should I reach out to a remodeling company? 
One of the following might sound a little too familiar:  
Your kitchen functions well, but doesn't have the updated look that you want
The kitchen looks just fine, but its function isn't well suited for your lifestyle, making it difficult to complete simple tasks without bumping elbows or spilling drinks 
Does your new kitchen design now call for a dedicated desk and some office storage, or extended homework space for the kids? 
Discuss your needs with a project developer and they can guide you to understand what may be beneficial to change and what you may be able to keep. If you can't quite picture what some of the more significant changes would look like, don't fret – our design team will work with you to compose several different design layouts and options to help you visualize your new potential space.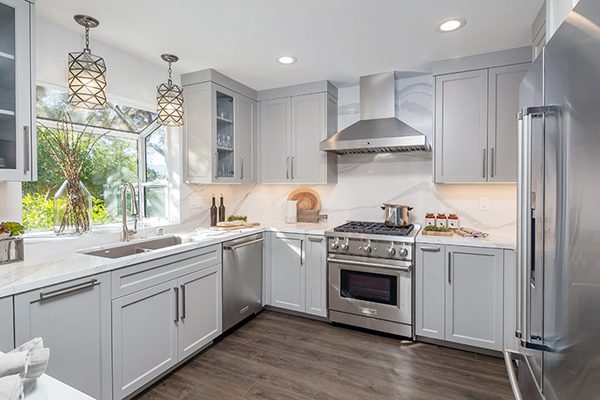 When can you feel confident with your decision? 
The strength of the relationship between the homeowner and the remodeler can define the success of a project. A kitchen remodel involves a lot of trust, communication, and accountability. Because of this, choosing a remodeling company may seem like a daunting task. When can you feel like you're ready to decide, and what exactly do you need to make an informed decision? 
Take a close look at the remodeler's About Us and Process pages on their website to learn more about their reputation in the community. Get a sense of their client experience from online reviews and testimonials, learn more about the day-to-day of a remodeling project by visiting their blog, reading case studies, and if possible, video content on the job site. After you're confident in these aspects, be sure to check how they've been operating during this new reality and what safety measures they have in place. They may be utilizing online consultations and design meetings, so much of the process may be able to be completed from a distance.
Let's chat. Sign up for one of our upcoming webinars or download our Kitchen & Bath Remodeling Guide to learn more. Fill out our contact form when you're ready to speak to a member of our team!