No matter the circumstance, we keep our promise to care for each client's space as if it's our own home. We'll start by listening to your needs, then we'll work together with your project team to find the right solutions for your home. As you watch your dream home come to life, you'll see the Next Stage Design impact. 
Here's how we've changed our business practices during this time, and what we'll take with us going forward. Learn more about the process of remodeling your home with Next Stage Design and see what makes the experience unique. 
Our Process
The Initial Consultation
We'll start by taking an initial tour of your home, either virtually or in-person. We'll always defer to client preference, and if applicable, maintain the recommended distance. By observing the space as it is, your project developer will get an understanding of your needs. You know your home best – be open about your pain points because those initial observations will help drive what your home transforms into.
Designing and Planning  
From here you'll start working with a member of the design team. We'll begin by taking measurements and detailed photographs. Then, we can create 3D renderings based on your wants and needs. Our team carries certifications in CAD (Computer Aided Drafting)  so you can see what your kitchen, bathroom, or whole home remodel will look like. During the design planning phase, you'll be able to make changes based on proposed layout options and get a feel for how those renderings might evolve as you become familiar with your material preferences. Between the 3D rendering and detailed discussions with our team, you'll feel confident that you've made an informed decision by the time we're ready to start remodeling your home. Every member of our design team is also certified in Universal Design so we can make sure your space is, fit to be part of a forever home.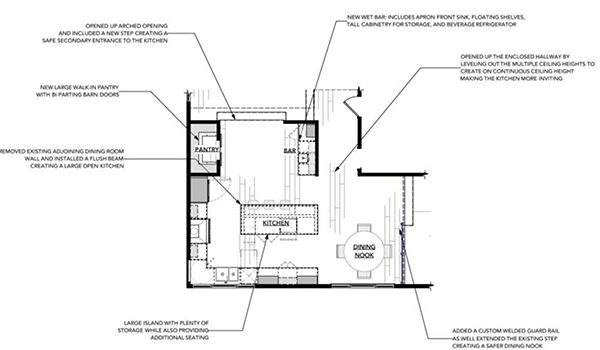 The Construction Phase 
Whether you're doing a pull-and-replace remodel that features new countertops and re-finished cabinets, or a full whole home remodel, we'll work together during the construction phase to make sure everything on paper becomes reality. If it's a larger project like an addition or accessory dwelling unit, there may be plumbing, electrical, or architectural changes to contend with. As challenging as these may seem, you won't have to do it alone. 
A project manager will be by your side every step of the way. They will answer your questions, guide you through each new stage of the process, and ensure that the project is completed on schedule and on budget. While your project manager will stay in constant contact with you, your project progress can also be tracked digitally at any time using our cloud-based project management software, Buildertrend. Here, you'll be able to see daily logs of what's being done, progress pictures, project notes, and more.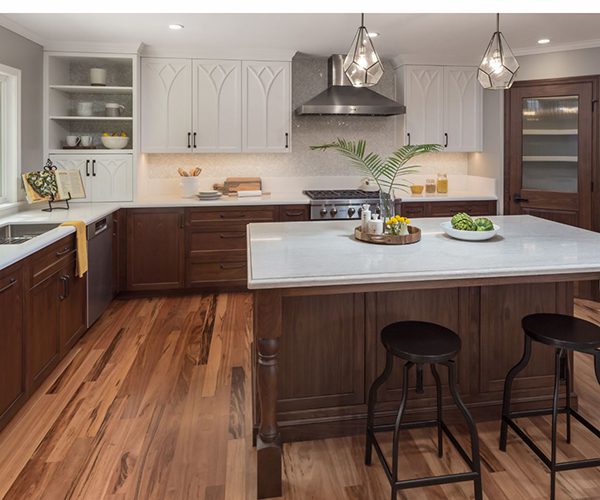 How We're Keeping You Safe 
We've been taking recommended precautions since California's stay-at-home orders went into effect, and we're updating practices constantly in accordance with state and local regulations. Here's how we've been working to keep our clients and employees safe: 
Staff must report their temperature every morning. Staff may be required to provide a COVID-19 test showing a negative result if they feel sick.
Staff will not carpool with others unless they live in the same household. 
A confined work area is to be created – this includes the use of plastic dust walls and zippered dust doors. Air filters will be taped over any air vents in the work area and Build Clean air scrubbers will be used. 
Workers will wear shoe coverings on job sites and will be required to frequently wash their hands with soap and water, use hand disinfectant, and wear latex gloves. Each person will have a mask to wear if the client requests they do so. No-touch waste bins will be provided.
Portable toilets will be provided on all job sites where feasible to ensure a separate bathroom for the homeowners and worker. Portable toilets will be cleaned and locked at the end of each day. 
Groups must be 6 people or less and remain the recommended 6 feet apart. 
Workers will regularly clean and disinfect tools, equipment, and frequently touched surfaces throughout the day. 
Next Stage Project Managers are the designated Site Safety Representatives for each of their active job site to ensure these safety practices are being followed. 
Read the full statement on Next Stage's response by our President, Jim Kabel here. 
Ready to get started? Reach out to schedule a virtual consultation, or attend one of our upcoming seminars to learn more about the design-build process, budgeting, and more.