You've been wanting to remodel your house for a while. Is it best to remodel your whole house at once or to address your needs one room at a time? We'll make our case for why you might want to remodel your whole house at once, what can be the best approach when tackling multiple projects, and why working with an experienced local remodeling company can ensure the success of the project.
Here's what you want to ask yourself before taking on a whole house remodel:
Why have you decided to pursue the project now? We want the whole back story!
Here's how you'll be able to tell if it's the right time, depending on where you are in the process:
If you're considering completing one of your projects in a year, then you should start considering which specific projects are at the top of your list, and in particular, which projects a home remodeling company is best suited to help with. When considering a whole house remodel, you'll want to factor in what parts of the home you'd like to improve, the amount of experience the company has with this type of large-scale remodel – include online reviews and accolades – and what you want the timeline and budget to look like. Once you've established this, you should reach out to companies to start building out your plan.
If you're considering completing it in more than a year, start by observing your daily routine. Make a note of what frequently frustrates you; it could be the uneven walkway to the front door, the cramped front entry that lacks storage and restricts flow to the rest of the home, or the lack of that coveted at-home workstation where you can work comfortably in your home. As you get a sense of what your needs are, you'll quickly find out what works and what doesn't. Express these needs to a remodeling company and they can help you figure out where to start. This is the right time to consider future needs as well. Consider these future aspirations as well when speaking to your remodeling company.
What caused you to consider a remodel in the first place?
There's much to consider, but we recommend starting with an old fashioned to-do list beginning with your top maintenance concerns and "can't wait" items. By working with a remodeling company you'll have the advantage of getting two sets of eyes on the areas you are looking to reinvent.
As the homeowner, you provide an invaluable perspective, because you know what works for your daily life and what doesn't. As an experienced home remodeler, your team will be able to turn your dreams into plans, your plans into designs and finally, turn those designs into your dream home. By working with a home remodeling company, a homeowner can be sure that each of their needs is addressed by a team that has the expertise to get the job done.
If you're thinking of remodeling your whole home, which area is the highest priority?
Share this with your remodeling company in the initial consultation so your project developer can help you build a road map to fulfill your remodeling goals. That includes addressing key pain points and updating various parts of the home for your preferred layout and design. If you need help deciding which is your highest priority, a member of our remodeling team can walk you through the most efficient way to get multiple projects completed.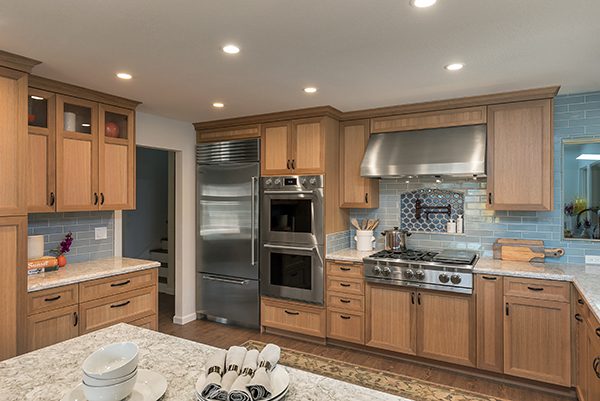 Do you have a certain design style in mind?
If you do, then you've already completed an important step. If you haven't, then you're in luck – our team of expert designers will assist you in coming up with a design plan that works to meet your goals. If you're curious in the meantime, take our design style quiz to figure out what your home could look like in the near future.
What does your timeline look like?
You may have a certain window in which you're hoping to get the project done. If you want to pursue a whole house remodel all at once, you should expect the whole process to take more than 6 months, from initial planning to final construction. Keep this in mind when talking to local remodeling companies.
How can a design and build remodeling company help you accomplish your goals?
When you work with a local home design/build company, you're gaining a trusted partner that can guide you through the full remodeling processes from start to finish. Particularly in a whole house remodel, you'll want a team that doesn't make you feel like you're doing the process alone.
When it comes to choosing a remodeling company or contractor, pay attention to how the team approaches the partnership:
Do they have a wide portfolio of projects, giving you the confidence that they'd be able to take on a whole house remodel?
Do they offer additional resources like BuilderTrend to track project progress, or have they left previous clients guessing about what's happening in their home?
Do they assist you with the full process of budgeting, design, permitting, and construction, or do they only have one area of expertise?
If you're a busy professional who'd rather have a dedicated project manager handle your project, then you'd benefit from working with a full-service design-build firm like Next Stage. Are you ready for a whole house remodel? Reach out to the Next Stage team to start planning your dream home!