1 in 3 Americans are currently over the age of 50, meaning that in the coming years, many homeowners will be considering how their homes can be simplified to accommodate changing needs due to aging.
As tasks like cleaning the home, traveling frequently between floors, and completing seasonal maintenance around the yard become more challenging, we'll naturally seek out ways to improve the process by using the concepts of aging in place design to transition your current space into a lifelong home.
Follow along as we give you a behind-the-scenes look into a recent aging in place design project in San Jose, and learn more about how you can incorporate some of these principles into your own home, for both your current and future self.
What is Aging In Place?
Homeowners explore aging in place projects because they see the value in their current home, but understand that a forever home must be accessible and improve quality of life. Aging in place design, also called Universal Design, is a set of principles that promotes ease of living and simplifies various aspects of your home's layout. It's a way to re-imagine a space with unlimited possibility.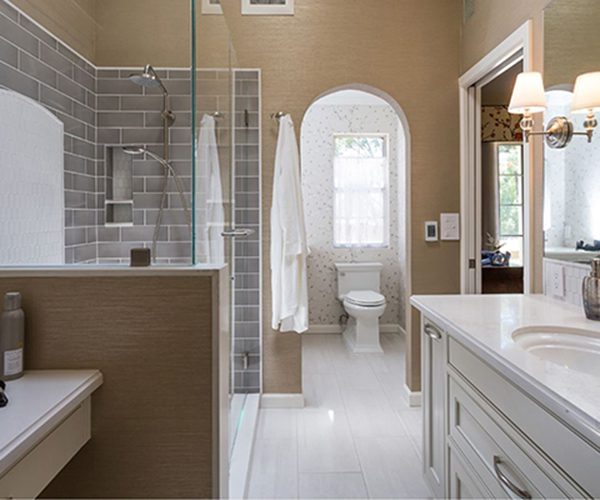 How Can You Age in Place?
Promoting aging in place principles into your home is proven to improve the health and happiness of seniors, whether that's for your future self or an aging family member that you'll soon be welcoming into the home.
Here's a few simple aging in place design principles that can make a huge impact:
Think about your every day
The motivation for this remodel came from this client's feeling of being boxed in by a former garden tub's massive footprint. She also realized that as she aged, it would become more and more difficult to access. We chose the glass-enclosed setup because it made the space feel expansive. A handheld showerhead and storage niche elevate the new space, along with the new pony wall, which replaces that boxed-in feeling with a sense of openness, and improved sight lines throughout. Homeowners can take this a step further by adding grab-bars, a built-in bench and non-slip flooring to not only their bathroom, but where necessary throughout the home.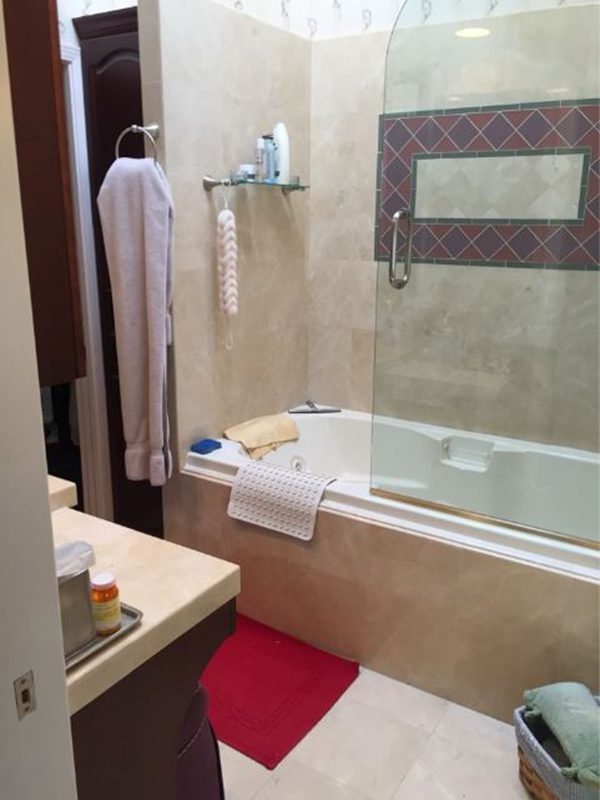 Make the space accessible
This client enjoyed getting ready in the morning, but found it difficult to keep herself organized without a designated vanity area. We relocated the linen closet, making room for the five-foot-long vanity. Don't be afraid to ask your remodeler to re-imagine the layout — sometimes creating a new space that fully meets your needs means letting go of some aspects of the previous layout. The new vanity provides a place to sit and get ready, conveniently located outlets, simple but elegant cabinet/countertop design, and ample storage.
Look out for the little things
In a space like the bathroom, aging in place design isn't always as obvious. While ambient lighting can be visually interesting, direct task lighting — as implemented under the cabinets in the vanity — will reduce glare and shadows, making it easier to see while doing daily tasks.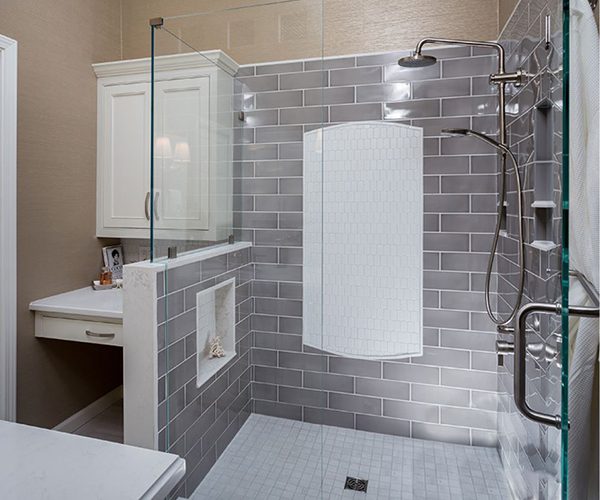 Final Tips
Get smart. Adding motion sensors and timers can make the difference between a typical remodel and a responsive design that improves quality of life. Lights, thermostats, and even locks can be controlled simply through mobile apps and devices like Amazon Alexa, helping homeowners lower their monthly energy bill and ensure the comfort and safety that should define a lifelong home.
Materials matter. Bathroom and kitchen flooring can feature non-slip materials like cork, linoleum, or rubber which ensures safety and maintains aesthetics throughout the home.
Enlist the experts. We don't just have experience with aging in place projects, we're experts in the craft. Each project designer at Next Stage Design is designated by NARI as a Universal Design Certified Professional, which means that we're ready to create an ageless design, with you in mind.
Want to learn more? Take our design quiz to discover your design style, or attend an upcoming seminar to get more familiar with the remodeling process. Ready to take the next step? Fill out the consultation form down below!