Planning a remodel starts with a to-do list, but planning a home addition starts when you imagine more. Homeowners flock to the addition over the traditional remodel because it's entirely customizable — this added square footage creates a fresh start that will allow you to retain those familiar comforts of home, with the added benefits of the refreshed, functional design you've always wanted.
We pursue additions for the same reason we put our trust in remodeling companies: we want more than a one-size-fits-all. We want the end product that will meet the needs of our family, and provides us with the features that will help us enjoy time spent at home with loved ones.
Ready for the home addition tour? Come on in.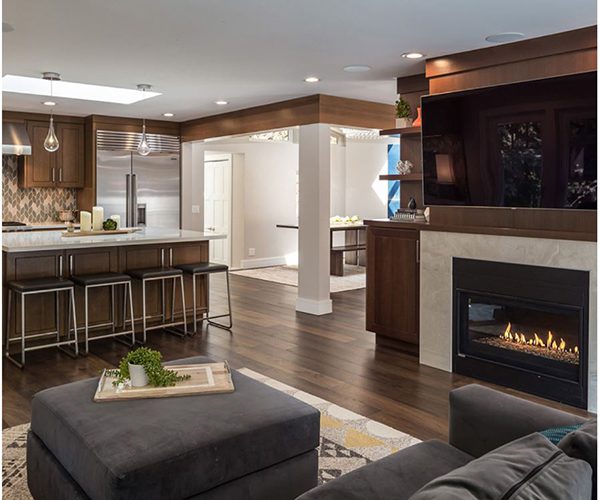 Why Get an Addition?
While a traditional remodel builds on the former space, an addition builds on the entire home. Additions are ideal for young families in transition, who don't want to give up the perks of their location and neighborhood community, but find themselves eagerly searching for a home that can keep up with their needs.
A home addition also works well for couples with adult children, who want to have enough room for the grand kids to play, but have also decided it's time to start on that long-overdue master suite addition or whole house remodel.
Pros and Cons of an Addition
Pros: With a home addition, the space can truly be your own. No matter when the home was built or what limitations are presented with the original layout, an addition can add the features that you need without disrupting the flow of the rest of the home. Many homeowners find the addition process to be the best option because you're able to add and subtract features as you please, targeting the specific area of the home that needs the most improvement. It's also a cheaper alternative to moving; while the perks of your location and tight-knit neighborhood remain the same, you'll have access to a space that feels like new.
Cons: Something to consider when planning a home addition is the effect on available outdoor living space. For those homeowners who typically prefer to entertain outside, an addition could cut significantly into your acreage. If you have a smaller yard, or have plans to complete any outdoor projects in the future, this is something you may want to keep in mind with planning.
Master Suite Addition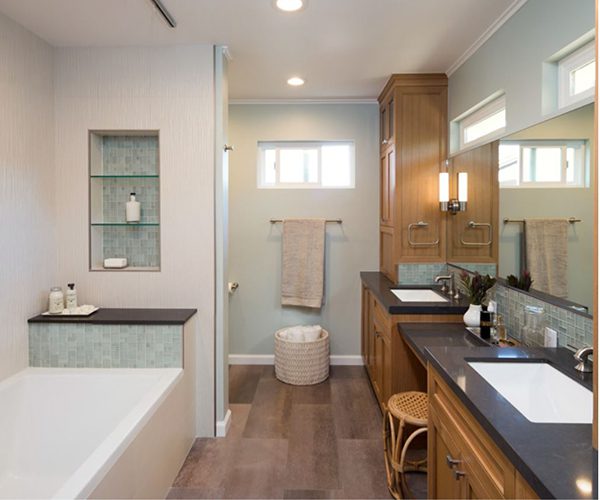 While a master suite remodel could have given this couple the updated features that they wanted, a master suite addition gave them that all-important square footage that would help the master suite expand to meet the needs of their growing family. It also serves as a tranquil space for these young parents to relax at the end of a busy day. Shaker-style accents give off a traditional vibe at the entrance, while soft green glass tile helps give the space a more spa-like essence.
Whole House Remodel
Sometimes homeowners move into their dream homes, but in the case of this young family, they bought their two-story, ranch-style home with the whole house remodel already in mind. With the scope of a whole house remodel, this client was able to check off all of their to-do's, and have a little fun creating a roadmap for what would help their family the most in the coming years.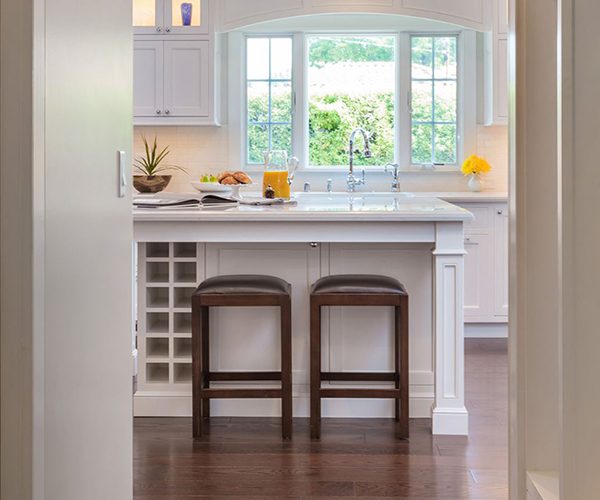 We bumped out the back wall of the kitchen into the backyard. This additional square footage paved the way for a larger island, used for homework and after school snacks, prepping nightly meals or hosting larger holiday parties.
But this home addition isn't just for hosting: the guest suite can be used as an office when not in service, and the front entry has evolved from an after school drop zone to something much more. A new powder room and dedicated storage shelves give the space the structure and utility that the client wanted.
Before planning a home addition, ask yourself these final questions:
Should you pursue a remodel or an addition? Knowing the difference between these two projects, and speaking with local home remodeling companies about the benefits and challenges of each, will give you the confidence that you need to ensure that you've made the right decision.
How does this fit into your long term plans? Homeowners pursue additions at various stages, but we'd say that if you plan to stay in your home for the long haul, it's worth investing in the addition. If you're unsure, or you only plan to stay in the home for a few more years, it might be wise to pursue a remodel instead. A traditional remodel works within the existing space to give you the updates that you need, whereas an addition will give you that extra square footage, and be able to address larger functional issues that can't be resolved in the current space.
How can a local home remodeling company like Next Stage Design help you reach your goals?
We're familiar with the benefits and challenges of remodeling in Mountain View, Los Gatos, and San Jose, because these are the neighborhoods that we call home. We'll assign a team of experienced project consultants, designers and craftsmen to complete your remodel, giving you the confidence that your project will be completed on budget and on schedule, giving you the dream home you've always imagined.
Let's start planning. Schedule a consultation to learn more about Next Stage Design, and explore our blog or attend an upcoming seminar for even more inspiration.