In a home renovation, every detail matters. Which details are important, and which can make or break a project?
A professional team with extensive remodeling experience should be able to answer these questions and more. Ideally, they will have expertise in your style of home and project, and be familiar with the potential challenges of remodeling specific to your local building code.
By hiring top area experts in construction design and architecture, you can alleviate a lot of the stress that can come with remodeling. Read on as we discuss the difference between a design/build remodeling firm and general contracting, and what each choice could mean for the success of your project.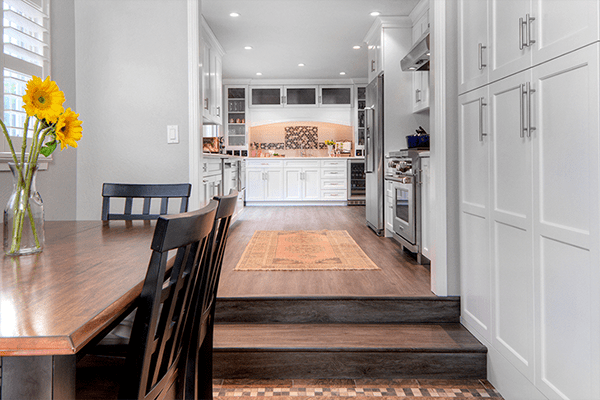 What's The Difference and Why Does It Matter?
A design/build remodeling firm provides all the expertise needed to design and build your project under one roof. Working with a design-build firm provides a more streamlined and organized approach to remodeling. The client does not serve as the point of contact between the contractor and subcontractors, and any additional experts you may have to hire such as an architect or designer.
A general contractor typically works with a network of qualified subcontractors to get the job done, including electricians, carpenters, and HVAC specialists. Most often, the client is responsible for designing the project or contracting a professional to design the project for them.
Advantages: Contractor
When remodeling with a general contractor, the initial estimate provided will be based on contractor's assumptions about materials and features. This can provide what appears to be a less costly price. You, the homeowner, will typically assemble the rest of team that provides design and other services. For bigger-scope projects, you will need to hire an architect or designer to create the space and specify materials. In some instances, the contractor may have individuals that he or she recommends. In most cases, you will manage those professionals and suppliers directly and work with them and your contractor to stay on budget and schedule. This can provide you with a stronger sense of control and can work well if you have lots of time to devote to the project during design and construction.
Disadvantages: Contractor
A general contractor will typically provide a budget range for construction, but other resources needed (architecture, interior design, custom cabinetry, engineering, permit fees, etc.) may not be included in the budget and are often assumed to be the separate responsibility of the homeowner.  Architects and designers may assist with the design of your project, but once it's in construction, it is often the client's responsibility to manage and resolve design issues that occur in the field along with other issues that arise between these independent companies. There is no single point of ownership. This can be time consuming for you especially if you have a demanding personal and business schedule. Design details that aren't decided prior to construction can become costly in terms of adjustments once your project is under construction.  Designing "on the fly" can be stressful and usually impacts both budget and schedule.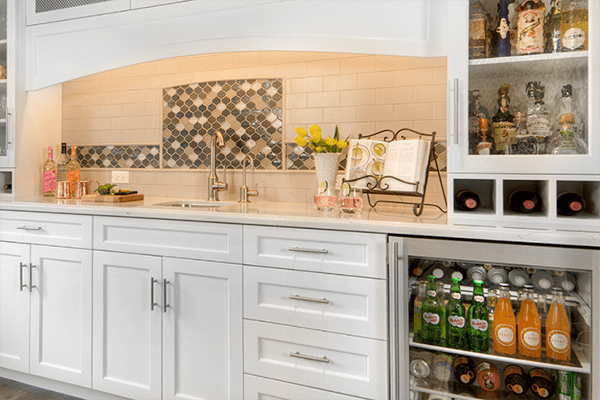 Advantages: Design/Build Remodeling Firm
A design/build remodeling company has the experience and internal resources needed to complete each phase of the design-build process, along with a proven group of trade subcontractors. Since most of the specialists are in-house and have successfully completed many projects together, the homeowner avoids having to play a coordination role for design, scheduling, and construction. It is a process-oriented approach, with clearly defined steps for each phase–from initial consultation and project planning to complete construction.  All of the team members are part of one company, following the same process, with one-stop, total ownership of the project success from concept to completion.
As design and construction are under "one roof", any design features and options can be reviewed and priced quickly. This means the design phase takes less time. Once you've completed design and signed a fixed-priced contract, your project goes into construction and is managed by a project manager who followed the project throughout the design phase. All of your design decisions have been made and materials ordered so you are not spending time or money "designing on the fly" as the project is being constructed.
A recent client had an unexpected change in their kitchen remodeling project, and was thrilled with Next Stage Design's response: "Throughout the project, our concerns were addressed in a professional manner; the work crew was respectful and tidy and even mid-project changes were accommodated with no fuss."
Disadvantages: Design/Build Remodeler
With a design/build remodeling firm, you are designing to a budget range that is all inclusive with one company.  Since you are hiring one company to provide a turn-key service, the initial pricing estimates may seem higher. Also, your project will be under a fixed-price contract, meaning you will need to make most, if not all decisions up-front, well before construction starts. Since every detail is planned and priced before construction begins, design changes can be made but there will be a quantifiable impact to both your project budget and schedule.  
Check out our portfolio of work in the San Jose area, and chat with us about a free consultation.