We save kitchens to our Ideabooks on Houzz, earmark informative remodeling articles in home decor magazines, and dream about the areas of our home that we'd change if we got the chance, but it's important to know that what's trending isn't always what works for your home. Let's look at home design trends for 2019, and see if they're right for your next project:
Warm and Inviting Kitchen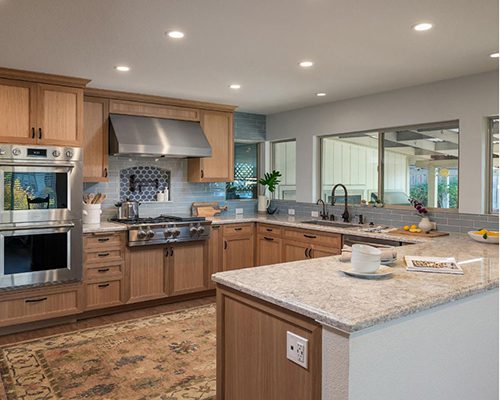 Remodelers are loving two-toned kitchens for 2019, but we think this design is more than just a passing trend. Two-toned cabinets are delightfully versatile because they make a statement, but they also provide subtle contrast, allowing you to get a more creative with the finishes in the rest of the room without straying too far from the design plan.
If you prefer something more open, floating shelves are also gaining traction in remodeling in 2019, giving homeowners the chance to display their favorite collectibles or family heirlooms. The catch? No place to hide the flurry of pots and pans after a big meal! Not only do these two-toned blended oak cabinets contain the chaos, but they also serve up a versatile look that keeps the space warm and homey.
2019's mixed metals trend can also add a bit of flair to a kitchen. The stainless steel hood, while effective for venting smoke from a busy cook's 's kitchen, also serves as an eye-catching architectural element, while the plumbing fixtures and cabinet hardware — in oil rubbed bronze — provide warm contrast.
Rest & Relaxation Retreat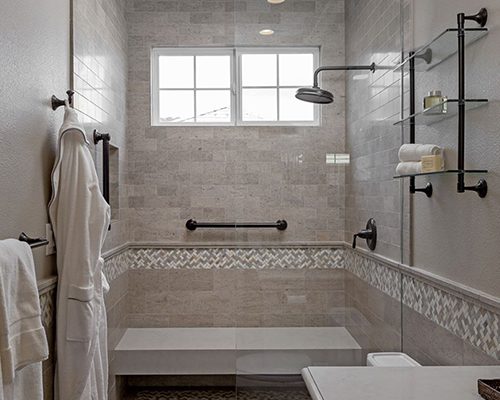 While kitchens are meant for testing both recipes and bold new design styles, the bathroom should be a place of
rest & relaxation
. This should be reflected with clear sight lines, and tranquil, naturally-inspired designs. In this space, the light sage green limestone tile combined with the pale colored walls to evoke a sense of calm that should be standard in a retreat-style space such as the master suite.
2019 isn't just about style — homeowners and remodelers alike are zeroing in on accessibility. By removing the original tub and the wall that closed off the vanity from the rest of the space, the designer was able to create a larger walk-in shower with a custom-size niche, grab bars, and floating bench, making this space as accessible as it is eye-catching.
Open Concept by Design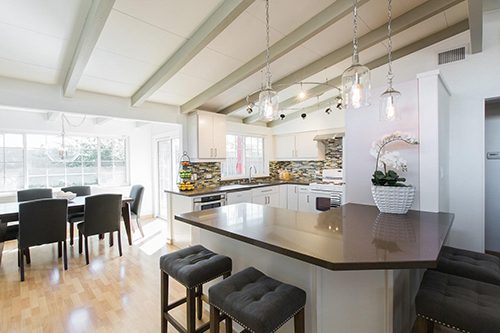 What if we told you that the
open concept
craze isn't limited to the kitchen? In 2019, we're seeing homeowners take this inspiration outside the traditional open concept kitchen plan and into the living room, dining room, and even the master suite. By incorporating sliding glass doors or peninsula-style countertops, you can give the space a bit more structure; homeowners can still achieve the freedom of an open concept without closing off the space.
Did you know that it can take three to four months to design your kitchen remodel? If you'd like a new kitchen for summer barbecues, now is a great time to start planning. Fill out the contact form down below, let's chat about your vision!