Designing with energy efficiency in mind may not be as sexy as creating a spa-like bathroom or an open plan kitchen, but energy efficient floor plans make for a comfortable living space that can be as chic as ever.
Source: Next Stage Design
Here are some energy efficient home ideas that don't compromise on style, can save you money on your monthly utility bills, and boost the value of your home.
First, Get an Energy Assessment
Getting a home energy audit helps you figure out how much energy your home consumes and evaluates measures you can take to reduce your consumption. This evaluation will show you which areas of your home could be upgraded to improve efficiency and will serve as a baseline to understand what your current usage is.
Common energy upgrades range from solar panels and insulation to appliances and windows. to. The audit highlights how much it will cost to upgrade to more energy-efficient choices and which items you should prioritize, with your specific budget in mind.
Planning for Your Remodel
When you plan for a remodel, you'll want to consider all of the energy efficient home ideas as well as your aesthetic goals and current design trends. Make a list of your likes and dislikes, take a deep dive on Houzz and Pinterest, and collect your inspiration sources.
What to look for:
Energy-Star appliances
Light fixtures that support energy efficient light bulbs
Energy-efficient windows
Sustainable choices in flooring such as wood, bamboo, cork or linoleum –
Some Suggestions:
Install skylights — This allows you to take advantage of daylight whenever possible. If you have rooms without windows, consider talking to your designer about installing some skylights to increase the natural light.
Exterior lighting — Outdoor lights can be a source of wasted energy. Current California building code requires that your l install motion sensors or astronomical time clocks to turn lights on and off, as well as use high efficacy bulbs to light the way. Your bulbs will last a lot longer, and you won't need to remember to turn off the lights.
Interior lighting — LED bulbs use 50-75% less energy than their incandescent counterparts—meaning they consume less energy and last much longer. Today's bulbs come in warm or cool temperatures, so you can pick what you like best. Additionally, larger windows help you use the sun to light your space.
Source: Next Stage Design
Paint— When discussing palettes with your designer, ask about a lighter color paint scheme. Whites, brights, and pastels have a higher light reflectance value (LRV), a measure of visible and usable light that is reflected from a surface when illuminated by a light source. Lighter colors will reflect more light than darker colors, possibly decreasing the need for switching on the lights.
Source: Next Stage Design
Insulation— In many homes, insulation is the most practical and cost-effective way to make a house more energy efficient, keeping it cooler in summer and warmer in winter and saving up to 80% in heating and cooling losses. In addition, insulation may reduce condensation in the home.
Splurge on Windows and Doors
Low-cost windows and doors are notorious energy-eaters. Heat-transfer through doors and windows, as well as drafts caused by gaps and cracks around doors, windows and skylights, can contribute to a high level of energy loss, severely reducing the effectiveness of heating and cooling. Instead of keeping your home at the ideal temp, you're letting the outside air in and making up for it by turning on your heat or air conditioning. Invest in the best windows and doors you can afford. If your home has a lot of southern exposure, consider installing large overhangs on the exterior to prevent the sun from heating up your home.
Inside the home, choosing the right window treatments is just as important. Traditional blinds aren't so hot at reducing heat loss. Instead, look toward thermal drapes, which keep the heat out during the summer and cold drafts at bay in the winter. Ventilation is Critical
If we're talking energy efficient design, you might want to consider opening up your floor plan. Not only is it a hot design, but the air moves through the space with greater ease.
By contrast, a disjointed floor plan with poor flow leads to inconsistent indoor temps. Part hot and humid, part arctic blast. Creating an open area allows you to decrease your need for AC and lean on a few stylish ceiling fans instead.
Consider adding a mix of small and larger windows to your open common space. Small windows can be opened to create a cross breeze with the fan, while the small opening prevents too much sun from pouring into the home and heating it up.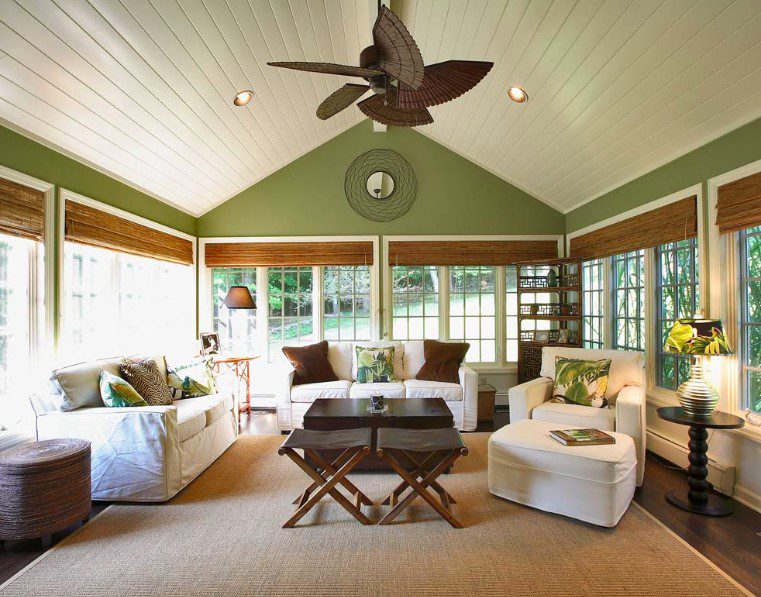 Whether you want an open floor plan or not, consider updating your ceiling. High, vaulted ceilings can improve airflow.
Finally, consider adding a gas fireplace and a blower—this will warm up your home on chilly nights—without requiring you to crank up the thermostat. With your newly insulated home, you'll be glad to see that your home retains more warmth.
Source: Next Stage Design
Consider Recycled Materials
Don't think that everything you need to buy for your remodel must be new. Consider looking for reclaimed wood for flooring, recycled glass for countertops and tile, or looking into using salvaged materials. Additionally, it's worth noting that you can donate the materials you no longer need. Donations can be included as part of your tax deductions, too.
When you shop for your décor—visit salvage yards and antique shops. You'll find unique pieces that get another lease on life.
If you're considering an energy efficient design plan, start by making little changes on your own. Upgrading light fixtures and replacing energy-eating appliances is a good starting point.
Designing with energy use in mind isn't about switching over to burlap linens and pioneer technology. Rather, focusing on things like airflow and insulation as you renovate will make for a comfortable home that will save you money down the road.
Now's your chance to give your home an energy upgrade that will look great and save you some cash down the road.
Contact us today to find out how you can create an energy efficient floor plan that both reduces your energy consumption and satisfies your design goals.