Many realtors advise that a smart kitchen renovation is one of the top ways to increase the value of your home. Ultimately, the right kitchen layout, design, or remodel has profitable potential — but tread carefully. Taking on a kitchen remodel yourself can be time-consuming, with unexpected challenges and costs along the way.
Here are some of the top ways to upgrade or remodel your kitchen — and add more functionality and style — to increase the value of your home.
1. Add or upgrade your island
A must-have item on any home cook's wish list is a gorgeous, hard-working kitchen island. The extra cabinet and counter space increases the efficiency of your work space and creates a casual gathering spot in the home. Choose a budget-friendly slab, such as quartz which requires minimal upkeep, create space for seating, and voila, you've got a stylish and functional kitchen island.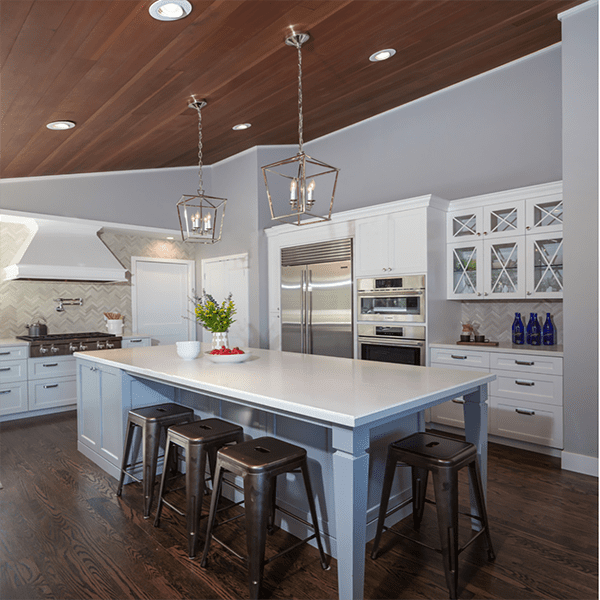 2. Let your space do the talking
The kitchen work triangle can become over-stretched and not as efficient in an open floor plan. When designing larger kitchen spaces, some designers recommend focusing on zones or stations to fulfill different activities, such as cooking, preparing, baking, or storing essentials. This type of layout focuses on workflow efficiency and reducing the amount of travel throughout the space to perform everyday tasks. For instance, in a kitchen with a baking zone, everything you would need–from pantry items to cookware to work space–would be designated in the baking zone for ease and efficiency. When reconsidering your kitchen layout, think of the ways you use the space in terms of zones and ways you can make it easier to work in the kitchen.
3. Install or relocate the dishwasher close to the plate and flatware location
The dishwasher typically sits next to the sink in the kitchen work triangle. It's common to locate it in the island, but that only makes sense if you also store often-used plates, flatware, or cookware in the island, too. It's common to unload a dishwasher when items are still wet or damp, increasing the likelihood of  of continual water exposure to the floor. This can destroy wood over time or cause a slipping hazard.. When considering your dishwasher location during a kitchen remodel, minimize the distance between the dishwasher and storage cabinets, if possible.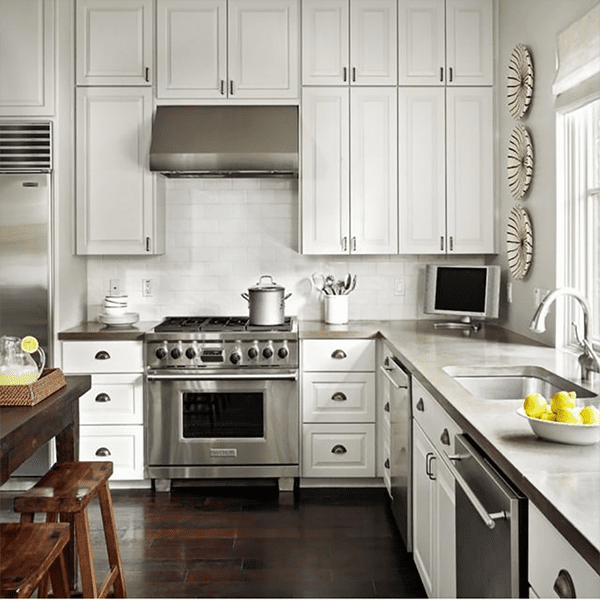 Source: Houzz 
4. Upgrade appliances
Stainless steel remains one of the most timeless finishes for a kitchen palette. You don't need to upgrade all of your appliances at once, but if you have white or black appliances, it's time to start considering  stainless steel for a more timeless appeal. Opt for Energy Star-rated appliances if you want the biggest investment bang for your buck (according to RE/MAX).
5. Lighten up cabinets and backsplash to make a kitchen look brighter, bigger, and cleaner
White cabinets and classic white subway tile are timeless choices in the kitchen. The neutral palette has been one of the most popular combinations for years, and the trend won't be slowing down any time soon. Even Joanna Gaines of Fixer Upper is the ultimate fan of this traditional design. Fortunately, these simple, elegant selections can also be  economical. For a cosmetic update to a kitchen, repainting cabinets and updating the backsplash with a subway tile can be a low-cost facelift that may help increase your home's resale value.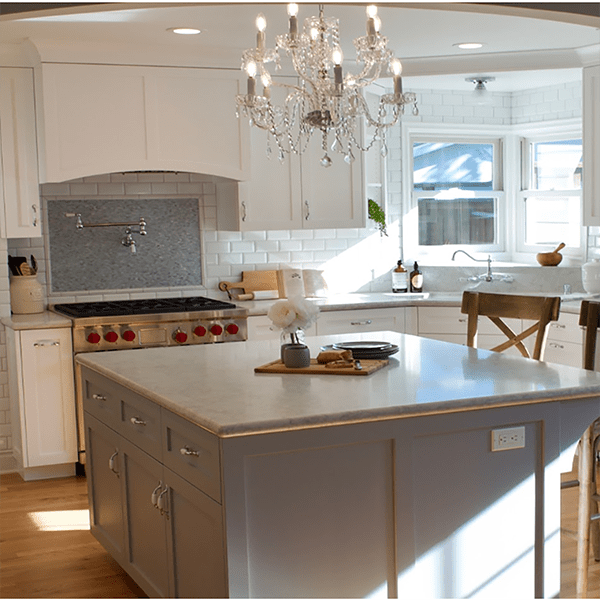 When it comes to loving your home, renting it out, or increasing its value when you're ready to sell, both the layout and design of your kitchen can make a big difference. Avoid the temptation to compromise either factor because striking a balance is well within reach.
Ready to start a new chapter? Chat with us today about a consultation, or attend one of our upcoming seminars.