A refreshed exterior design can set a new tone for your whole home. Whether it's curb appeal, resale value, or a modern makeover you're after, an exterior home remodel is the perfect way to refresh the face of your home. Share your vision with the Next Stage Design + Build team, and allow us to uncover the potential of your dream home. 
Mind Your To-Do List
If you've ever pictured your home as a modern craftsmen trapped in an outdated colonial style home,  you're far from alone. In addition to changing the appearance of your home, you can also use this as an opportunity to forge a new stone path for your front entry or create a front-porch where you can welcome guests and relax in the evenings.
It's easy to think about what's on your wishlist, but also think about what led you to pursue the exterior home remodel in the first place. Although it's not as fun to think about, there are likely a few maintenance issues that have been neglected throughout the years. Start with these items then work your way through your dream wishlist. Share the results with a home remodeling company and a member of their team can help you determine what your priorities will be for the project.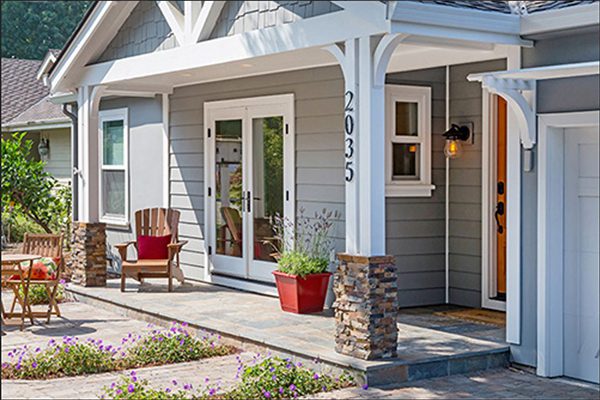 See What's Trending
Have you noticed any trends that seem to be getting a lot of traction either online or in your local community? If you find bright front doors, lively landscaping, or modern porches compelling, you may find that updating your home for the upcoming summer season will not only help you enjoy it more as a homeowner, but increase its overall resale value. 
Particularly in San Jose where the process of home buying and selling can be competitive, it's all the more important to keep your home feeling up to date. There are several ways to incorporate upgrades without sacrificing your taste or preferences as a homeowner. Here's how you can be sure that your home is pleasing to a potential buyer: 
Lighting. For your safety, security, and a little bit of style, too. You can incorporate lighting in your front yard, by adding decorative sconces, extending your ability to entertain into the evening. Or, you could improve visibility with step lighting or improved front-porch lights. 
Maintenance. The best task you can check off your list during an exterior home remodel is one that improves an existing problem. Homeowners may take the opportunity to pull weeds, fix broken siding or missing bricks, or power wash the exterior back to life. 
Paint, paint, paint. Exterior home remodels can include lighter aesthetic changes too. If your remodeling team assesses that it is possible to repaint your original front door, siding, or shutters, you can change the look without doing much more to the structure. 
Get Efficient
It pays to go green. By incorporating energy-efficient practices into your exterior home remodel,  you may be able to cut some expenses to your monthly utility bill. There's more than meets the eye when it comes to energy efficiency, so consider these ways you could save even more with a refreshed exterior design: 
Smart technology. Through integration with smart home technology systems, it's possible for homeowners to have light and temperature controls which can either be timed, motion-sensing, or manageable from your smart-phone to reduce waste. Ask your exterior home remodeler what information they can provide and what benefits apply to your specific home and community. 
Alternative sources. When it comes to energy sources, homeowners have more options than ever before. Some cities participate in energy choice programs, where you can select whether your energy comes from solar, wind, or water, often combined with a tax rebate for participation. If your community doesn't have a similar program, consider installing solar panels to reduce energy waste. 
All at once. It can be efficient to complete multiple projects at the same time if your schedule and budget permits. If it's completed all at once, you can save time on material shipping, reduce the environmental impact from transportation, and only have to live through a remodel once as opposed to multiple different phases. 
You can customize your home to meet your exact needs, whether that means an eye-catching cosmetic update, adding on square footage to expand your available living space, or a full-on transformation that includes all of the above. Discover your dream home at one of our upcoming seminars, or schedule a conversation with a project developer to discuss your home remodeling goals.