Every home renovation starts with a vision: perhaps it's from an episode of your favorite home renovation show, an inspirational Pinterest board, or a stunning before-and-after in an interior design magazine. Dreaming of the possibilities is the initial spark in the remodeling process. Beyond creating an inspiring space, master suite remodeling is also an opportunity to address your everyday needs and make a space work specifically for you. An awesome accent wall or a Moroccan rug with just the right pattern can certainly breathe fresh air into a room, but fixing core flow and function issues — with an experienced design/build expert by your side — can do much more than meets the eye.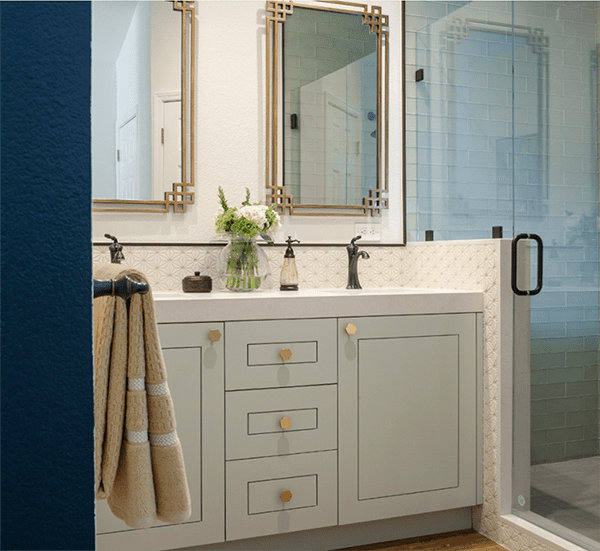 If you're considering getting to the bottom of that unfinished basement, or creating an entirely new space with a master suite remodel, not only will you increase your overall square footage and ease of use, but it could be the best investment you make into your home's value.
Check out these master bathroom ideas from our portfolio of work in San Jose, then reach out to us to discuss your home renovation goals.
The Must-See Master Suite Remodel
After decades of wear-and-tear had worn out this bathroom's builder-grade finishes and fixtures, its homeowner knew a master suite remodel was in order. The client, a busy executive who traveled internationally, wanted a chic space that reflected her eclectic, global aesthetic, but didn't require a lot of maintenance during the rare times she was home to enjoy the space.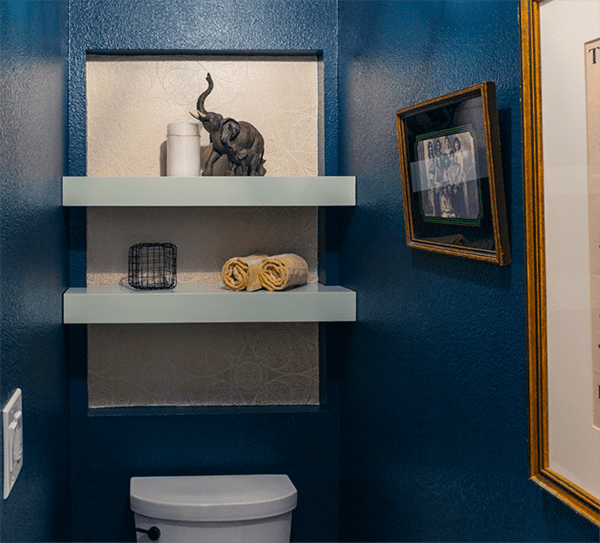 To maximize shower space, the tub was removed and a pony wall with a porcelain graphic tile was installed to separate the new shower area from the vanity. The designer maximized space in the half-wall with a built-in niche, a clever way to hide showering essentials from view when you walked into the space. The new custom-designed vanity maximized storage with both drawers and doors, and included roll-out drawers for easy access to fresh towels and other bathroom essentials.
Before You Start Your Remodel
Be clear on your vision. When you describe your ideal master suite, you may see it one way and your partner may see it another; the contractor could see it through an entirely different lens as well. During design and construction, make sure to clearly communicate with all parties involved in your remodel. Lack of communication or misunderstood expectations cost time and money in remodeling.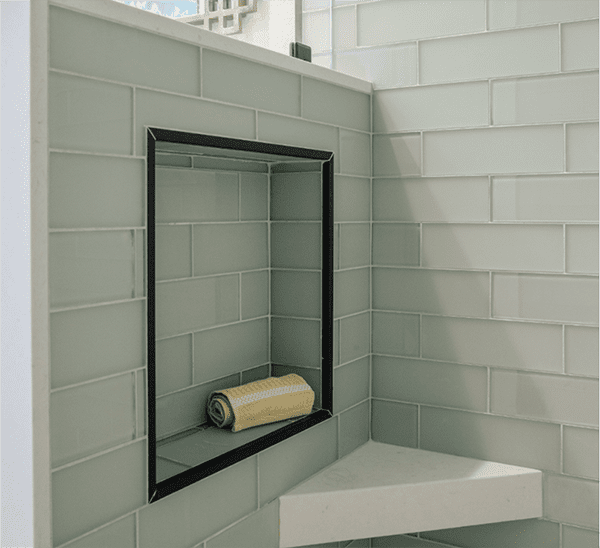 It's an investment. Make sure your contractor has experience with your type of home or remodeling project, as well as your specific building municipality. Also think about the long-term: design and build with future needs in mind to potentially save on future costs.
Know your to-do list. Your contractor's job is to build your remodel and fulfill the terms of a mutually agreed-upon contract, including delivering on a defined list of specific tasks, materials and schedules. If during the course of your project a change must be made, be sure to have the change described in writing and how it will affect not only your timeline, but your bottom line, too.
Next Stage Design has been recognized by the National Association of the Remodeling Industry (NARI), Remodeling Magazine, Angie's List and more for our years of experience in design-build residential remodeling; we work in neighborhoods throughout Silicon Valley from San Jose to San Mateo County.
Check out our portfolio of work in whole house remodeling, bathroom remodeling and more, then chat with us today about how we can help you achieve your home renovation goals for the coming year.