If your master bath is outdated or functioning poorly, a remodel is a no-brainer. It may be the only room we truly use each and every day, and because of that, we can guarantee that the success of its design will affect our daily routine. Another remodel to keep an eye on? The guest bathroom. While it might not be depended upon in the same way, it still serves another important purpose. When visitors are over, a conveniently located half bathroom is a huge asset to guest comfort and it can also be a fun way to share your personal style – not to mention the added value to your home! Let's dive into half bathroom remodels and give you 5 design ideas that make a big impact.   
What is a "half bath" anyway?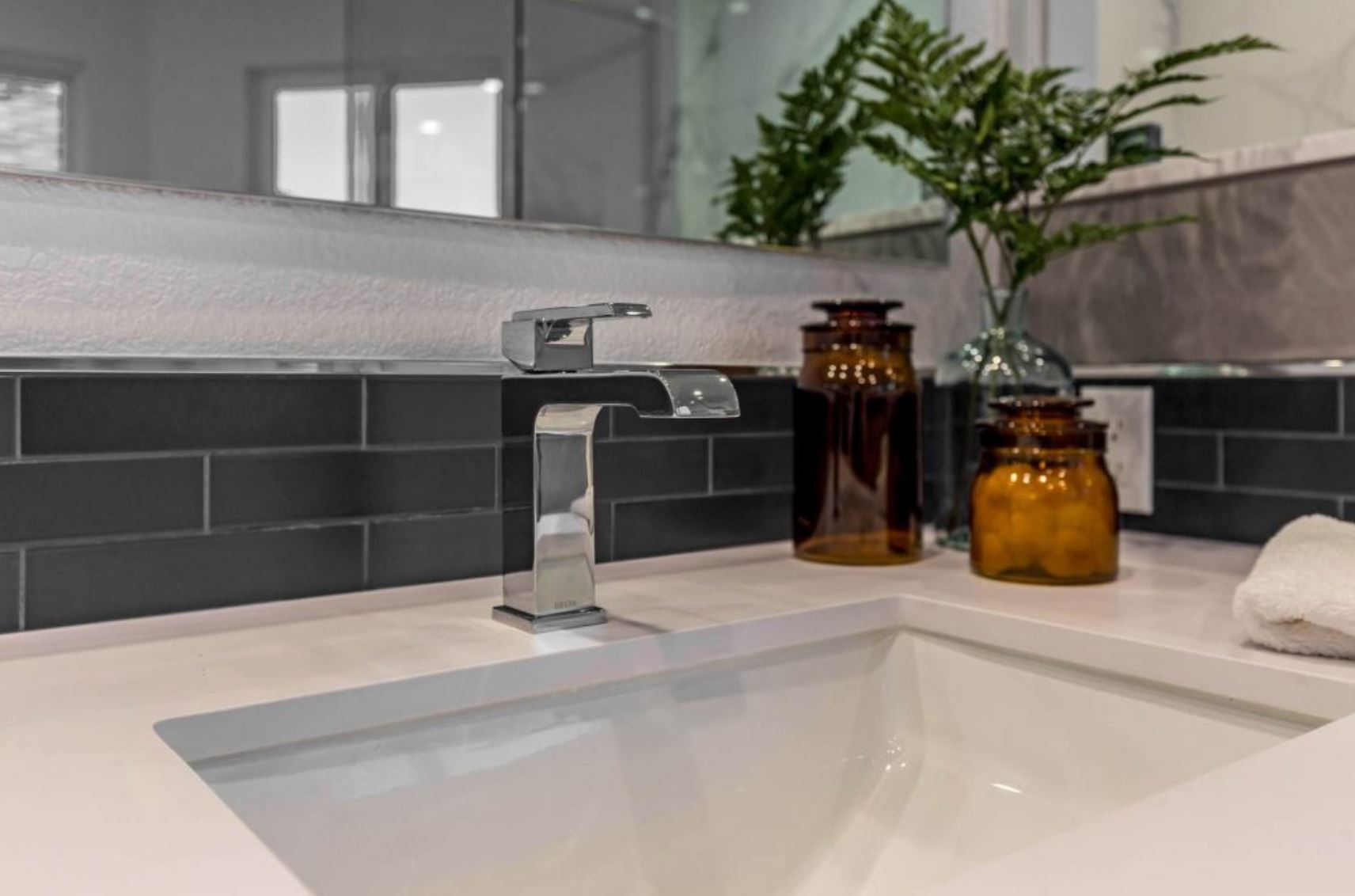 A half bath has a toilet, a sink, and…that's about it! While full bathrooms have the advantage of housing a shower, and sometimes a tub, half baths are perfect for the needs of short-term guests. 
What sort of issues would lead a homeowner to build a new half bath?
A half bath is often located near communal spaces like the kitchen and living rooms, and keeps guests from having to go upstairs or into a bedroom. A conveniently-located half bath could also help a homeowner that has young children or a family member with limited mobility. 
Why might a homeowner want to redo their existing half bathroom?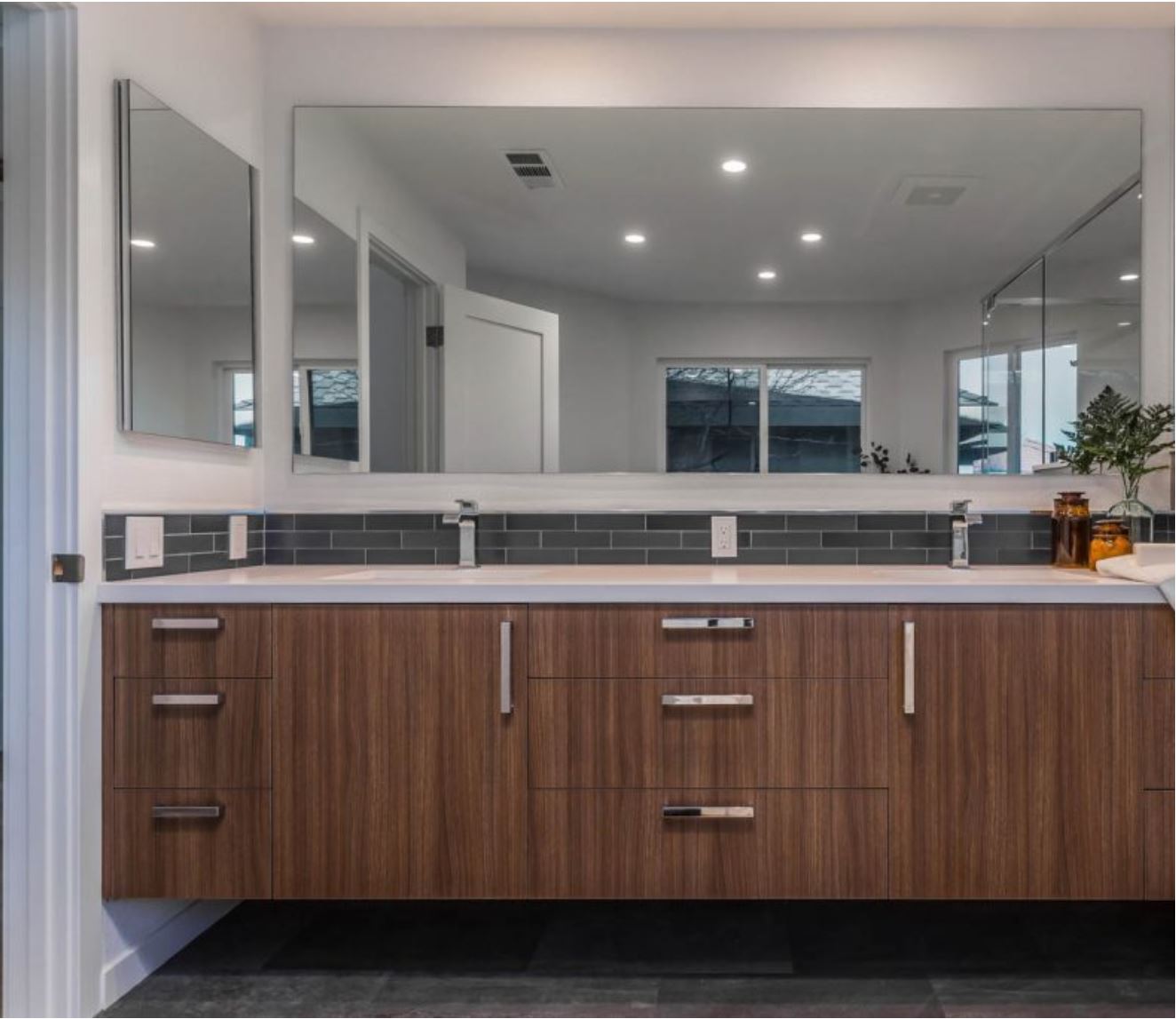 A small bathroom can still have a big personality! While a half bath remodel might not involve a ton of reconfiguration, it can still be designed to fit your personal style. Maybe the antique vanity, graphic tile, smart mirror, or automatic toilet that you've always wanted to try could find its home in this new space! If you aren't sure what design ideas would fit well in your half bath, start with our design quiz.
Here are a few more ideas for what you could do in a half bath remodel:
1. A detailed vanity including a textured or patterned wood design, modern pulls, and a complementary backsplash, can give any small bathroom a big personality. Be thoughtful when choosing colors and patterns – too dark, and the bathroom may appear smaller than it is. 
2. For a half bath remodel, a traditional sink works just as well as any other option. If you want to win back extra counter space in a tight half bath though, a counter-top vessel sink could add a dose of style while leaving the necessary room for towels or decor. 
3. Want to squeeze in some extra detail? Just look down! Statement flooring can be an easy way to make a half bath feel more luxurious.
4. How about an accent wall? Instead of investing in several art or decor pieces, it can give the bathroom a whole new vibe all by itself. Depending on the scheme of your bathroom, it could be a bolder version of the main design or something entirely new.
5. Our final design idea is for those half baths that need that little extra something without re-configuring the space. A pedestal sink combined with a mirrored wall can give you a unique vanity without taking up the same amount of room. As a bonus, it doubles as an accent wall and makes a space that's traditionally smaller feel a little more open!


(Left) Photo from Ryan Garvin, HGTV; 
(Right) Photo from Guimar Urbina Interiors, HGTV
Now that you've got a couple of ideas, which do you think would work in your half bath? Which would you do differently? Fill out the form below to get in touch and start working with a designer today!