Finding a home that's completely move-in ready is about as likely as finding a unicorn in the forest, but the reality of house hunting is that "move-in ready" looks different for each and every home buyer. A growing family will be on the hunt for an expansive outdoor living space and a wealth of bedroom and guest space, while a couple that's recently moved out their adult children may be looking to downsize in a home that more closely aligns with their design preferences.
Are you thinking of a kitchen addition or whole house remodel? Keep reading to see how your remodeling project can be tailored to fit your exact needs.
An All-Out Kitchen Addition
This lower-level addition, like much of this growing family's quality time spent together, was rooted in the kitchen. While the 168-square foot extension answered the family's long-term needs of additional square footage, it also gave them the opportunity to start from scratch in both style and layout.
Homeowners that want a true blank slate may prefer a whole house remodel or addition to a traditional remodel, because with a "down to the studs" remodel, you can make the space your own. With the guidance of a professional remodeling team, you can find creative solutions to the challenges that led you to pursue a remodel in the first place.
Traditional Style & Modern Updates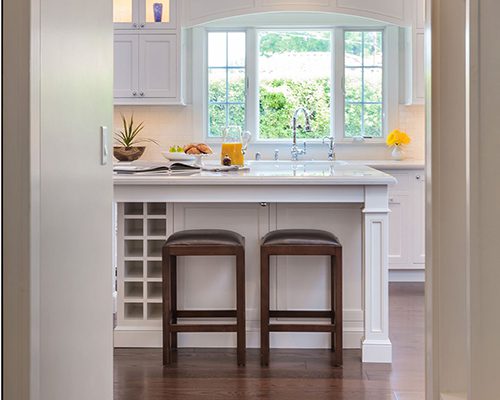 While this home was outdated when purchased by our clients, a first floor addition gave us the opportunity to re-design the home to fit the unique needs of this busy Silicon Valley family. We kept the traditional feel alive with custom inset cabinetry and complemented the traditional style of the kitchen, with details such as intricate molding and wainscot throughout the home. To create a better flow between the kitchen and the living room, we relocated the laundry room and created a wider entry at the kitchen. Custom bi-fold doors hide the TV when it's not in use, creating more wall space and visually expanding the room.
An island serves as the anchor in this open concept kitchen, creating the space and flexibility for every task from baking to casual family dining. These quartz countertops have all the beauty of marble, but all the durability to keep up with their long-term needs as a family.
A Whole New Start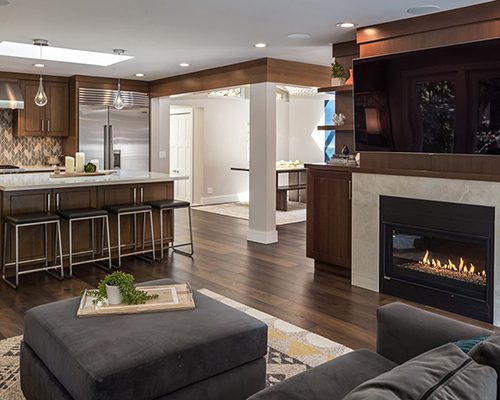 A
whole house remodel
answered the needs for this client, who was looking for a larger, more functional kitchen that would open up their living space to create more family interaction. While the home's mountain location was a major selling point for the clients, the day-to-day ease of living in the home proved to be more cumbersome than expected. The original kitchen was built into a hillside — while it provided a beautiful view, it created an undersized, oddly-shaped kitchen that didn't provide the space needed for an active young family that enjoyed spending time together cooking and socializing.
Together with our project manager, engineer, and designers, we developed a plan that removed the load-bearing wall that separated the kitchen and living room and swapped their locations.. The original living room provided the right amount of space for a family-sized kitchen with views of the forest outside, while the original kitchen location easily converted into a sizable dining room. The new reconfigured floor plan allowed for a wet bar in the dining room, creating even more space to entertain.
Ready to consider a kitchen addition or kitchen remodel? Find out your Design Style by taking our interactive quiz, then speak with one of our Project Developers to get the process started.