Between hosting family pizza night, neighborhood potlucks and the annual cycle of holiday gatherings, it can be hard to imagine a space that truly does it all. When we stop to take a breath, it's easy to think, "If we only had the space, then we could really create the home of our dreams" — but in reality, what we need is a living space that finally aligns with our needs.
Does this mean it's time for a new beginning, or could it be your current home that needs a fresh start? Here are some of the design problems that cause us to seek out a remodel and a few helpful home remodeling tips that you can use to solve them.
Love It
You: Already have a home that you love, in a location that can't be beat.
Your Home: Needs to evolve with your family's changing needs.
The Design Problem: How can you create a refreshed living space in your existing home that meets your day-to-day needs?
As your family grows, what once seemed like an expansive home begins to feel cramped, enclosed, and limited. A bedroom addition could give you the opportunity to build your ideal space from scratch, giving the kids their own elbow room to get ready in the morning, while a family room addition could provide just as much of a landing pad for studying and playing as it would hosting relatives or neighbors.
An accessory dwelling unit (ADU) could also provide communal space that isn't attached to the primary part of the home, or provide an independent living space for an aging relative. An ADU is also a great opportunity to invest in your home, enhancing livability for loved ones, and potentially increasing your home's resale value, if and when your family decides to move on to its next great adventure.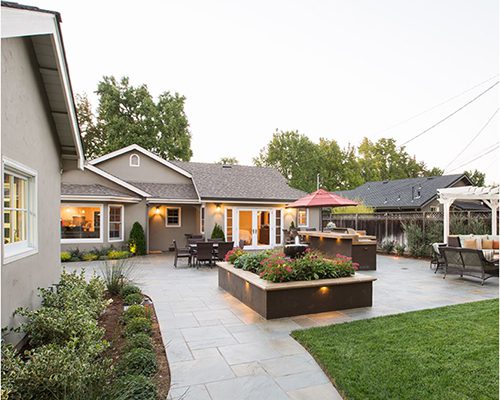 You: Don't need more space, but you do need a space that's more accessible.
Your Home: Meets many of your needs, but ease of living isn't one of them.
The Design Problem: How can you install features that are both aesthetic and accessible?
As we age, steps and stairs can sometimes become challenging to navigate, and we have no problem saying goodbye to the traditional soaking tub, which may have been useful with young children, but now presents a barrier to accessibility. Installing a walk-in shower, with aging-in-place features like a bench and grab bars, will help promote comfort and ease of use, making the master bath a true retreat in the home.
List It
You: Are looking to invest in your home's curb appeal.
Your Home: Is well-loved, but needs a touch-up before it's ready for the market.
The Design Problem: How can you increase curb appeal to not only meet your own needs but keep up with current design trends in Silicon Valley?
These homeowners wanted to stray from the traditional Spanish style ranch, and create an exterior that not only suited their modern taste but stood out from its surroundings in the competitive Silicon Valley housing market. Functionally, the homeowners desired a clearly defined entryway where it was previous lacking. We installed a new concrete path and steel canopy to guide guests and homeowners to the front entry while smooth stucco and rich, espresso-colored siding gave this modern home the grand entrance its homeowners were looking for.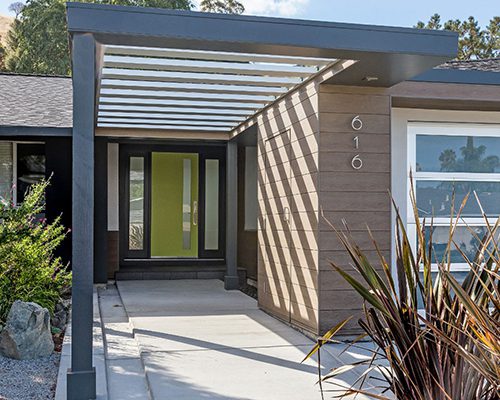 The bold, modern aesthetic continues in the back garden with simple landscaping and a Milgard picture window that makes it even easier to take in the incredible views of the surrounding open space.
You: Want to put your home on the market and make changes that appeal to potential homeowners.
Your Home: Needs a round of updates that will make an impact.
The Design Problem: How can you make changes that will appeal to the right buyers, ensuring that your home stands out in a strong and competitive housing market?
An easy and effective way to get your home ready to show is a round of interior updates. The following home remodeling ideas are both on trend and provide lasting value to the potential homeowner:
Swap out the Formica or ceramic-tiled countertops in favor of quartz or natural stone, which are both durable and easier to maintain;
Reface cabinets instead of starting from scratch;
Freshen up outdated white appliances for stainless steel–it's a timeless finish and the new standard in kitchens.
And finally, a fresh coat of paint is an affordable way to provide an instant update to interior spaces. Neutral colors–warm greys, off-whites, and beiges–offer universal appeal.
Ready to start something new? Get a few home remodeling ideas from our Design Style Quiz, and then attend one of our upcoming seminars or schedule a consultation to speak with one of our remodeling experts.