When homeowners embark on a remodel, "what's my style?" is a common question and one that sometimes paralyzes them at the start of the process. Many of us inherit the style of our home and aren't familiar with the key details that define a specific design aesthetic.
A designer's first task in conceptualizing your new space is to help you articulate your design style. At Next Stage Design, we start by focusing on the three major types of design styles:
Modern
Traditional
Transitional
There are sub-types within those categories (contemporary, eclectic, mid-century, etc.), but we're looking for the big-picture view of your design mindset before developing specific themes.
Often times, it's a game of detective for the designer: by identifying styles that you don't like, we are able to narrow our focus on design features that appeal to you.
Are You Modern?
A modern aesthetic is all about clean lines, simple palettes, and no curvature.
Think of stores such as IKEA, West Elm, or Design Within Reach. Colors in a modern home tend toward pale neutral—whites and grays—with bold punches of saturated color used for punctuation in furniture and accent walls.
Modern countertop edges are typically square and cabinetry would be solid front slab doors. Shiny metals such as chrome and polished nickel are often used for lighting, hardware, and plumbing fixtures.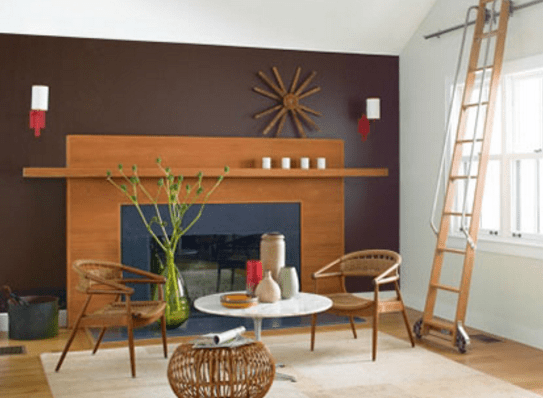 Photo Credit: Courtesy Benjamin Moore
Do You Love a More Traditional Look?
Traditional style interiors have a layered look that evokes a sense of warmth and coziness.
For film buffs, any Nancy Meyers' movie (Something's Gotta Give and The Holiday) is a showcase for beautifully-styled traditional interiors.
Pottery Barn and Williams-Sonoma Home are great go-to sources for traditional furniture. Sofas are typically plush upholstery with roll arms and natural fabrics. Accent tables would be warm-toned woods.
A traditional paint palette would include deeper tones of cream, taupe, and gray—rich colors that add warmth to a space. Cabinetry door profiles that fit a traditional design incorporate more intricate details, coupled with more curvature in countertop edges.
Is Transitional Your Style of Choice?
Transitional design combines elements from both traditional and modern styles into a classic and timeless aesthetic.
Transitional interiors are warm and welcoming, nothing too fussy or too sleek which makes it one of the more popular design styles.
Furniture styles are simple yet sophisticated (think Crate & Barrel), with lines that combine both straight lines and curves. Warm mid-tone neutrals—cream, taupe, and gray—are hallmarks of a transitional palette.
Texture is a key design element in transitional spaces: sisal rugs, nubby throws, woven shades, and grasscloth wallpaper tactile materials that add a layer of visual interest in transitional spaces. Shaker cabinet doors, subway tile and eased edge countertops are popular choices in today's transitional kitchens.
Discover Your Design Style Today!
For more inspiration in discovering your interior design style, check out our ideabooks on Houzz. One of our professional designers would be happy to sit down and help you define your own style. Schedule your free consultation today!
Save
Save
Save
Save
Save
Save
Save
Save
Save
Save