When it comes to a new kitchen design, most homeowners have been dreaming about an update for months, maybe even years. So it's no wonder, when it finally comes time for that great transformation, that they want to consider it from every possible angle.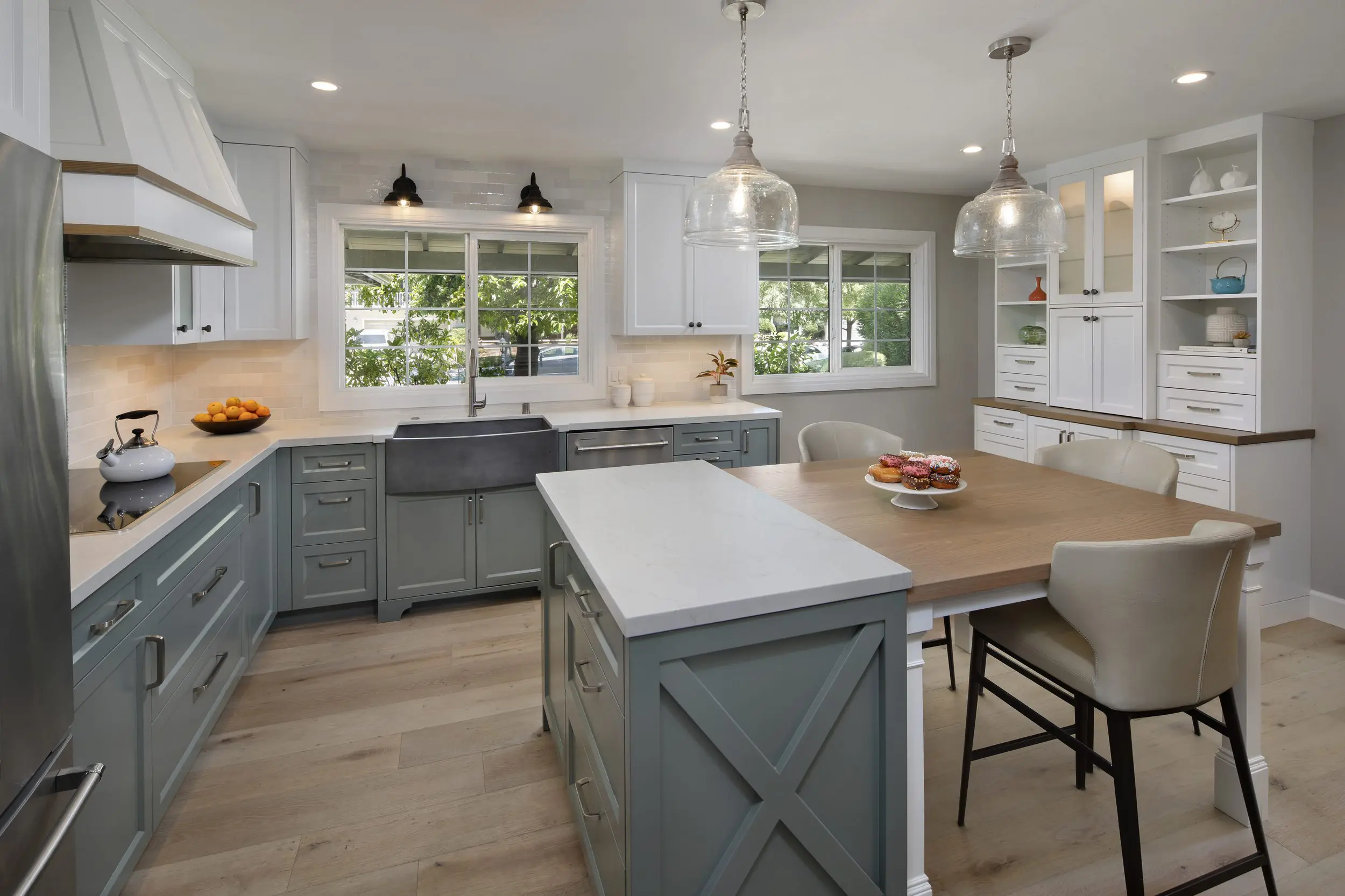 We've put together some of the questions we're asked most often about kitchen remodels and design projects so that you've got a leg up on the process:
1. Where do I start when planning a new kitchen?
There are three places to start. First, the fun part. Most homeowners are upgrading from an outdated aesthetic, and want a style that better reflects their personality. Start collecting ideas, pictures, colors you like. Even if it doesn't make sense, (because a kitchen remodel designer can help you sort through it!) just start making an inventory of everything you like.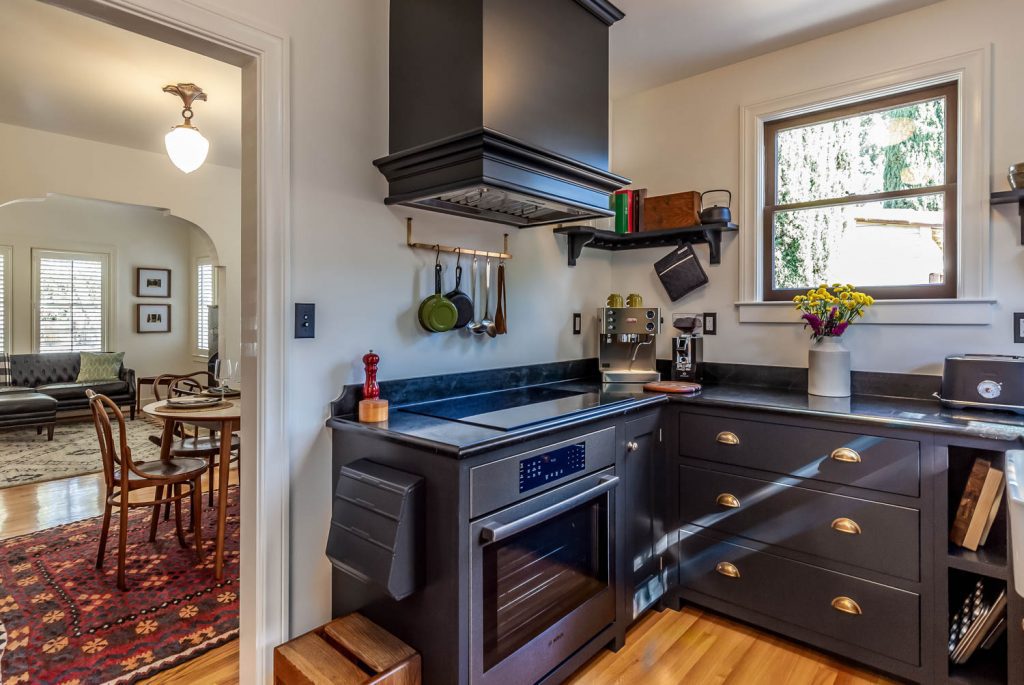 What's Your Design Style? Take the Quiz!
Second, think about what you need to change from a livability and functionality standpoint. Is life a little different than it used to be? Or maybe you've been plagued by a poor layout in the first place. Thinking about these needs will help your kitchen designer recommend a layout, which usually includes where big appliances such as the fridge, stove, oven, and sink will go.
Finally, start thinking about budget and break down the first two (design, function) categories into what you truly need versus what would be nice to have. When you work with the team at Next Stage Design, we'll offer you several design options at various budget ranges so you can see exactly how these trade offs might work.
2. How can I update a kitchen without ripping it out?
There are a lot of things you can do without tearing out the entire kitchen. A cosmetic remodel is a wonderful option to refresh your kitchen and can include new countertops, updating the backsplash, new appliances, switching out cabinet hardware, and a fresh coat of paint.
3. How do I make a small kitchen feel bigger?
Sometimes, expanding the footprint of your kitchen simply isn't possible. It could be due to budget or structural issues such as load bearing walls, but that doesn't mean your kitchen designer won't have a few tricks up their sleeve to make the space more functional as well as appear bigger.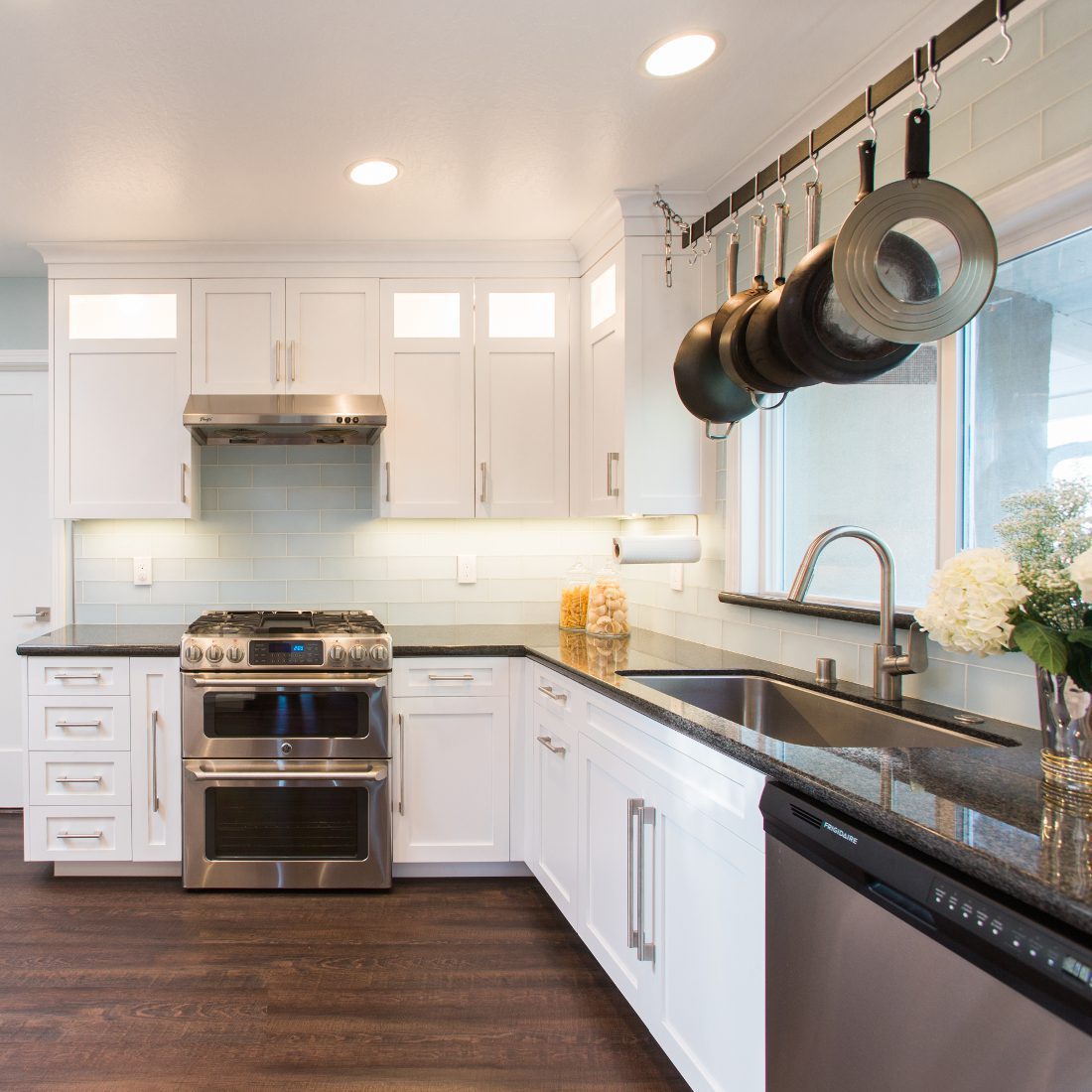 See how this family in Sunnyvale reimagined their small kitchen
Choosing a brighter palette, particularly for cabinet finishes, will help reflect light, making the space look much larger. Additionally, there are ways to make the space look "taller" such as full height cabinets as well as counter to ceiling tile.
Lighting can also play a big role as well, the same way bright colors make a space look larger, a balanced combination of general, task, and ambient lighting can truly make a space expand. Many times, smaller kitchens may not even have a window, making lighting extra important. Design light in layers, to mimic natural light and open up the space without being harsh.
4. Tips for designing a kitchen with kids in mind?
If you have kids who love to be part of the action in the kitchen, consider designing storage in a way that they have their own space where they can consistently access their things (and put them back!). Your designer can help you incorporate this in a way that acknowledges that as kids grow up, you'll want to use that space in a different way in a few years.
5. What are the best kitchen trends to consider?
Designing with a particular trend in mind is a very personal decision. Sure, beige and gray kitchens may have the best resale value but perhaps you'd prefer jewel-toned cabinets with matte gold hardware. The answer here is to do what's right for you. If it's your forever home, you may feel the freedom to make bold design choices versus if you plan to resell in the future.
Some popular trends for kitchens include:
Colorful or contrast cabinets
Open shelving
Free standing islands
Mixed metals
Statement backsplashes
Black and white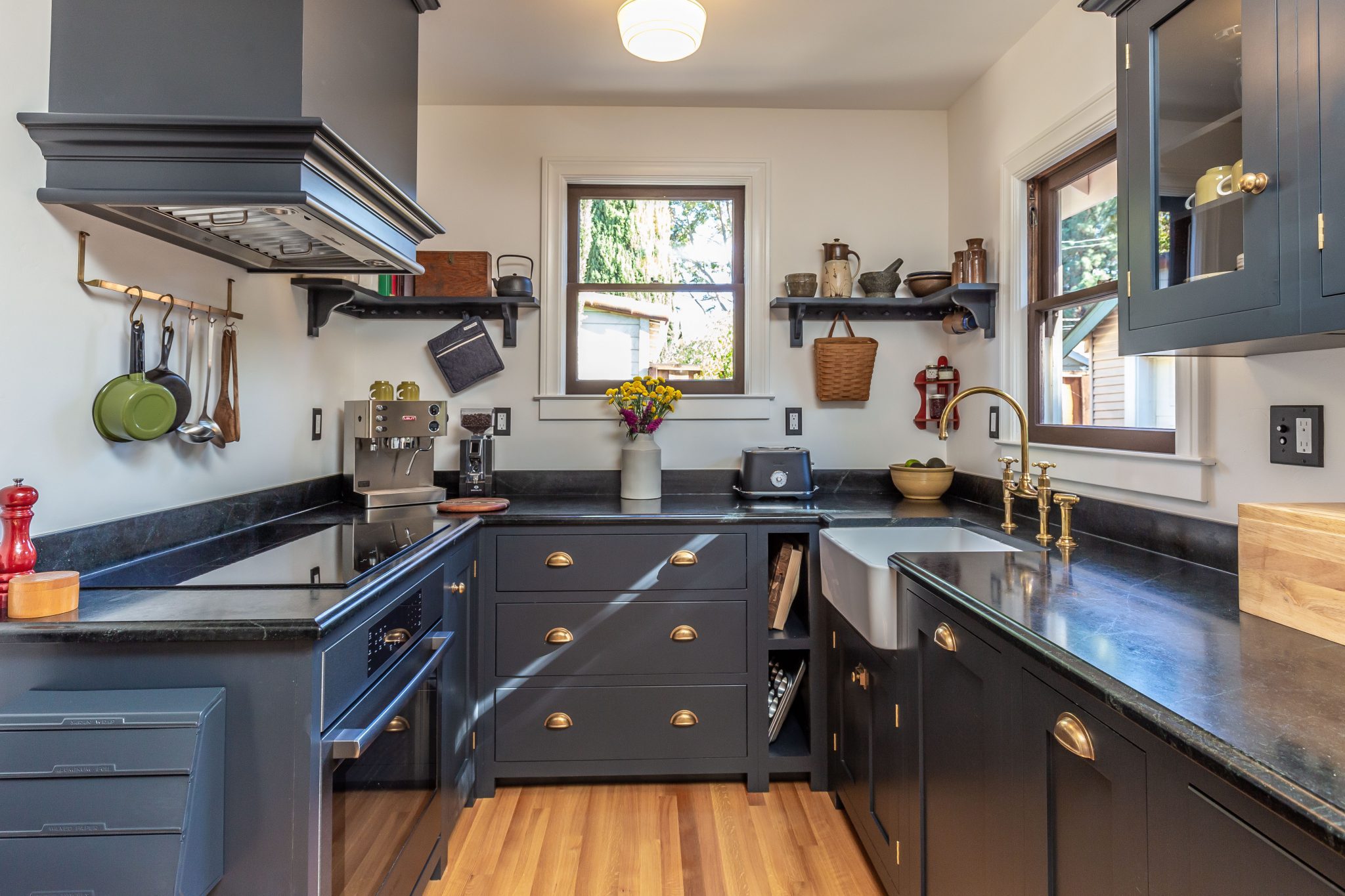 Check out these bold cabinets in this Willow Glen kitchen
6. Are there any permitting or building codes to consider?
Permitting is always a consideration when it comes to kitchen remodeling, which is why it's important to have a remodeler that understands codes, knows how to submit plans appropriately, and can handle back and forth with city officials with ease and speed. We frequently work with permitting offices across Santa Clara County and even have some designs fast-tracked for approval. As we go through the design process, our team will let you know if there's anything unusual about the permitting process for your project and if or how it could affect your kitchen remodel timeline.
7. Countertops, I'm confused! Material? What profile should I choose? Finish?
There are many different countertop materials to choose from! This is why one of the first steps in planning a kitchen remodel is to start thinking about style and function. In a nutshell, here are some of the common countertop options:
Granite: Durable and affordable
Marble: Timeless luxury but needs maintenance
Butcher's Block: Natural, minimalist look but can stain and damage easily
Quartz: Durable, many color options
Soapstone: Timeless natural look but can dent
Stainless steel: Modern look but can scratch
Concrete: Rustic look that can develop a beautiful patina, very durable but can crack
Laminate: Not your grandma's laminate! Affordable but may not last long
Tile: Rustic and endless options, can chip but simply replace the broken tile
As you can see, there are tradeoffs for each type of countertop material and your kitchen designer can help you decide between all the options.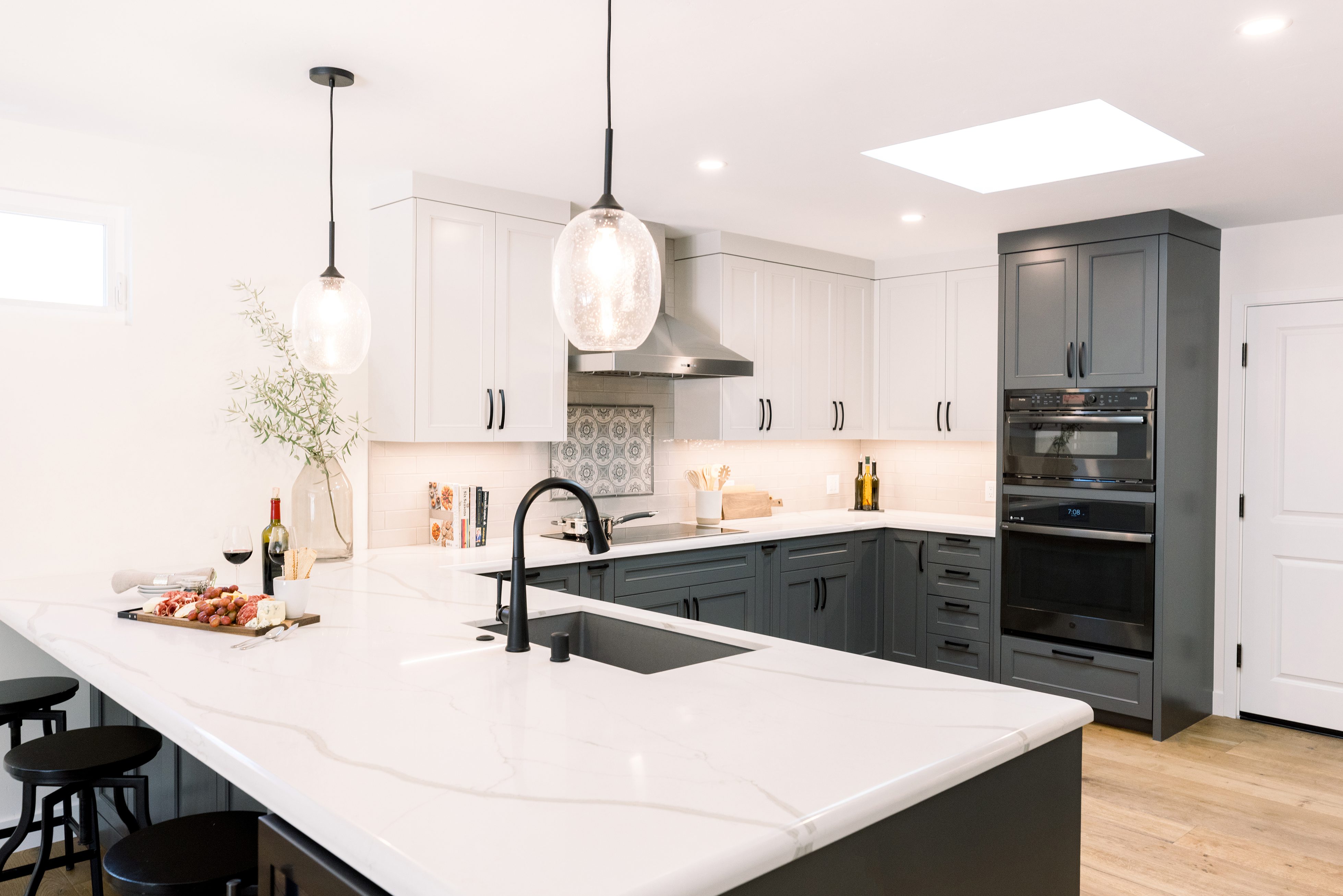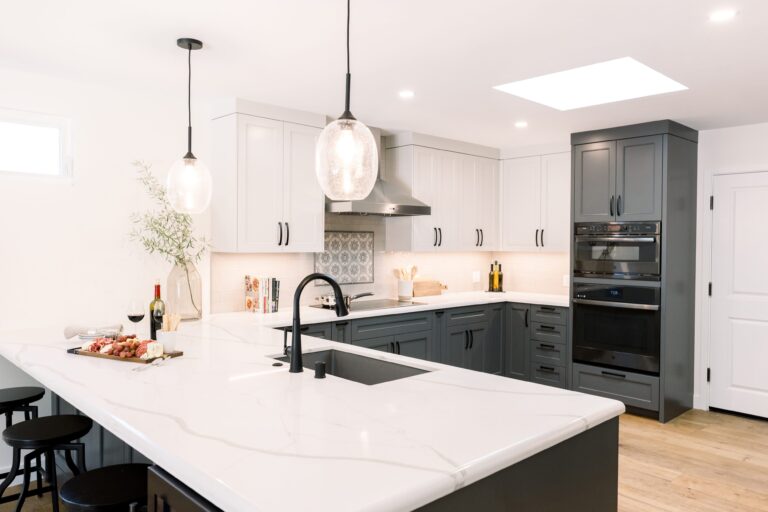 Once you choose the material, there are a few other decisions to make that seem minor but have a major impact on the look and function of your kitchen. For example, choosing the profile, or shape of the countertop edge, to match the rest of your design choices. One of the last decisions involves the finish. Polished (shiny) countertops can create luxury and sophistication while honed (matte) ones can be softer and a better match for more contemporary designs.
8. What advice do you have about choosing kitchen fixtures?
Fixtures include everything and the kitchen sink. Yes, literally the kitchen sink. Sinks, faucets, built in microwaves and ovens are considered kitchen fixtures and deciding on these often goes hand-in-hand with cabinet hardware. While layout, major materials like countertops, cabinets, and flooring tend to lead the design process, these final decisions are what will tie it all together. These should complement your overall look in style, color, and finish. That being said, these are some of the easier things to trade out in the future, so feel free to get a little playful.
9. What type of flooring is best for the kitchen?
There are plenty of options for kitchen flooring (are you noticing a trend here?) but keep in mind that the kitchen tends to get a lot of wear and tear. From spills, to pots dropping, to the sheer amount of foot traffic, you'll want to consider how your flooring will be able to handle your lifestyle.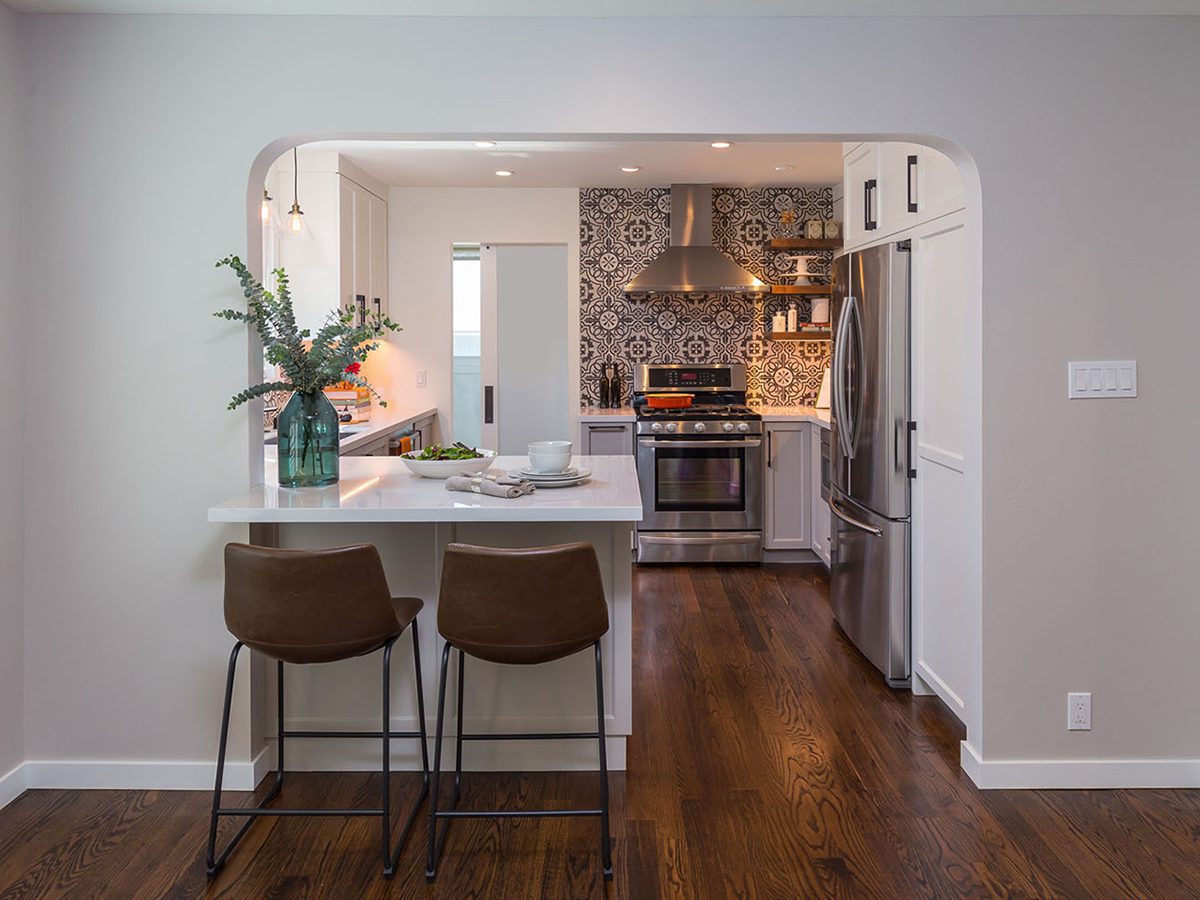 Ceramic and porcelain tile are popular options, very durable but since the floor doesn't break, your dishes will. This flooring can also be a bit slippery when wet so something to consider if you have kids or older adults prone to falling.
Vinyl and laminate can be affordable options with many different choices that mimic wood and tile. The tradeoff is that they don't last as long as many other materials.
Hardwood, both engineered and natural, is a timeless look that many homeowners love. The warm, natural aesthetic is hard to beat! A downside is that wood floors can dent and are susceptible to water damage.
As you can see, we've only scratched the surface of the types of questions a kitchen designer can help you out with. If you're considering a kitchen remodel, don't hesitate to get in touch with our team. Our design experts are happy to be a sounding board as you transform the heart of your home.
Schedule a consultation here or give us a call at (408) 323-5300.