For homeowners, the allure of a home addition lies in the potential to turn cramped quarters into airy havens. Growing families need additional space for new additions or evolving needs. Home additions cater to lifestyle upgrades, whether it's a spacious new kitchen for passionate cooks or a serene sunroom for relaxation. Beyond expanding space, additions can boost property value, catering to potential buyers' desire for versatility. From creating a private workspace to indulging in luxurious amenities, home additions improve both livability and value.
And, the transformations can be dramatic! Take a look at three home additions and how they met the homeowners needs in both design and function.
Cupertino Kitchen Home Addition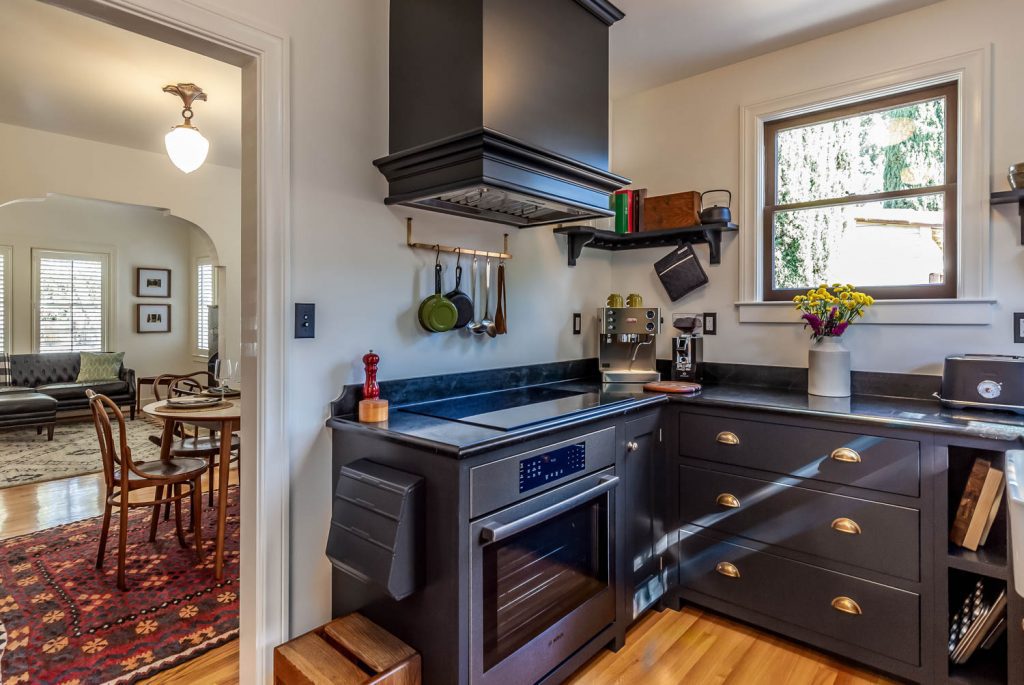 Bumping Out to Create More Space
The kitchen is where most of the action happens in many homes. This family was set on transforming their cramped, outdated 1970s kitchen into an inviting space with open, lofty ceilings and abundant natural light. With a teenager in the family, they aimed to create a hangout spot for him and his friends.
To expand the kitchen, we extended the area by converting a small courtyard. This, however, led to an existing bedroom without a window, which wasn't compliant with code. So, a layout change was in order. We transformed this space into an office, and the original dining room found a new home as the bedroom. We relocated the kitchen from the bump-out space to where the family room resided, even knocking down an existing fireplace. Taking down the wall that once divided the family room and kitchen opened up a spacious, inviting expanse.
Intricate Touches To Reflect Personal Style
While the spouse leaned towards a transitional-farmhouse aesthetic, the other spouse preferred the classic charm of a traditional craftsman kitchen. Balancing these divergent tastes, our designer embarked on a creative journey that melded both styles.
A standout feature is the striking "Dard Rose" accent tile on the hood, sourced from Motawi / All Natural Stone. This tile was seamlessly integrated by our designers to create a captivating focal point. We decided to install the tile on the hood instead of the backsplash, ensuring an ideal balance.
The walnut cabinet finish was another pivotal choice. While the initial preference was for a traditional craftsman orange-red finish, it was the discovery of the walnut that truly resonated. Incorporating a two-tone finish with white cabinetry on top highlighted the ceiling's height, lending an open, airy feel to the upper half of the kitchen.
The thoughtful additions of a bookcase, columns, and bench seat were instrumental in bringing together the modern craftsman vibe. These seemingly simple elements helped to achieve a seamless, integrated look that harmonized with the kitchen's overall design.
Cambrian Park Master Suite Home Addition
A House that Needed a Growth Spurt
This Cambrian Park residence, dating back to the 1960s, needed a growth spurt to accommodate a young family with two kids and one more on the way. A contemporary expansion in the form of a new master bedroom at the rear became the focal point of this project. The goal? To infuse an extra 500 square feet into the existing 1,200-square-foot space, seamlessly merging indoors with the back garden. A walk-in closet, double vanities with a makeup desk, and a spacious tub/shower combo were non-negotiables to cater to both kids and the family dog.
Blending Modern and Traditional Material Choices
The newly minted master bathroom beautifully weaves together the distinct tastes of the homeowners. Blending modern aesthetics with traditional, the cabinetry effortlessly marries a Shaker-style door profile with contemporary, rift-cut, white oak wood. The generous white wave tiles on the shower walls minimize grout lines for easy upkeep, a boon for their bustling household. Soft green glass tiles introduce a delicate touch, echoing the spa-like ambience. Making a bold statement against the light hues, charcoal gray quartz counters strike a harmonious chord with the porcelain tile floor.
In the end, this new master suite strikes a seamless balance between contemporary and traditional elements, celebrating individual preferences while enhancing the overall aesthetics and functionality of the revamped home.
Willow Glen Accessory Dwelling Unit

Sometimes, you need something more than a standard addition. Whether you have elderly parents who are moving in, or need a space entirely separate from the main footprint of the house. This family was lucky enough to meet San Jose's minimum lot size of 5,445 square feet for an accessory dwelling unit (ADU). So, when they were trying to figure out a way to pack a man cave, kids' play haven, study nook, guest enclave, and ample storage into a cozy abode… we had just the answer!
By utilizing the existing garage, the Next Stage team's design effortlessly encompassed a full bath, kitchenette, and custom built-ins for stowing away essentials.
Planning for Now and the Future
This family's vision encompassed not only their current necessities but also their future aspirations. Extending the garage by 600 square feet delivered a man cave for Dad, a study and play loft for the little ones, and a complete bathroom plus bonus storage for impending in-law visits.
Optimized for Versatility
Every inch of the unit was meticulously optimized for versatility. A loft tucked away in the upper area became a dedicated play corner for the kids, establishing a separate hub within the dwelling unit. As the children evolve, this flexible loft smoothly converts into sleeping or storage quarters.
Neutral Palette and Natural Light
Transitional elegance reigns in this space, defined by intricate door and window casings, a blend of hardwood and carpet, and a serene, neutral color scheme imparting tranquility to this backyard retreat. Thoughtfully placed windows capitalize on garden views, while clerestory windows and solar-operated skylights drench the area in natural light, crafting a vibrant haven.
What possibilities can a home addition unlock for you?
Whether you're yearning for extra space to accommodate a growing family, envisioning a serene sanctuary for relaxation, or aiming to create a multifunctional haven, the potential is limitless.
Next Stage Design + Build specializes in turning your dreams into reality. Our experienced team works through the details of design, construction, and functionality, ensuring your addition not only aligns with your lifestyle but also enhances your property's value.
To schedule a conversation with our team, give us a call at (408) 323-5300 or contacts us here.